It is always tricky to write a technical outlook when the market is moving on fundamental news. At this time, the S&P futures have rallied 7 points on the heels of the Greek election results that should keep Greece in the European Union and allow the bailout to proceed under its current terms. But with the market ending an up and down week with serious momentum to the upside, it was akin to telling investors that "everything was going to be okay" across the pond, making me think that this result was mostly priced in.
To continue with this premise, the S&P 500 Index closed just under the weekly high (1340) at 1337.50. This after two solid attempts to crack 1300 were thwarted on Monday and Tuesday. It was as if the bears just "threw in the towel" the remainder of the week and attempted to capture what profits they could ahead of Friday's quadruple witch expiration.
Apple (NASDAQ:AAPL) is going through a period of unprecedented consolidation. In fact, since Monday's plunge, AAPL traded in less than a 12 point range for the remainder of the week and ended the week with a miniscule 5 point trading range on Friday. Obviously, this will not continue and AAPL will either break out above 575 and test the waters at 600, or break down below 565 and test the low of the move at 528.66. At this time, AAPL seems to be leaning towards an upside move (Friday's close 574.13), but any serious pullback in the S&P futures could send AAPL right back to 565.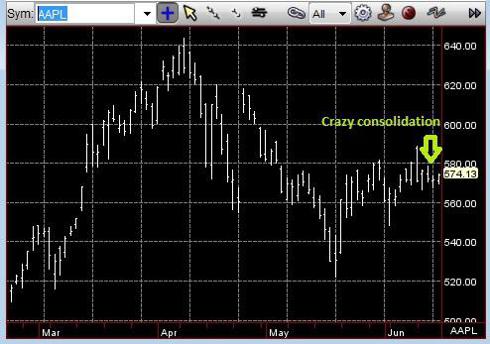 For those of you looking to purchase Exxon-Mobil (NYSE:XOM) in the 70s handle, it appears you missed your chance to do so. After flirting with 80 on Monday and Wednesday, buyers became aggressive at the end of the week. As a result, all of the week's gains (nearly 2.50 points) occurred on Thursday and Friday. Expect minor resistance around 85 and major resistance at 86.50. On the downside, expect the 80-81 area to be littered with bids, just ahead of the weekly low at 80.17.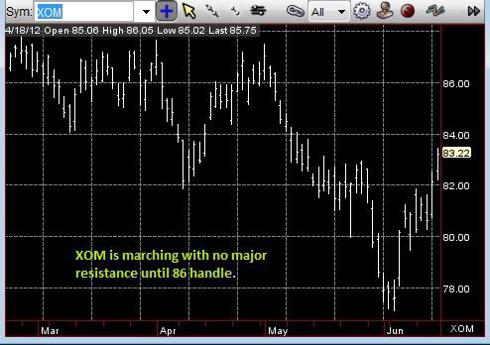 After making five consecutive lows in the 192 handle, International Business Machines (NYSE:IBM) exploded, nearly reaching the 200 level for the first time since May 17th. By closing at 199.10, IBM has regained 50% of its downward move from 210.69-187. Expect some consolidation around 200, before IBM tests minor resistance at 201.50 and 203. Major resistance stands at 205. If IBM retreats, minor support can be found at Friday's low (195.40) and major support at 192.50.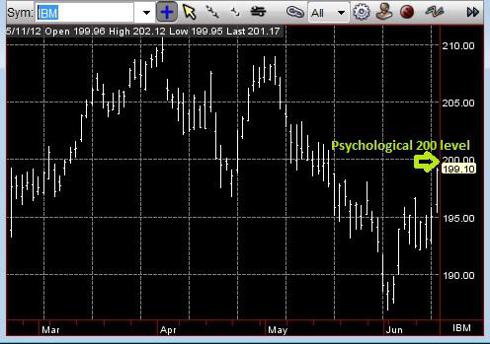 Could the reason Apple is treading water be that Microsoft (NASDAQ:MSFT) may take a bite out of its iPad sales? This week Microsoft is expected to unveil a touch-screen tablet running a version of Microsoft's next Windows operating system. Apparently some investors believe it will be a boon to Microsoft's earnings and boosted the issue .68 on Friday. That, coupled with a technical move through a double top from Thursday (29.44) and Friday (29.46), sets the stage for another rally. Only minor resistance at 30.32 stands between the close and the May 14th high of 31.04. On a pullback, expect major support at Friday's low of 29.49 and monster support from 28.80-29.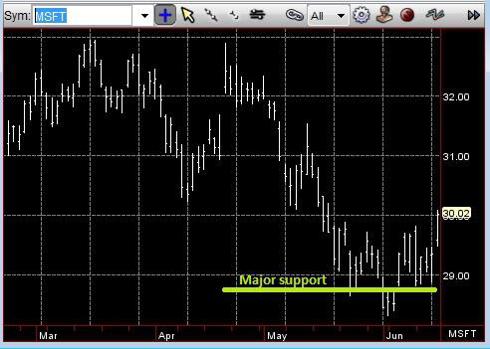 All the dogs are barking now as General Electric (NYSE:GE) has returned to 20. In fact, GE has rallied almost 2 points since reaching 18.05 on June 4th. With very little capital appreciation since the 2009 low compared with other components of the Big 10 and a juicy 3.4% dividend yield, GE could be the next AT&T (NYSE:T) in the making. To convince me of that notion, GE cannot stall here, which it has on numerous occasions. Instead, it needs to march to 21.65 (February 2011 high) and blow right through it. GE is on a streak of 8 consecutive higher or matching lows, so buying on a pullback may be tricky, however, 19.50 should serve as support under Friday's low of 19.75.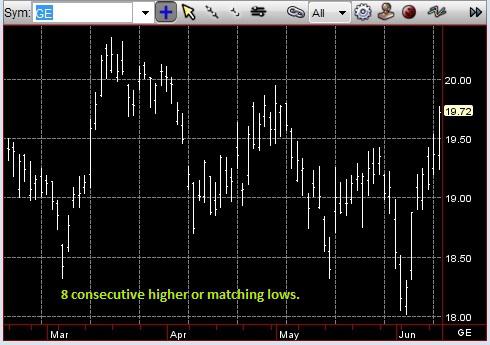 After forming a similar technical formation to IBM, Chevron Corporation (NYSE:CVX) placed five consecutive lows between 99.57-99.90 and then took off as well. After closing at 100.13 on Wednesday and dipping briefly under 100 Thursday morning, there were few sizable offers for the scrambling shorts until the bell rang on Friday. After closing at 104.33, just off the high of 104.50 there is only minor resistance at 105.50 and no major resistance until 107. Expect major support in the gap from Thursday's high (102.17) to Friday's low (102.64). Buyers will be in the book well ahead of the mid 99's starting at 100.
Just another week with AT&T (NYSE:T) tacking on another point. This week, the stock blew through sellers at 35 and tested the waters at 36 on Friday, before pulling back to close 35.71. With T still yielding an astonishing 4.93%, value investors are feasting on this issue while enjoying momentum like capital appreciation. As T approaches the sizable offers at 36 again, along with the High Frequency Traders stepping ahead of those offers, expect minor resistance and major resistance at the June 2008 high of 36.34. If you are trying to protect long term profits in T, be wary of a break below Friday's low (35.61) because there is no major support until Thursday's low of 34.88.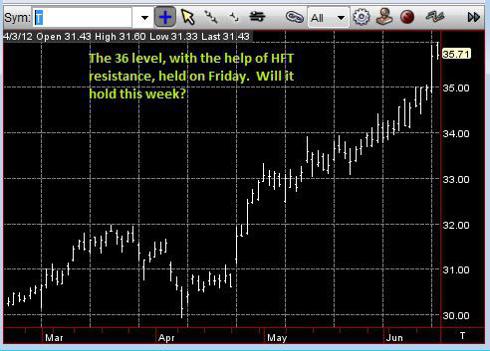 An excellent example of the fundamentals trumping the technicals was the price action for Johnson&Johnson (NYSE:JNJ). After announcing that it had completed its merger with Synthes and that the deal would be accretive to earnings earlier than anticipated, there was no stopping Johnson&Johnson. In only five trading sessions the company has recouped nearly all of its losses from its April 2nd high of 66.30. Interestingly, Friday's high (66.10) was just shy of that level. Therefore, it is crucial for Johnson&Johnson to continue the momentum through that level. If it cannot hold 66 over the next few days, there could be some profit-taking after the four point rally since Tuesday, which is a rare occurrence for this heavily traded issue.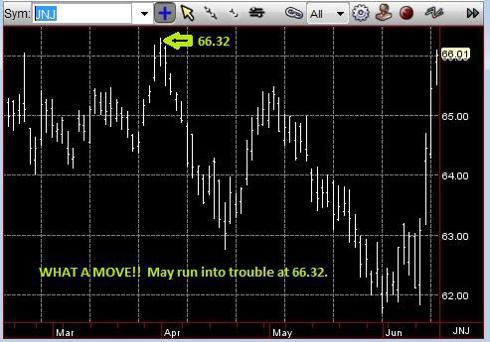 Procter & Gamble (NYSE:PG) was the laggard of the Big 10 this week, climbing only .34 to close at 62.88. This issue certainly did not get the love that other defensive stocks did. Of course, there was no news surrounding PG, nor were there analysts jumping on the upgrade bandwagon. After bottoming at 61.02 on June 5th, PG is having a hard time sustaining momentum for more than a day. With six of the last seven closes between 62.54-62.88 it may be forming a base to recoup its losses from the sustained selloff it had from the 52 week high of 67.95. If PG can clear the weekly high of 63.67, a quick move up to major resistance around 65 would not be out of the question.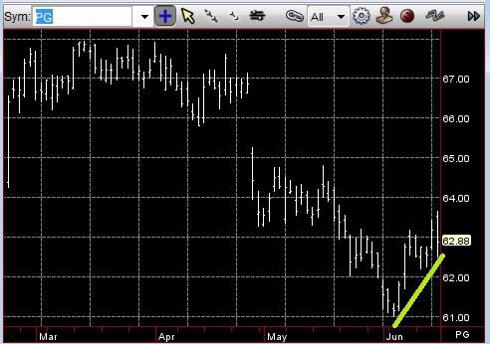 If you are going to own a financial stock, Wells Fargo (NYSE:WFC) may be the best choice. It pays nearly a 3% dividend and has climbed higher since its 2009 low. Except for a few mortgage mishaps here and there, Wells Fargo has limited exposure to Europe and employs much better risk management tactics than JP Morgan (NYSE:JPM). After briefly falling under 30 earlier in the month, Wells Fargo has returned to the 32.50 level, which held as major support from mid-April through mid-May. If it can clear 32.50, expect a few sellers at 33, more sellers at 33.55 and a boatload of sellers at the 52 week high of 34.59. On a pullback, expect minor support at 31.60 and major support all around the 31 level.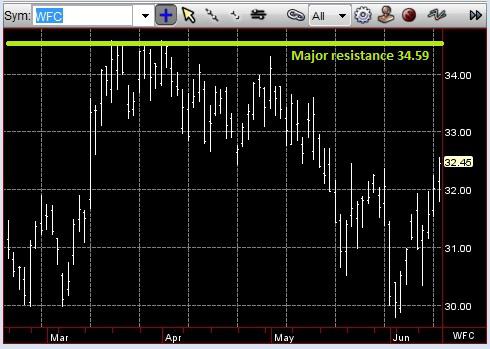 In closing, the S&P 500 Index has begrudgingly recouped just over half of its losses from the March 27th high (1413.25) to the June 4th low (1255.50). The question now remains, can it sustain this level and meander its way north? The outcome of the elections in Greece are giving the market a nudge to the upside, but it will be interesting to see if the index can hold on to those gains. Regardless of the overnight move in the futures, traders and investors need to focus on the 1335 level. That level will be critical for the index to hold, and may determine whether the index will be heading back to the 1400s or a breach of that level may mean there is more work to be done in the 1200s.
Disclosure: I have no positions in any stocks mentioned, and no plans to initiate any positions within the next 72 hours.