SOLAR INDUSTRY
Executive Summary
A decline in average selling prices (ASPs) and module costs have changed the Solar Industry dynamics. The industry has reached a point where cost leadership and premium quality will determine the eventual winners and losers. We are recommending a long position in Canadian Solar (NASDAQ:CSIQ) because of its ability to produce high quality Photovoltaic (PV) modules at a low cost. On the other hand, First Solar's (NASDAQ:FSLR) inability to monetize the last two quarters' high demand in the U.S. makes us bearish on the stock. We have a hold stance on SunPower (NASDAQ:SPWR) as we think the high cost premium manufacturer is fairly valued.
Key Industry Drivers
The following factors will result in the outperformance/underperformance of solar stocks:
Low cost structure to compete with Chinese producers
Strong balance sheet to withstand the current crisis
Economies of Scale
Investment in R&D, Tech Development
Global Distribution Network
Industry Overview
News of a boom in the Solar Industry in the U.S. is substantiated by a recently published 1Q2012 Solar Industry review by GTM Research. This growth has been attributed to declining PV panel prices and excess supply. Module prices fell by 47% Year over year in 1Q2012 to $0.94/watt from $1.78/watt a year ago as a result of declining component (Polysilicon, BOS) prices and improvement in production processes. Furthermore, heavy competition, driven by low-cost Chinese manufacturers, has fueled vertical expansion and consolidation among industry players in a bid to become cost effective. However, the recent imposition of a tariff on Chinese imports can trigger a change in the industry dynamics.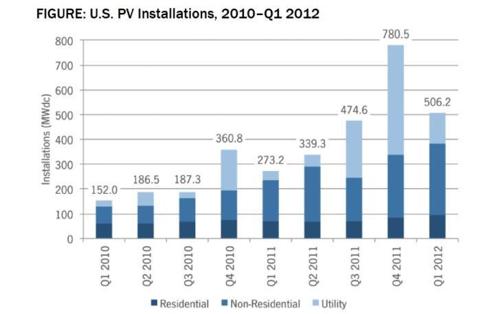 PV installations in the U.S. grew by 85% YoY in 1Q2012 to 506.2MW despite uncertainty attached to project financing, import tariffs, and state-level demand, according to GTM Research's market insight review. The Solar market grew by 35% over the previous quarter with the total amount of Photovoltaics across the U.S. reaching 4,427MW by the end of 1Q2012.
As a result of the recent spur in demand, GTM Research has raised PV installation forecasts to 3,300MW in 2012, well above the actual installations of 1,855MW in 2011. Part of the growth is expected to depend on the treasury's decision to renew the 1603 program, through which PV installers earn more than 30% cash returns on development costs for renewable energy projects.
Furthermore, start ups like SolarCity, SunRun, as well as established firms like MEMC (WFR), are partnering with lenders and using leaseback programs to attract consumers. Households and commercial businesses, which once avoided solar energy because of high solar panel prices, are now driving up the demand as they are getting solar panels on long-term leases.
Excess supply and stumpy demand have fueled competition among polysilicon wafer producers. Polysilicon wafer prices have fallen to $0.30/W in 1Q2012 from $1/W in 1Q2011. As a result, polysilicon wafer producers have started expanding vertically by producing PV panels. IMS Research estimates that Chinese tier-1 suppliers who purchased wafers were able to save $0.05/W, compared with suppliers who produced wafers internally. IMS Research is also forecasting a further decline in wafer and polysilicon prices in 2012.
Suntech (NYSE:STP), the largest supplier of PV modules, became the first supplier to ship over 2GW of solar panel modules. Currently, three of the top five PV module suppliers are Chinese companies; their dominance being attributed to their low-cost production. Only one U.S. company, First Solar, is ranked in the top five. Also, the PV panels' market is increasingly becoming consolidated, as larger suppliers are constantly increasing their market shares.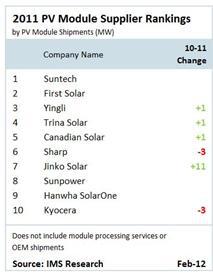 The government is playing a major role in the growth of the solar energy market through tax credits, subsidies and incentives. Previously, the government offered a 30% return on development costs for renewable energy projects through the 1603 treasury program. In the absence of subsidies and tax credits, most of the companies in the solar energy business are expected to post losses.
Efficient low-cost production of PV panels has become increasingly crucial for the survival of companies in developed markets like the U.S. because of the threat posed by low-cost Chinese companies like Suntech Power, Yingli Green Energy (NYSE:YGE) and others. Chinese PV manufacturers have been able to record high growth in revenue ,as they opted to sacrifice high margins compared with western manufacturers. However, excess supply has negatively affected the bottom line of both Chinese and western producers.
A Comparison of Western and Chinese PV Module Suppliers Growth and Margins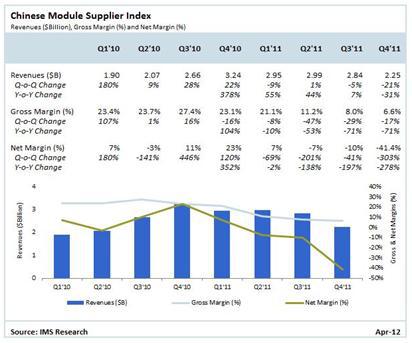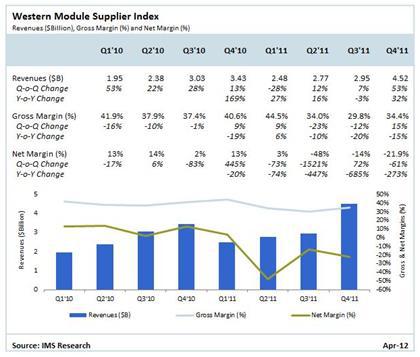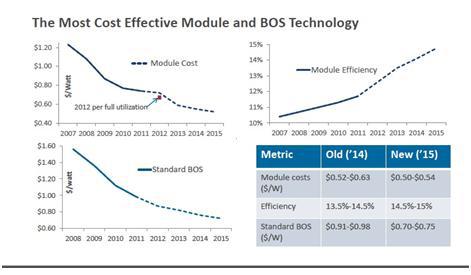 Improvement in production processes and falling polysilicon prices have lowered the prices of PV modules. Average PV module prices among top solar module manufactures fell by 66% in 2011 alone, and are expected to fall further as a result of an expected decrease in Balance of Components (BOS) prices and further improvement in PV efficiency. Solar energy costs are expected to approach retail electricity prices within the next five years.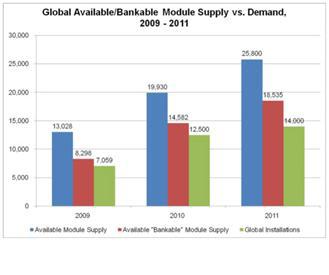 Solar Sector Cost and Margin Analysis

2008

2009

2010

2011

Poly (US$/kg)

100

60

55

45

Wafer Margins

25%

10%

15%

5%

Wafer ASPs

1.6

0.89

0.85

0.55

Module Margins

15%

10%

10%

5%

Module ASPs

4.75

2.14

1.81

1.17

ASP/watt

7.50

4.37

4.22

2.97
Excess supply and contained demand have put a downward pressure on margins in the Solar Industry. Margins in the production of polysilicon and wafers have fallen more than margins in modules. Low production costs have reduced the ASP/Watt prices of solar energy and are expected to fall further in the coming years.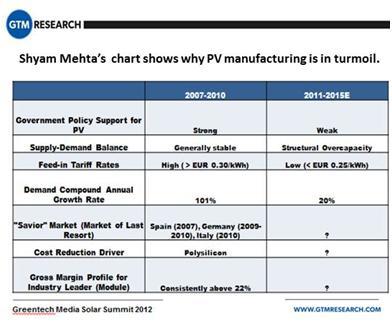 The demand for solar energy is also counter cyclical to oil demand, as investment in alternative energies peaked when oil prices rose to their highest levels in 2008.
Additionally, the U.S. government recently imposed a 30%-250% tariff on import of Chinese solar products, which is going to put an additional pressure on the already-slim margins of Chinese manufacturers. The imposition can affect Chinese solar exporters in two ways in the long term. Either it will result in Chinese exporters paying tax with squeezed margins, or they will abandon the market and tap opportunities in other countries. Either way, the cost of PV panels is expected to rise in the coming months.
Key Industry Players
Margin Comparison of Solar Stocks

1Q2012

TSL

CSIQ

FSLR

YGE

STP

ASPs

$ 0.92

$ 0.89

$ 0.91

$ 0.86

$ 0.89

Cost/Watt

$ 0.78

$ 0.76

$ 0.73

$ 0.78

$ 0.93

Gross Margin

15.22%

14.61%

19.78%

9.30%

-4.49%
First Solar
First Solar is the world's largest manufacturer of thin-film solar panels with the lowest production/watt costs among all PV cell producers. However, the secret of its low costs lies in thin-film technology, which the company employs in the production of PV panels. Unlike in Crystalline PV cells, polysilicon does not constitute a major portion of thin-film PV cells. Only a thin layer of silicon is required on materials like glass to produce thin-film PV cells. The use of polysilicon in minimum quantities has helped thin-film manufacturers in driving down production costs. However, there is a drawback to the use of thin-film technology in PV production. Thin-film PV cells are less efficient than expensive crystalline polysilicon PV cells; therefore it takes more thin-film cells to produce the same amount of electricity than crystalline cells.
Falling revenue growth and declining margins, owing to a deteriorating industry environment triggered by excess supply, have forced the company to launch a restructuring program in 4Q2011 to improve its cost efficiency. The restructuring is expected to put a pressure of $80-$120 million on First Solar's cash reserves (1Q2012 Cash reserves: $663 million).
Failure to take advantage of the swift demand of PV panels across the U.S. in 4Q2011 and 1Q2012 signifies weaknesses in the company's ability to revive revenue growth. In addition, First Solar had a debt of $864 million at the end of 1Q2012; more than $663 million cash reserves. We expect the company to run into financial inflexibility as the company's operational cash flows continue to dry out. The recent unexpected surge in European demand orders may help the company in achieving its desired revenue growth in the short term. In the long term, we are doubtful of the company's ability to regain momentum in revenue. Therefore, we predict a further downfall in earnings starting from next year. The stock is currently trading at a forward price to sales multiple of 0.35x, which we believe is fairly valued if compared with SunPower and Trina Solar. However, based on a recent upside of 21%, and high short ratio, First Solar may go up in the short term as a result of short covering squeeze. Though, in the long term, we remain bearish on First Solar.
Reuters Analyst Consensus Estimates

FSLR

SPWR

TSL

STP

YGE

CSIQ

Forward P/S

0.35

0.28

0.30

0.15

0.21

0.08

LT Growth Rate (Est.)

21.40%

15.17%

19.30%

1.93%

12.50%

15%

D/E (MRQ)

26.93%

55.60%

102.24%

284.12%

290.29%

178.76%

Quick Ratio (MRQ)

1.87

1.51

1.29

0.47

0.75

0.81

Gross Margin (TTM)

29.26%

7.57%

10.92%

7.70%

12.18%

9.60%

Market Cap (Millions)

$1,154.91

$873.42

$508.60

$307.98

$408.66

$138.10
SunPower
SunPower is known for production of highly efficient PV modules, with the firm's third-generation cells having efficiencies exceeding 23%, greater than the industry average of 14%-15%. SunPower has a competitive advantage in commercial PV modular installation on a large scale.
SunPower is considered a premium PV manufacturer with the highest costs of production in the Solar Industry. The current downturn in the solar industry has badly affected SunPower margins as the company finds it increasingly difficult to find demand for the high-price PV modules among cost-conscious consumers in a deteriorating economic environment. The current module costs for SunPower are well above $1/watt and significantly higher than Chinese manufacturers module production cost range of 80-90c/watt.
The company posted a 9% growth in 1Q2012 revenue with a net loss of $74.5 million, as declining PV module prices continue to hurt the bottom line of the maker of the world's most efficient PV panels. The company has announced that it will cut production costs and consolidate its Philippines manufacturing operations to cut capital expenditures and cost per watt.
SunPower shares are currently trading at 0.28x times Price to Projected Sales, and seem fairly valued compared to First Solar and Trina Solar (NYSE:TSL); given the low gross margins and slim long term forecasted growth. However, the company's balance sheet is strong from liquidity and solvency points of views,as the company enjoys high financial flexibility from low debt and a sound liquidity position. We recommend a hold stance for SunPower.
Reuters Analyst Consensus Estimates

FSLR

SPWR

TSL

STP

YGE

CSIQ

Forward P/S

0.35

0.28

0.30

0.15

0.21

0.08

LT Growth Rate (Est.)

21.40%

15.17%

19.30%

1.93%

12.50%

15%

D/E (MRQ)

26.93%

55.60%

102.24%

284.12%

290.29%

178.76%

Quick Ratio (MRQ)

1.87

1.51

1.29

0.47

0.75

0.81

Gross Margin

29.26%

7.57%

10.92%

7.70%

12.18%

9.60%

Market Cap (Millions)

$1,154.91

$873.42

$508.60

$307.98

$408.66

$138.10
Canadian Solar
Despite, falling ASPs and excess supply are negatively impacting the margins of almost all companies in the Solar Industry, Canadian Solar was one of the top five largest PV module suppliers by the end of 2011, and we believe it contains the strongest fundamentals among all other companies in the Solar Industry.
Industry leading module cost reduction, a strong balance sheet, lowest cash burnout, a global distribution network, and above average cell efficiency are just some of the reasons that make Canadian Solar outshine rivals like Trina Solar, First Solar, Yingli Green, Suntech and others.
Canadian Solar successfully reduced modular costs in 1Q2012 to $0.73/watt from $0.77/watt in 4Q2011 as a result of falling polysilicon prices and production operations becoming automated in Chinese plants. It is interesting to note that Canadian Solar production costs are approaching the costs of the current industry leader, First Solar. However, the major point to note is that Canadian Solar is using silicon crystalline technology in PV modules, compared to the usage of thin-film technology by First Solar. Silicon crystalline modules have better efficiencies than thin-film modules. Canadian Solar modules are producing efficiency levels of 18-19% while the efficiency of First Solar ranges between 13-14%. Therefore, Canadian Solar is able to produce high quality PV modules at the lowest cost in the industry. Canadian Solar is forecasting that by 4Q2012, it will be able to achieve $0.60/watt production costs, bringing the total solar cost per watt in the range of $1.00-$1.50/watt. If that were to happen, Canadian Solar would be the first company that would be able to reach grid power parity by 2013.
Furthermore, the company had shipped 343MW of PV modules in 1Q2012, higher than shipments in 1Q2011. The company's margins deteriorated in 1Q2012 as a result of falling ASPs. Net revenue for 1Q2012 was $325.8 million, down 31.3% from $474.1 million in 4Q2011 and down 26.5% from $443.4 million in 1Q2011. Canadian Solar has a global footprint, as 42% of the 1Q2012 revenue came from Europe, 45% from America, and 12.3% from Asia, compared with 75% of 1Q2011 revenue from Europe and 25% from Asia and America a year ago. This shows that Canadian Solar was able to build a strong footprint in the U.S. in just one year.
The company has an above-average financial flexibility compared with other solar module manufacturers e.g. Yingli Green Energy and Suntech, as a result of its lower debt and better liquidity position. The company has improved its cash position over the year with cash reserves rising to $625 from $522.3, contrary to the cash burnout trend that the whole industry is experiencing.
Reuters Analyst Consensus Estimates

FSLR

SPWR

TSL

STP

YGE

CSIQ

Forward P/S

0.35

0.28

0.30

0.15

0.21

0.08

LT Growth Rate (Est.)

21.40%

15.17%

19.30%

1.93%

12.50%

15%

D/E (MRQ)

26.93%

55.60%

102.24%

284.12%

290.29%

178.76%

Quick Ratio (MRQ)

1.87

1.51

1.29

0.47

0.75

0.81

Gross Margin

29.26%

7.57%

10.92%

7.70%

12.18%

9.60%

Market Cap (Millions)

$1,154.91

$873.42

$508.60

$307.98

$408.66

$138.10
The stock is currently trading at 0.08x price to forward sales and looks undervalued when compared to Yingli Green and Suntech. Based on the above-average growth prospects and a strong balance sheet, we expect Canadian Solar to trade at a price-to-sales multiple close to 0.18x and a target price of $7.4.
| | |
| --- | --- |
| Current Price | $ 3.32 |
| CSIQ Forward P/S | 0.08 |
| Implied P/S | 0.18 |
| 2012E Sales / Share | $ 41.21 |
| Target Price | $ 7.42 |
| Upside | 223% |
Investors can also hedge the long position in CSIQ by selling short the Solar ETF (NYSEARCA:TAN).
Disclosure: I have no positions in any stocks mentioned, and no plans to initiate any positions within the next 72 hours.