It takes a lot of time and study to find 3 rising biotech stars all priced under $2/share. While some investment firms may never touch these high risk biotech stocks, lucrative gains can be registered in a matter of days while sour trades can be quickly dumped.
Having scoured the under $2/share biotech sector, I think these stocks are going 'on the cheap' because their charts suggest a significant bullish upside. That said, investors need to do their own due-diligence before investing no more than what they're willing to lose.
Spotlight Pick: Astex (NASDAQ:ASTX)
Astex ($1.95/share) is a fundamentally sound firm. A smart merger of two firms with its cancer drug Dacogen infusing increasing revenue, the chart suggests a 'cup formation' with plenty of upside over the coming months. For new investors to Astex, definitely read its Q1 news release and discover that this is a firm with 22% Y/Y Dacogen revenue growth sitting on $126M in cash and marketable securities.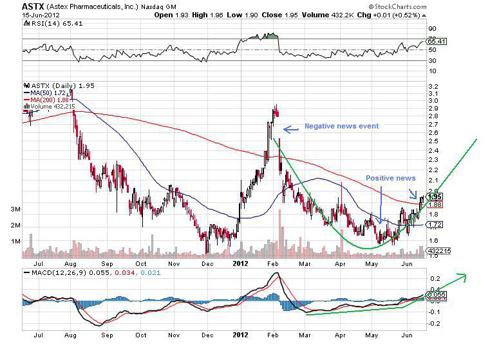 This stock highlights how news items have influenced the market's sentiment, pro and con. When earlier this year, an additional medical indication for Dacogen was rejected by the FDA, the share price took a big hit, but another good quarter and now news of a new cancer treatment opportunity with Janssen earning them a $5.4M milestone payment appears to have brought the bulls back to Astex. Astex trades on very modest volume (305,077 3/mth avg), so a surge in the share price could be sparked by bullish volume.
Resurging Pick: Zalicus (ZLCS)
On late Friday afternoon, fellow SA author Mr. Schrum released a report on Zalicus ($1.30/share) drug candidate Z160 entitled: "Zalicus' Z160 Could Change The World's Pain Market". Within the same hour, volume surged as did the stock price. Whether the two events were connected, the chart requires me to re-highlight to SA readers that my VERY BULLISH CALL on Zalicus is no-bull. I called Zalicus when it dipped into the $0.70-0.80 range and my call remains intact. The upside here is knowing a cadre of pipeline catalysts are near-term and coming in rapid succession. Is there risk here? Of course, but the reward is equally as great, if not greater.
This company has a sound balance sheet and multiple drug catalysts on the near-term horizon (e.g. Z944, Prednisporin, 32 mg Exalgo, and Synavive). With that many catalysts, a $1.30 share price, my analysis of the chart after Friday's close compels me to conclude that this stock is about to break-out. The bullish signs are all over this chart.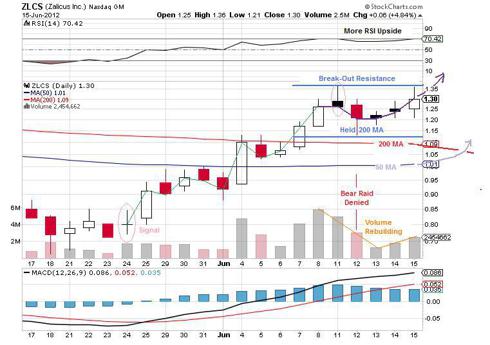 Bullish signs:
The 12 June bear raid held the 200 MA.
13-15 June quickly retraced through the dip, volume is once again increasing, and Friday's close at $1.30/share set a new high in recent months. There was quick spike to $1.36.
The 50MA is on track to cross the 200MA, the MACD remains strong, and there's plenty of room left on the RSI upside.
If the share price breaks through $1.36 resistance, it should spike towards to $1.60/share. It could also sideways churn below $1.36, but the bigger risk here may be not holding a position as that Friday afternoon volume spike suggested to me, some very deep-pockets are closing watching this stock.
Cup & Handle Star: Lexicon (NASDAQ:LXRX)
Given the number of months to develop this chart, it certainly looks like Lexicon ($.190/share) has formed a classic 'cup and handle' pattern.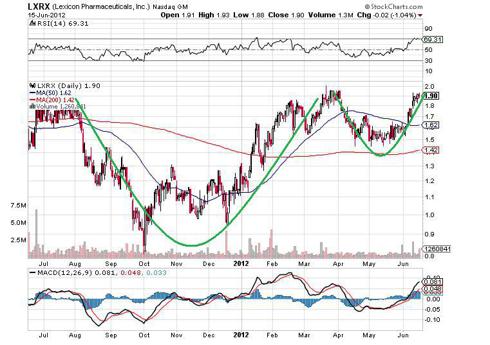 Right now, Lexicon is very close to its 52 week high ($2.01). Its trading volume is modest (637,584 3/mth avg) so increased bullish interest could move the stock above the handle. This of course will need to confirmed, however, the company sports an impressive pipeline with 5 drug candidates already in various stages of phase 2 clinical trials. In phase 2, the company is targeting a variety of medical needs: diabetes, carcinoid syndrome, ulcerative colitis, irritable bowel syndrome, rheumatoid arthritis, and a phase 1 drug candidate for glaucoma. The share price has since been going up from December 2011 when the company raised $161M at $1.13/share.
Conclusion
With the volatility of Europe shaking the markets, investors need to be even more careful when looking for low-priced biotechs going for under $2/share. The goal here was to put forward three under $2/share biotechs whose charts seem to suggest a bullish upside. Whether investors hold-long or day-trade these stocks is one's individual choice. While risk is always inherent, the upside can be very lucrative especially if you find a biotech stock whose company is fundamentally sound with a strong pipeline. I think Astex, Zalicus, and Lexicon fit these qualifications.
Disclosure: I am long ZLCS.
Additional disclosure: Investors buy and/or sell at their own risk. I declare that I may day-trade any stock mentioned in this article. For me "Long" is until I sell. I do not "Short" stocks.