Credit Card Industry
The world has seen a secular shift towards electronic payments in recent years. Visa (NYSE:V) and MasterCard (NYSE:MA), the biggest card networks, are the two companies that have positioned themselves to ride this secular trend and make the best out of a high growth situation, making them a strong buy. A rise in card spending and demand from emerging markets, coupled with this secular shift, can trigger phenomenal growth in the networks of credit card companies.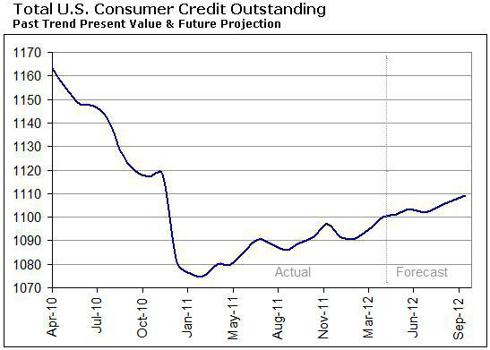 Industry Drivers
Some of the important demand drivers for the Credit Card Industry include:
Demand from China and other emerging markets: China is expected to increase credit card circulation at an average annual rate of 11% in the next 15 years, with the total number of cards reaching 1.1 billion in 2025. According to this growth trajectory, the number of credit cards in China will exceed that in the U.S. by 2020.
Worldwide card spending, or billed business, rose 12 percent year over year to $211.2bn in 1Q2012. Worldwide card member loan balances of $60.1bn increased by 4% from $57.8B last year, reflecting higher card member spending levels partially offset by higher payment rates.
A secular shift towards electronic payments, especially mobile payments, in recent years is a major opportunity and driving factor. Some of the network companies have positioned themselves to capitalize on this opportunity.
| | | | | | |
| --- | --- | --- | --- | --- | --- |
|   | | | | | |
| Market Cap: | 78.42B | 63.36B | 17.17B | 52.96B | 261.12M |
| Employees: | 7,500 | 62,500 | 11,650 | 6,700 | 698 |
| Qtrly Rev Growth (yoy): | 0.15 | 0.04 | 0.3 | 0.17 | 0.15 |
| Revenue (NYSE:TTM): | 9.83B | 29.12B | 6.44B | 6.97B | 184.87M |
| Gross Margin : | 84% | 76% | N/A | N/A | 36% |
| EBITDA : | 6.24B | N/A | N/A | 3.88B | 24.35M |
| Operating Margin : | 60% | 23% | 60% | 53% | 6% |
| Net Income : | 4.21B | 4.92B | 2.37B | 2.03B | N/A |
| EPS : | 6.25 | 4.22 | 4.4 | 15.87 | 0.1 |
| P/E : | 18.64 | 13.04 | 7.36 | 26.4 | 20.22 |
| PEG (5 yr expected): | 0.99 | 1.07 | 0.75 | 0.95 | 0.96 |
| P/S : | 7.87 | 2.18 | 2.65 | 7.43 | 1.58 |
| Source Yahoo! Finance |   |   |   |   |   |
VISA
Financial Review
Continued positive secular trends, growth of U.S. credit products, spending momentum, strong cross border spending and expansion of Visa's core business in international markets, contributed to growth in key underlying business drivers. This led Visa to post strong results for 2Q2012.
Having a market capitalization of $78.5bn, Visa owns and operates the largest retail electronic payments network worldwide. It facilitates commerce through the transfer of value and information among financial institutions, merchants, consumers, businesses, and government entities.
On a constant dollar value, growth in payment volume for the three months ended March 31, 2011 was up by 11% over the prior year. Cross border volume growth was also up by 16%. Total processed transactions during the same period were $13bn, pointing towards a surge of 8%.
Revenues and Earnings
The company generates revenues from four different sources. Revenues from card service fees of $1.24bn again remained the largest contributor in 2Q2012. Revenues from this category exceeded the consensus estimate of $1.2bn. However, international transactions grew by 17%, driven by cross-border activity, especially in Brazil.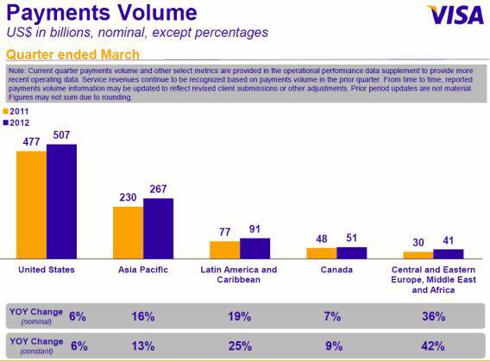 Net income, after adjusting a one-time non-cash benefit, with an increase of 23% over the prior year, was $1.1bn. The reported EPS of $1.6 was above Credit Suisse's EPS estimate of $1.50. Operating revenues of $2.6bn were up by 15% over the prior year.
Expenses
Operating expenses during the three months ended March 31, 2012 surged by 13% over the prior year to touch the $972mn mark, largely due to personnel costs associated with acquisitions and investment in technology projects to support growth initiatives.
Cash and cash equivalents
Cash and equivalents reached $8.9bn, including $4.3bn of restricted cash in the litigation escrow accounts. The company has a free cash flow of $1.1bn.
Relative valuation
The stock's price-to-earnings ratio of 18.6x is at a slight discount to industry's price-to-earnings of 20x.
Outlook
By 2014, the company is expected to grow its EPS to $7.9. The company expects an operating profit margin of around 60%. It also expects to make a capital expenditure of $350mn to $400mn and generate a free cash flow of over $4bn.
Recommendation
Visa exceeded earnings estimates in 2Q2012. Visa expects mobile transactions to ramp over the next several years and not just the next 12-24 months. Over the longer term, Visa thinks cloud might become more attractive. Visa's collaboration with Samsung to provide mobile payment facilities at the London Olympics 2012 will demonstrate this new payment innovation with the GALAXY S III. Visa's continuous resolve to keep evolving with the new trend will increase its market share. Considering the above analysis, we recommend a strong buy.
MasterCard Inc.
MasterCard Inc. is the second largest global payments and technology company that connects consumers, financial institutions, merchants, governments and businesses worldwide, enabling them to use electronic forms of payment instead of cash and checks. Having a market capitalization of $53bn, MA processes transactions from more than 210 countries and territories in more than 150 currencies. It generates 40% of its revenue from the U.S. For 1Q2012, MA posted an impressive year over year volume growth both in the U.S. and abroad. U.S. volume growth was 14.0%, and volume growth for the rest of the world was 17.8%, up from 16.4%.
Revenues and Earnings
MA generates revenues from mainly domestic assessments, cross-border volume fees and transaction processing. Revenues from domestic assessments remained the largest contributor in total revenues for the company in 1Q2012. Domestic assessment fees saw a hike of 16% over 1Q2011. This was largely due to revenues generation from the acquisition of Access Prepaid World and price changes that were implemented in 2012. Transaction processing saw revenue growth of 21%. Cross border fee category witnessed a 15% rise in revenues, with the net revenue that MA reported in 1Q12 being 17% higher than the prior quarter; however it was still lower than sell side estimates.
Expenses
Expenses, as a percentage of net revenues, saw a marginal decline of 1%. Amongst expenses, depreciation and amortization saw the largest hike of 30% over 1Q2011. The increase in depreciation and amortization expenses reflected the amortization of intangible assets from the 2011 acquisition of Access and increased capitalized software associated with strategic projects.
Liquidity
The company has a strong liquidity position that is sufficient to meet its future operating cash needs. The company had $5.1 billion and $4.9 billion, respectively, of cash and cash equivalents and current available-for-sale securities to use for operations. Net cash provided by operating activities for the three months ended March 31, 2012 was $427mn versus $355mn for the comparable period in 2011.
Relative valuation
The stock's price-to-earning of 26.4x is higher than the industry average of 20x. However, Credit Suisse expects an EPS of $30 and a price-to-earnings ratio of 14x for 2014. MA continues to expect net revenue growth CAGR of 12-14% for 2012- 2013, and an EPS CAGR of more than 20%.
Recommendation
Apple (NASDAQ:AAPL), in collaboration with MA, is expected to add an NFC chip to what is now being called the iPhone 5, so that its customers have access to MasterCard's PayPass application in order to utilize NFC technology. MasterCard's strong operating performance and cash flow generation make it an attractive investment opportunity.
American Express Co. (NYSE:AXP)
American Express also operates in the credit services industry. Its reported net income of $1.24bn was above analyst estimates of $1.08bn. Net revenues also remained higher than expected, while operating expenses amounting to $123mn were higher than their forecast. Analysts believe the impact from a lower effective tax rate and leap-year benefit generated approximately $0.04-$0.05 of incremental earnings per share. Another player in the industry is Discover Financial Services (NYSE:DFS) has also reported good credit and purchase volume trends for 1Q2012.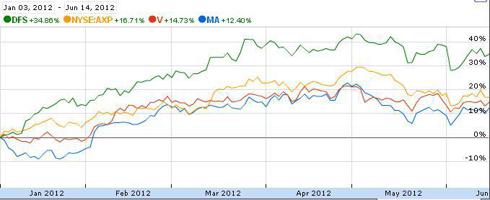 Disclosure: I have no positions in any stocks mentioned, and no plans to initiate any positions within the next 72 hours.