We recently discovered a credit rating report dated November 15, 2007 about Guangxi Yuchai, the Chinese operating unit of China Yuchai International (NYSE:CYD). This report, generated by one of the top China-based rating agencies, China Lianhe Credit Rating Co. Ltd, is in Chinese and has not been made available in English. It is a follow-up report on the 650 million RMB short term bonds the company issued in April of 2007. The bonds rated A-1, the highest score of the agency's rating system. The 14 page report includes detailed financial metrics for the past 3 years. The long term rating of the company is AA. It is continually cited in the report that the financial statements, including the Income statement, Balance Sheet and Cash Flow statement, are based on financial information provided directly by the company.
We translated the income statement and some key points: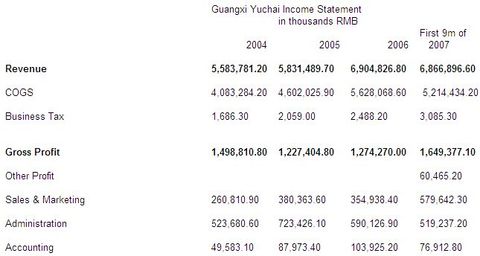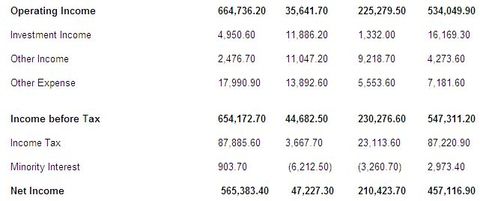 As of September 2007, the total company assets were 8,022,482,000 RMB ($1.10 billion); shareholders' equity was 3,317,570,700 RMB ($442 million).
Here is our simple analysis: The total revenue for the first 9 months of 2007 was comparable to the revenue for the entire year of 2006. Gross margins improved from 18.5% for 2006 to 24% for the first 9 months of 2007. For the first 9 months of 2007, the Net Income already more than doubled from the entire year of 2006. Taking account of the exchange rate of 1 USD = 7.5 RMB, and that CYD owns 76.4% of Guangxi Yuchai, the total number of shares outstanding being 37.3 million, EPS for first 9 months of 2007 was $1.24 from Guangxi Yuchai to CYD. From the SEC filings of CYD, the two Singapore assets held by CYD had little or no impact on the income statement. CYD earnings should be very close to the contribution from Guangxi Yuchai. Based on the company's announcement of the whole year unit and revenue, it is reasonable to estimate its EPS for 2007 is above $1.50, more than 100% growth from the pre-audited EPS of $0.69 for 2006.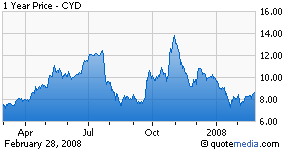 The stock, as of today, has a market cap of approximately $320 million. The company also owns two other public investments in Singapore that account for about $100 million. Taking this out of market cap, the Chinese operating company is only trading at $220 million. For 2007, according to the announcement of the Chinese operating unit, the company generated about 10 billion RMB of revenue, an equivalent of about $1.3 billion. The price/sales of the diesel engine maker is only 0.17.
CYD stock is significantly undervalued based on its asset value and revenue. This report gave more detail into the company's profitability, which eliminated the last possible question about the company's fundamentals.
Disclosure: Author holds a long position in CYD