If it looks like a duck, swims like a duck, and quacks like a duck, then it's probably a duck. Corning (NYSE: GLW), a leading designer and manufacturer of glass and ceramic substrates, has all the characteristics of a typical value play and is a buy at $13 per share. Below are some key ratios to consider:
P/E - 8
Price/Book - 0.94
Price/Sales - 2.60
Current Ratio - 5.50
Quick Ratio - 4.46
Debt/Equity - 0.15
Dividend Yield - 2.2%
Profit Margin - 31%
ROE - 12%
Corning operates in five reportable business segments: Display Technologies, Telecommunications, Environmental Technologies, Special Materials and Life Sciences. However, the Display Technologies segment makes up a majority of the business representing 40% of sales and almost 90% of net income. This segment manufactures glass used in LCD displays found in notebook computers, desktop monitors, tablets and televisions.
Looking at the chart below, it is obvious that the recovery from early 2009 has nearly been erased. The reason for this is a 27% drop in earnings from 2010 to 2011 - $2.25 per share compared with $1.77 per share (diluted).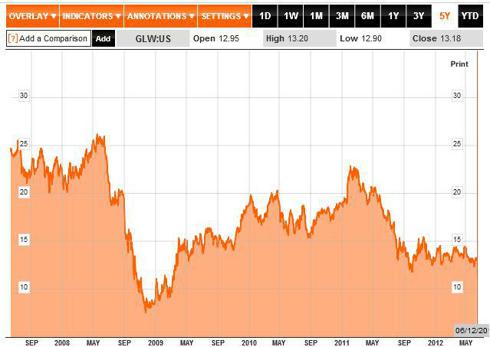 Source: Bloomberg
Over that same period, sales actually increased by 19%, driven mostly by an increase in demand for portable display devices that use Corning's high strength, lightweight product known as Gorilla Glass. This increased pressure on margins is a product of both excess supply in the market and an increase in competition. Demand for LCD televisions and other specialty products that use Gorilla Glass has actually been increasing at the retail level; however, Corning does not sell its products to end users. Inventory levels within the LCD supply chain have not matched growth which has resulted in excess capacity in the supply chain. The company has addressed the issue by delaying instalment of new glass melting tanks and postponing the relight of tanks that were removed for maintenance in an effort to reduce capacity. According to the company, the strategy has succeeded and display glass demand and supply are in relative balance.
Investing Thesis:
For the last five years the spread between "risky" and "non-risky" assets has grown dramatically as investor's concerned about volatility flee to safety. This is evident in the performance of companies operating in what are traditionally considered to be safe industries - food, utilities etc. Corning has a very concentrated client base as the company's 10 largest customers accounted for 51% of sales in 2011. Furthermore, four customers in the Display Technologies segment accounted for 77% of sales during that same year. A loss of anyone of these clients could have a significant impact on Corning's business. On top of that, the company is not well diversified in its operations as nearly all of their income is generated from the Display Technologies segment which tends to be cyclical and dependent on discretionary consumer spending.
Because of these inherent risks, Corning has been put into investor purgatory, caught in a trading range seemingly unable to escape. Despite the issues highlighted above, however, I like Corning at $13 for a variety of reasons. Corning is still the world leading suppler of glass substrates in the LCD market and over its 160 year history has developed technological and manufacturing know-how that cannot be rivaled. The companies' proprietary fusion manufacturing process, for example, allows Corning to produce larger, thinner and flatter glass substrates than its competitors. Technology is the key to sustaining a competitive advantage and management is fully aware of this fact (R&D expenses typically make up about 8% of sales). The company continues to innovate and create new products such as the new Willow Glass - a thin, high strength, bendable glass that could be revolutionary.
The aforementioned issue of income concentration in the Display Technologies segment is not a significant concern to me for two reasons. First, I like specialized companies for all the advantages that specialization brings. The company does not need to focus on diversifying its operations because investors can achieve diversity via their portfolios. Second, demand for Gorilla Glass (Special Materials) is increasing at an increasing rate as the smart phone and tablet markets continue to expand rapidly. While the short-term outlook may appear somewhat ominous for Corning, I am optimistic about the long-term outlook for products that require Corning glass - tablets, smart phones etc. As an investor with a long-term investing horizon, that is what I am most concerned about.
Aside from that, Corning is in great financial health. The balance sheet is exceptional, the company has good cash flow (FCF margin 27%), good margins (profit margin 31%), a decent dividend (2.1% yield), and is trading right around book value. For the past six years, Corning has traded around 11 times earnings compared with its current 8 and the S&P 500's 14. On a discounted cash flow basis, Corning is worth somewhere between $12 and $16 per share, which of course, would suggest this company is fairly valued. The dividend discount model, which is probably not an appropriate measure for this type of company, yields a value of around $30 per share. I would suggest that Corning is worth slightly more than the DCF results and much less than the DDM.
Despite being out of favor right now, Corning operates in a great space that I want to be apart of going forward. Capital expenditures are expected to decrease significantly over the next year as the company completes capacity expansion for new products like Gorilla Glass. For that reason and those mentioned above, I believe Corning is currently undervalued by at least 30% and is therefore a buy.
Disclosure: I am long GLW.