Nobody is going to mistake Ohio for Macau, but the Horseshoe Casino Cleveland which opened May 15th to extraordinary crowds has been described by Bank of America as "the busiest vertical casino this side of Macau."
Other casinos are opening in Toledo, Columbus, and Cincinnati in the coming months. You need to be a giant like Caesars (NASDAQ:CZR), Penn National Gaming (NASDAQ:PENN), or Dan Gilbert (Founder of Quicken Loans and owner of the Cleveland Cavaliers) to own a piece of these local monopolies - right?
Wrong.
Lakes Entertainment (LACO) owns 8% of Cleveland and Cincinnati through its 10% stake in Rock Ohio Ventures. Lakes is the Anthony "Spud" Webb of gaming: a 5-foot 7-inch basketball player who won the 1986 NBA Slam Dunk Competition surrounded by giants. Once celebrated as the owner of the World Poker Tour, Lakes has repositioned itself in recent years and today holds a portfolio of assets whose value we believe greatly exceeds its stock market valuation. Let's dive into this Lake.
Rock Gaming assets (Ohio)
Horseshoe Casino Cleveland: We believe this local monopoly can generate north of $100mm in EBITDA and is worth $2.25+ per share to LACO in and of itself.
Horseshoe Casino Cincinnati: Slated to open in the first half of 2013, we believe this asset is worth $1.25+ per share to LACO.
Thistledown: This racetrack has an opportunity to relocate to a better location (like Penn National is also doing) and install up to 2,500 Video Lottery Terminals ("VLTs"). We believe this asset is worth approximately $1+ per share to LACO.
Other assets and liabilities
Rocky Gap: Lakes is self-developing a casino at The Rocky Gap Resort in Maryland. While Maryland has been a challenging state for casinos due to high tax rates, Rocky Gap's relatively attractive 50% tax rate makes this project very compelling. We believe that this project is worth approximately $2 per share to LACO.
Net cash: Lakes holds approximately $1.50 per share in net cash. Yes, you read this correctly, a casino company with net cash equal to over half its current market cap. This is one area where LACO stands taller than its gaming peers.
Land for sale and notes receivable from American Indian tribes: Currently on the books for $35mm ($1.35 per share), we ascribe zero value for conservatism, but acknowledge that there is over $2 per share in potential if these assets are ever monetized.
Corporate overhead: Unfortunately, Lakes has substantial corporate expenses. Conservatively capitalizing them at a market multiple could destroy approximately $2 per share.
Free options on future development: Finally, Lakes should be a contender for future promising development and JV opportunities. We expect that the costs of corporate may ultimately be absorbed by future projects, further enhancing the value for LACO shareholders. We ascribe zero value to these options.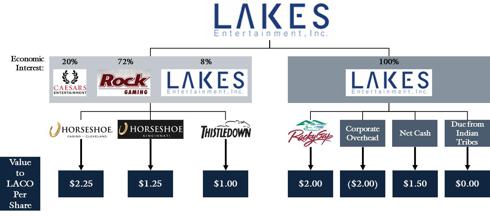 Today, investors are paying $2.79 per share for what we believe to be worth roughly $6.00+. Moreover, despite its grand scale of assets and partners, Lakes is a company with only a $75mm market cap and a $36mm enterprise value.
Unlike many other deep value, under-the-radar situations, catalysts are surfacing right now for Lakes. Cleveland just opened to extraordinary crowds. Cincinnati is following in its footsteps. Furthermore, there are many ways to monetize these assets. One can imagine Caesars buying out Rock Gaming, Caesars buying out Lakes, or Rock Gaming going public. With stakes in four casinos opening throughout 2012-2014, we expect Lakes to make waves.
Disclosure: I am long LACO.
Additional disclosure: Esplanade Capital LLC and its affiliates own stock in Lakes Entertainment and may buy or sell the stock at any time. Our EBITDA and multiples are estimates and may change considerably. Moreover, the timing of cash flows from the Ohio assets is uncertain.