I did a back of the envelope comparison of Stryker (NYSE:SYK) and Zimmer (ZMH) a little while back and came out with the conclusion that Stryker was the better buy. I keep revisiting the stock and can't seem to pull the trigger, which is very similar to how I feel about Oracle (NYSE:ORCL).
For companies with long established track records and predictable earnings/cash flows the use of models with variables including ROIC, operating income growth, sustainable period, and cost of capital/risk free rate can be very enlightening.
Risk should be defined as the likelihood that ROIC will fall below the cost of capital and/or that growth in operating income will turn negative. If either of those happen then your investment will destroy value over the long run, otherwise you likely have a solid investment (at the right price!). So what is that price for Stryker?
Aswath Damodaran at Stern Business School is amazing in that he puts his models up for free online. If you have the patience to fill one out carefully and are using accurate data, your portfolio will thank you.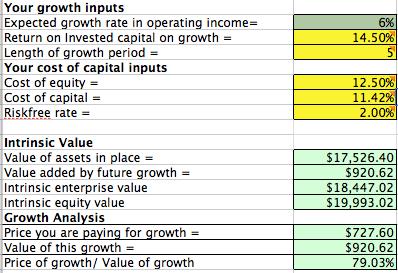 The estimate of 14.5% ROIC comes from Value Line's projected return on total capital for 2013-2017. The estimate of 6% growth in operating income comes from Value Line's projected sales growth rate out to 2017. These assumptions give an intrinsic value of $52.48
What happens if Value Line is off?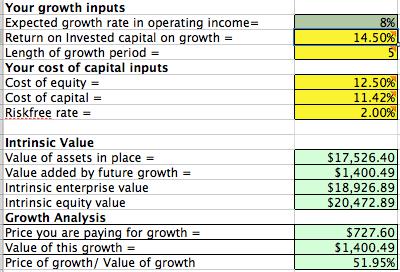 A 2% change in estimate for operating income growth means intrinsic value goes up to $53.74
Again, assuming Value Line is wrong with its ROC estimate, the following is another possibility: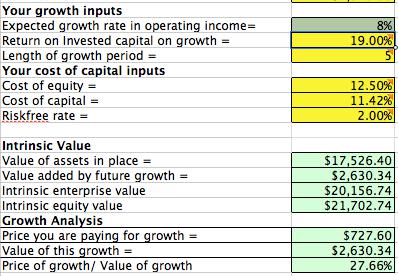 I raised it to 19% - this is the 10 year average ROC for SYK.
Now ROC and ROIC are different. ROIC implies the marginal increase in invested capital year over year. It is a more meaningful metric as it shows what the company makes off of an additional investment. As previously calculated, this year's ROIC will likely be around 33%
The following chart lays out the intrinsic value range based on these assumptions:

Conclusion
Likely Intrinsic Value is $57.39 implying about a 6% upside from June 15th's closing price.
While I am less sure of the future operating income growth, I do think the ROIC will remain high as Stryker has solid management and a defensible economic moat. This leads me to speculate the Intrinsic Value will be larger than the above estimate.
Share buybacks and dividend growth can propel the Intrinsic Value higher.
I'm always nervous about buying a great company after the CEO has left. That being said, a truly great company runs itself. Stryker is a Jim Collins classic Great company that is also Built to Last.
Its moat comes from its dominance as well as high-switching costs in the industry. That plus years of excellent management and capital allocation resulting in prolonged double digit growth.