With the Greek elections in the rearview mirror, markets are now focused on whether or not Greece's new leaders can form a coalition; Spanish bond yields; and the Federal Reserve's next move. While of lesser importance at the moment, US economic data has clearly weakened over the past month as well, foretelling of a potentially disappointing earnings season.
This piece will summarize why equities are now set for one more leg lower.
Stocks Are Expensive Relative To Treasuries
(Chart courtesy of ZeroHedge)
Click to enlarge.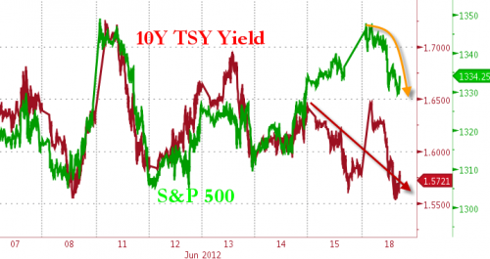 With equity markets much slower to discount negative information in 2012, compression trades from the short side on equities have worked tremendously well this year.
Time and time again, we've seen equities diverge from the credit markets, treasuries, gold, and other risk assets. While the spreads don't always compress immediately, the actual moves are incredibly swift and strong when they do in fact materialize.
The above graph shows the extremely strong correlation between 10 years and equities, and the divergence that got particularly out of whack at the end of last week's exuberance in equities.
Some short covering, stimulus hopes, and rebalancing likely caused the divergence; expect bidless Spanish/Italian debt and Greek coalition fears to catalyze the compression.
Spanish Debt
The market's reaction to the poorly structured Spanish bank bailout was extremely worrying from a long-term perspective. When $100 billion doesn't help the market stabilize, it's clear that central planners have begun to lose control over this ultra-leveraged environment.
On Monday, Spanish 10 year yields topped out at 7.285, blowing out massive spreads to comparable German bunds. It's hard to imagine a catalyst for a bid to come into this market; The IMF has about $400 billion, the ESM/EFSF mechanisms are reeling from the bank bailout, and Germany seems to lack the political will to initiate any major action.
It's no secret that yields above 7% are unsustainable. At this point, pure capitulation is possible in Spanish debt if no major bailout plan is announced in the coming days.
Greece
While the New Democracy victory was obviously better for short-term market sentiment than a SYRIZA win, doubts remain as to whether or not ND and Pasok can form a coalition government. Additionally, last week's market action seems to have priced in a successful Greece event. Failure would lead to a major market shock.
Federal Reserve
While most believe at least some MBS buying and balance sheet expansion will be announced, what remains to be seen are the extent and ensuing market reaction. If a LSAP program is neither announced nor perceived by the market as being large enough, markets will take a huge hit. I think there is a major possibility that even if a program is announced, the worry of diminishing returns as a result of several Fed programs will actually have a negative effect on the marketplace. We've already begun to see diminishing returns from large-scale bailouts (Spain).
Conclusions
Though this week is extremely light on US macro data, Spain will go to the market on Thursday to auction 5 year bonds and some shorter duration debt. Barring a major headline, this auction could be the catalyst for full-on capitulation in Spanish debt, having major consequences for Italian debt, and thus global equities.
With stocks currently extremely rich to both treasuries and some credit indicators, shorting US stocks (NYSEARCA:SPY) has an extremely strong risk/reward profile at these levels.
Disclosure: I have no positions in any stocks mentioned, and no plans to initiate any positions within the next 72 hours. I am short DJIA September Futures Contracts.