YPF Sociedad Anonima (NYSE:YPF) has seen its share price fall significantly due to it being nationalized by the Argentinian government. Argentine President Cristina Fernandez took control of the company as part of a strategy to increase oil production in the country.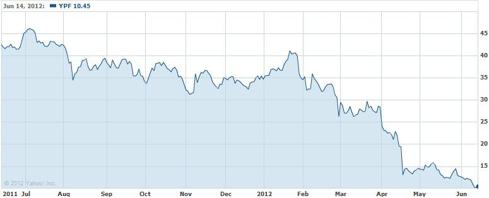 The share price has fallen around 75% in the last year. Investors have been panicking as they may no longer have a say in the company. The government is most likely not going to return any capital to shareholders through buybacks or dividends. President Fernandez has made it clear that investment in the country should be the company's main priority at this point.
Even with all of this turmoil going on for the company, Billionaire Carlos Slim has decided to take a stake in YPF. Slim has a 8.4% stake in the company. So it seems its a nice addition for current shareholders to have Slim join the club. However, Slim buying still does not take away the risk for the company.
To be honest, its hard to determine Slim's motive behind purchasing the stake in YPF. Regardless, it doesn't change the direction of the company the government has planned. President Fernandez has made it clear that it plans to invest $35 billion in energy infrastructure to boost output. YPF is simply not generating enough profit to increase investment. Cristina will most likely cut the dividend and could even dilute existing shareholders to raise capital.
Carlos Slim's stake in YPF doesn't change the game. Slim may have ulterior motives for investing in the nationalized oil producer. Investors should continue to be cautious as this news doesn't take any risk out of the company's equation.
Disclosure: I have no positions in any stocks mentioned, and no plans to initiate any positions within the next 72 hours.