In the first article on Sandstorm Metals & Energy (OTCPK:STTYF), I explained the business model and the bull case for the stock. Since that time, the stock is off 33% after three of its counterparties announced the need to raise additional capital. Below are excerpts from company announcements regarding financing needs:
Novadx: Announcement of Key Initiatives, May 16, 2012
"The strategic plan is expected to take several months to implement and in the meantime the Company will be pursuing a plan to raise up to $20 million in additional capital. Once the plan has been fully implemented, Novadx will be on solid financial footing and in a better position to build shareholder value."
Terrex Energy: Operational and Financial Update, May 23, 2012
"The Company's EOR projects are now at a point where additional capital is required to advance these projects and realize on their potential. The Company is actively exploring various financing options to fund these capital programs. To this end, a special committee (the "Special Committee") of the board of directors has been formed and has engaged Nova Bancorp Securities Ltd., on a non-exclusive basis, to assist the Special Committee and management with the identification and evaluation of various financing strategies for the Company."
Thunderbird Energy: Year End Reserves and Operations Update, June 1, 2012
"However, one-time, front-end infrastructure costs that we have incurred, combined with start-up drilling issues, production delays and depressed natural gas prices have placed us in a much tighter cash position than we originally budgeted. Accordingly, we are currently evaluating a number of potential financing avenues so that we can complete the balance of our 2012 capital expenditure program and can fulfill our commitments under our previously announced agreement with Sandstorm Metals & Energy Ltd."
Sandstorm has met coal, oil, and natural gas streaming agreements with Novadx, Terrex, and Thunderbird, respectively. The additional financing needs are a cause for concern to investors still unsettled by the failure of Royal Coal. To give a little background on Royal Coal, Sandstorm first announced a $14M investment in the company in November 2010. Subsequently, Sandstorm provided a $3M bridge loan to the company in August 2011 for the purposes of acquiring a load-out facility. According to the terms of the streaming agreement, Sandstorm would gain the right to purchase 12% of Royal Coal's production at a price of $55/ton. At the time, the deal did not look like an imminent disaster. Thermal coal prices were still on the mend from the 2009 lows, reaching nearly $80/ton in August of 2011 (See: price chart). But as Sandstorm's CEO readily admits in the Q4 2011 conference call, thermal coal operates on thin margins even in the best of times. According to Royal Coal's corporate presentation, the company expected margins to be a skinny $14-18/ton based on May 2011 production cost and coal price estimates. As such, Royal Coal was vulnerable to even a mild decline in thermal coal prices. In December of 2011, Sandstorm agreed to defer the minimum guaranteed production purchases for 12 months, contingent upon Royal Coal successfully raising $5M in equity. Royal Coal was unable to raise the equity. By March of 2012, the company suspended operations and announced the indefinite delay in filing its 2011 annual financial statements. Royal Coal received a Statement of Claim from its Creditors (namely Sandstorm), disclosed on April 13.
In summary, Royal Coal was a poor asset. Going forward, it is important for investors to evaluate whether Novadx, Terrex, and Thunderbird hold assets likely to attract additional funding from investors. Only well-funded counterparties will reach production.
Asset Quality Impacts Odds of Raising Capital
This matter is up for debate. Novadx appears to have high quality met coal assets, but management quality is lacking. Not surprisingly, the new strategic initiative includes supplementing current management. Terrex has already seen management turnover in the CEO position this year, and the company's project is not particularly high-margin as the enhanced oil recovery (EOR) process is expensive. However, though the capital costs (and additional required financing) are significant, the process is established and the risk of long-term collapse in oil prices is relatively low. Thunderbird perhaps has the highest quality asset, with production costs estimated at $2/MCF, which is well below the industry average.
Asset quality is becoming more important for raising additional capital in a tight market. As Brent Cook explains in a recent interview, industry capital needs are high. About 300 IPOs were launched on the TSX Venture Exchange in past 2 years, raising about $10-12B in equity. There are around 1500 active junior E&Ps. As a result, the market was recently flooded with equity. Now, demand for additional capital to continue to advance projects far exceeds investor appetites as asset scrutiny has increased as risk appetites have been appropriately reduced.
Some retail investors suggest that the juniors backed by Sandstorm have little to fear because Sandstorm has deep pockets, referencing the $40M of cash on Sandstorm's balance sheet. This faith is misplaced. Sandstorm management has indicated that they do not intend to invest additional capital into existing projects. Once bitten, twice shy? Maybe it is just prudence.
Liquidation Scenario Priced In
What the market has priced in is more important than estimating the exact odds of each counterparty receiving additional capital. If the market has already priced in the companies failing to raise capital and going bust, then further sustained downside is likely limited over the intermediate term.
Sandstorm's stock is trading near the liquidation value of its senior claims on counterparty assets. Per the streaming agreements, Sandstorm has senior claim over all assets of each company in the event of a default. To calculate the liquidation value of each claim, I assumed no current assets would remain on the balance sheet in a liquidation scenario. As with Royal Coal, a company will burn through all of its cash (and other current assets) before shutting the doors. The only assets I gave any weight to were equipment and mineral property. I ascribed various weights to these assets based on the company, an estimate of what the assets may sell for in a liquidation (which is impacted by the quality of the asset). Next, I subtracted the value of the asset retirement obligations (the present value of the future cost of land restoration, listed on the balance sheet as a long-term liability) of each counterparty from the net asset values. I took the net recovery and divided it proportionately between senior creditors. Because the seniors' claims were never fully satisfied, subordinated claims were irrelevant.
Below is a summary of the results: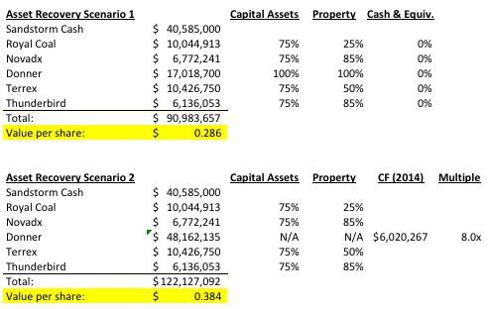 Note that in Scenario 1, I assumed a 100% recovery for Sandstorm's investment in Donner as a liquidation at a discount is highly unlikely for an asset nearly in production with a credible joint venture partner. In Scenario 2, I assumed that the Donner stream would continue to perform and Donner would not be liquidated. I valued that stream at 8x cash flow (compared to >14x for public royalty companies such as Royal Gold and Franco Nevada). This lower multiple is used because investors will no doubt be skeptical of Sandstorm's ability to create value if three out of five streams fail. The point of this exercise is to produce a rough estimate of the bear-case valuation for Sandstorm. The stock is already there. Keep in mind, too, that Sandstorm doesn't have to liquidate the assets immediately, if ever. With Royal Coal, Sandstorm is seeking to have the property, plant and equipment transferred to a subsidiary (Black Bullet Coal, LLC) formed for the purpose of holding the assets. Conceivably, though the assets may be worth little in the current thermal coal environment, they may be worth more down the road.
Value of Tax Assets is Uncertain But Significant
This liquidation scenario ignores the significant tax assets that would be created by the losses. I did not calculate the value of the tax assets because Sandstorm's tax situation is unclear based on its non-taxpaying status (though its U.S. and Canadian subsidiaries may pay taxes in the future). Further complicating the tax scenario, Sandstorm's streaming agreements are unique and, consequently, proprietary. Important language is redacted in the legal documents regarding elements that effect tax consequences. On the Q4 2011 conference call, management state:
"If we do lose money, in addition to being able to deduct our losses against future income, will be able to recognize a continued and perpetual ongoing tax shelter that will accrete each year and we believe that one day long into the future we will have saved an amount of tax greater than the purchase price of the Royal Coal stream."
Your guess is as good as mine on how that actually works. Watson believes that no other royalty/streaming company has figured out how Sandstorm structures its agreements.
Poor Management or Bad Luck?
Investors are rightly skeptical of Nolan Watson & Co. While he has been very successful building Sandstorm Gold (SNDXF.PK), the sister company has been much more challenged. The main question is whether or not the Sandstorm team is making poor investment decisions. Let's evaluate each streaming agreement Sandstorm M&E entered into.
Royal Coal, by Watson's own admission, was a poor investment. The asset had poor economics even in the best of times. Strike one.
Novadx represents a good asset with poor management, and perhaps the team at Sandstorm could have seen the warning signs. I count this stream as down but not out, as there are several ways to win if the asset is of good quality. Sandstorm can win if new management and financing is secured in the coming months (a long shot), or if Sandstorm takes control of the asset and negotiates a new deal with a new company and management team (more likely).
Terrex appears to have been a high-risk gamble on Terrex management's ability to raise future capital. Sandstorm's investment only funded the purchase of property, not the capital costs of putting it into production. The search for capital was announced in January of this year, and the new CEO was a company insider and may not bring many new ideas to the table. It is certainly a "show me" story and should be heavily discounted. The final verdict is not in, but based on the facts, I have a difficult time understanding why Sandstorm took on so much risk for an unexceptional asset. Unless Terrex succeeds in raising capital in the next few months, this will be strike two.
Thunderbird appears to be a solid asset with good management, held back by industry headwinds (natural gas prices). Given time and a little more capital, I expect this asset to succeed. Even if Thunderbird goes bust, Sandstorm can hold the asset as senior creditor for another 12-24 months until natural gas prices improve.
Donner appears to be a home run, barring any last-minute disasters. Donner was able to raise capital multiple times and its JV partner, Xstrata, has pushed hard to bring the asset into production.
It looks like two strikes, two assets that require more work, and a home run. With 45% of its market cap in cash, Sandstorm itself will not face a liquidity crunch. The company has a quarterly corporate overhead of only $1.2M and future commitments to Donner and Thunderbird totaling $15M. Additionally, the company plans to sign another streaming agreement this year. On that note, let's consider what could go right over the next 12 months and provide an upside catalyst.
Potential Upside Catalysts
Novadx, Terrex, and/or Thunderbird Financing: If any of these companies received financing, they would stand a good chance of going into production within the next two years. They would no longer deserve a liquidation-scenario valuation and could create meaningful upside for the stock.
Royal Coal Recovery Validating Agreement Structure: A recovery would be a boon financially. But perhaps more importantly, it would prove that Sandstorm's streaming agreement structure does indeed provide some level of concrete downside protection. Because Royal Coal represents a worst-case scenario, it should serve as a floor for future asset recovery expectations.
Donner Production Commencement: Cash flow from Donner will give Sandstorm the ability to continue to operate and make future investments. The announcement of Donner going into production will be a financial and psychological benefit for Sandstorm investors. Sandstorm's copper stream with Donner appears to be on track for late 2013, running 6 months ahead of original production schedules. Additionally, the company hopes to begin an underground drill program by mid-year and "expand resources and bring additional deposits into the mine plan." This would provide the much-touted exploration upside to Sandstorm's investment in Donner.
New Deal Announcement: Investors seem to be ignoring (or heavily discounting, perhaps correctly) any future deals by Sandstorm. While the current situation is bleak from some angles, I would expect management's next deal to be conservative with near-term cash flow potential. Management will be looking to build some positive momentum.
Insider Buying
Let me reiterate, the stock is trading as if every single stream will fail and Sandstorm will never make another profitable investment. This is borderline on ridiculous, as only one stream (Royal Coal) has failed and one, Donner, is highly likely to go into production. Management, too, seems to see value when the stock dips below $0.35. Key Insiders have already purchased shares three times this year:
On January 5, 2012, Nolan Watson, CEO, purchased 157,800 shares on the open market at a price of $0.350 ($55,230).
On May 25, 2012, David Awram, Co-Founder, purchased a total of 92,000 shares at an average price of $0.327 ($30,060).
On June 1, 2012, Erfan Kazemi, CFO, bought 15,000 shares at $0.330 ($4,950).
The outlook for Sandstorm is decidedly more positive than its stock price would indicate. If and when one or more of the upside catalysts materialize, the shares will likely see a re-rating.
Disclosure: I am long OTCPK:STTYF.