Dividend ETFs have attracted a big following as investors seek refuge from the high market volatility.
For instance, the Vanguard Dividend Appreciation Index ETF (NYSEARCA:VIG) holds high-quality companies that have the ability and commitment to increase their dividends over time. The fund focuses on companies that have increased their annual regular dividends for at least the past 10 consecutive years. VIG has an expense ratio of 0.18%.
"Investors seeking stability and a growing income stream may want to consider VIG," wrote Stuart J. Benway, S&P Capital IQ Equity Analyst, in a research note. "The Dividend Achievers are typically companies with strong cash reserves, solid balance sheets and a proven record of consistent earnings growth, in our view."
Consequently, S&P Capital IQ gives an "overweight" rank for VIG, based on risk considerations, low cost, quality rank and credit rating inputs.
VIG has a yield of about 2%, whereas the average stock dividend yield in the S&P 500 is about 2.4%.
"We believe that this is because many of the stocks in the S&P 500 that have relatively high dividend yields also have somewhat weak financial positions and lack a long track record of dividend increases, and therefore would not be included in this ETF," Benway said. "Nevertheless, VIG focuses on companies that deliver dividend growth, and on that measure the fund has a solid track record, in our view."
From its inception in 2007, VIG has provided a compound annual growth rate in dividends of 7.6%. Additionally, the fund has a five-year beta of 0.82, which makes it less volatile than the market average.
Vanguard Dividend Appreciation Index ETF
Click to enlarge image.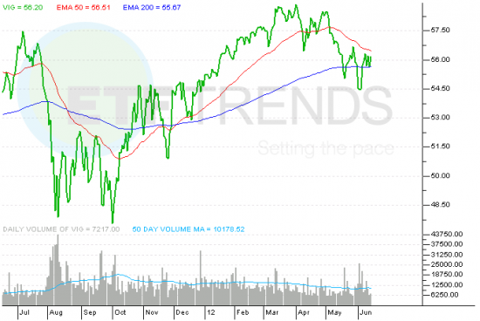 Max Chen contributed to this article.
Disclosure: I have no positions in any stocks mentioned, and no plans to initiate any positions within the next 72 hours.