The price of gold is a function of real interest rates. In last few years, gold has seen increased demand because of its characteristic as a safe haven as well as an inflation hedge. Central banks' increasing appetite for gold, in order to diversify forex reserves, has also caused gold prices to surge.
We believe that gold equities' underperformance to spot gold prices will result in a catch-up rally for gold stocks. The gold stocks are not discounting the current or expected price of gold. We recommend investors to buy Barrick Gold Corporation (NYSE:ABX), Yamana Gold Inc (NYSE:AUY), Goldcorp Inc. (NYSE:GG) and short sell the Gold ETF (NYSEARCA:GLD). These stocks have positive cash flows, strong balance sheets, cheap valuations and reserve growth will translate into higher bottom lines in the future.
Year to date, GLD is up 4% vs. GG, ABX is down 12% and AUY is up 9%. If gold prices move higher these stocks will outperform GLD.
Industry Analysis
Gold Demand
Gold has four major sources of demand: jewelry, investment, technology and official sector purchases. Out of these four, the first two account for 83% of the total demand.
The demand for gold is exposed to seasonality, with jewelry demand being the best example of this phenomenon, as it tends to vary from quarter to quarter. Historically, it receives a dip in the first quarter, but rises again from the second quarter onwards. Following this trend, the current high demand of gold is expected to continue as we move into 3Q2012.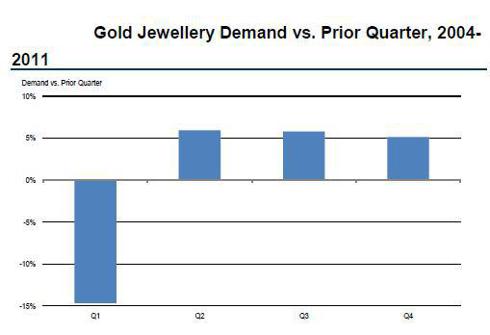 The investment demand is also experiencing continuous growth on a year-over-year basis, largely because of the solid demand for gold ETFs. Currently, gold futures are undergoing their longest rally since October.
The demand for physical bar and official coins has declined in 1Q2012 from its previous lofty levels in 1Q2011, but it still seems very robust in the long term.
According to a report by the World Gold Association, the global gold demand is experiencing the following trends:
In India, the demand for gold was affected in Q12012 by a new tax on gold jewelry, two increases in the import duty on gold, and weakness and volatility in the Indian Rupee. However, the Indian government withdrew the new tax on jewelry in May, prompting demand to improve again.
In China, demand for both investment and jewelry has increased by 10% compared with the previous year's levels. Despite being the largest gold miner in the world, China is currently a net importer of gold. An inability of Chinese producers to mine enough gold to meet domestic demand is very bullish for gold prices in the future.
Central banks in emerging markets are increasingly using gold to diversify their holdings. As a result, gold's demand has received an upsurge, especially in Eastern Europe and Mexico.
Some other factors, given below, will lead to a continuous increase in the demand for gold.
Currently, the U.S. economy is moving at a slow pace especially after the ongoing European sovereign debt crisis. There are expectations that the Federal Reserve will act to stimulate the growth of the U.S. economy. These expectations have further substantiated the demand for gold, as it is viewed as an inflation hedge.
Plunging equity markets after the financial crisis of 2007-08 made gold a safe haven for most investors, which is a key contributor to its rising demand.
Spain's request for bailout
According to Bloomberg, the rallying of the euro againstthe U.S.dollar after Spain asked for a bailout has triggered an improvement in gold prices as of June 11.
Gold Prices
Gold Prices have increased for the 11th consecutive year in 2011 before recently experiencing some volatility. One of the primary reasons for this overall upsurge is the U.S. dollar's downward slide.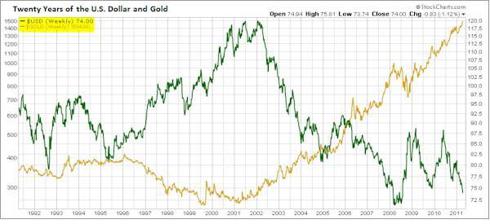 This downward trajectory of the U.S. dollar is attributable to low interest rates, inflation concerns and the Federal Budget deficit. The weakening U.S. dollar has increased the demand for bullions as an alternative investment.
Moreover, the Federal Reserve bought $2.3 trillion of debt in two rounds of quantitative easing, which led to an increase in gold prices between 2008 and 2011. Even today, the recent ups and downs observed in gold prices are because gold is highly vulnerable to the expectations of monetary stimulus. When Fed Chairman Ben Bernanke dampened these expectations a week ago, gold prices succumbed to a dip.
These positive expectations, historically seasonal jewelry trends, and the worsening European debt crisis help us predict that the gold market will rise.
Major Companies
Gold equities have fallen sharply against gold, and investors are now looking for increasing dividends rather than potential growth opportunities. The aggressive development of gold reserves, lucrative operating cash flows, focus on dividends, and relatively cheap valuations of gold mining companies are the reasons behind our buy recommendation.
| | | | | | |
| --- | --- | --- | --- | --- | --- |
| | ABX | AUY | GG | GLD | Industry |
| Long-term Growth Rate | 27.83% | 9.55% | 12.73% | - | - |
| Dividend Yield | 2.08% | 1.29% | 1.35% | - | 1.69% |
| Forward P/E (1 year) | 6.64 | 11.01 | 12.29 | - | - |
| PEG ratio (5 year expected) | 0.23 | 1.43 | 1.55 | - | 0.72 |
| Share Price performance (YTD) | -13.83% | 11.02% | -9.72% | 3.79% | -10.05% |
Barrick Gold Corporation
Barrick's focus on high-return growth projects, renewed emphasis on its primary commodity (NASDAQ:GOLD), a high-dividend yield, and cheap valuations enable us to recommend a long position in its stock.
ABX, the world's largest gold producer, has ousted its CEO Aaron Regent, who has now been replaced by the company's CFO, Jamie Sokalsky, because the company was disappointed with its share price performance. Sokalsky is expected to be more financially prudent and resume gold focus, which can be a catalyst for ABX's future share price improvement.
Last year, ABX acquired Equinox Minerals limited, an Australian mining company with a primary emphasis in copper-mining, in an attempt to promote diversification. Since Equinox was not a gold producer, this acquisition sent a negative signal among investors, who started to value it on relatively lower multiples where most of the copper mines are traded. This led to a continuous decline in its share price. However, after one year, we believe that its share price has dropped considerably and is fully reflecting the effect of that negative signaling. Plus, Equinox's assets are now fully integrated with those of ABX, and a further shift away from gold is not expected.
Another negative point of the Equinox acquisition was that it was debt-financed, and so, ABX's leverage increased. Still, its high operating cash flow of $1.27 billion prevented S&P from downgrading its credit rating.
Labor and commodity cost pressures have impacted Barrick Gold considerably. According to its 1Q2012 press release, it intends to complete a detailed capital cost and schedule review in 2Q2012, which will improve the current situation.
Moreover, the company is now more focused on investing in and developing high-return projects and meeting its 2016 production targets, which will be driven primarily by its two projects, namely Pueblo Vijo and Pascua-Lama. Pueblo Vijo's first production is expected in mid-2012, which will increase its earnings and reduce its production costs significantly.
Barrick maintains the gold industry's highest credit rating, and has recently increased its quarterly dividend by 33%. Its long-term growth rate of 28% is one of the best among its peers. Furthermore, its expected five-year PEG ratio of 0.2x is lower than the industry average of 0.7x.
Yamana Gold Inc
Despite its premium valuations, Yamana Gold Inc's high gross margins, strong liquidity position, increasing output due to development of new mines and ability to finance its growth projects makes it an attractive option to buy.
Yamana's gold output has increased by 4% in this quarter because of the newly commissioned mine in Mexico. Moreover, three new mines are expected to be operational by mid-2013.This higher production and stronger gold prices enabled it to record a 15% growth in quarterly profit.
The company has refinanced its existing line of credit, due to which its interest margin has reduced by 50bps. The liquidity position of AUY is very attractive as its cash and available credit are over $1.6 billion, which can be invested in future growth projects.
On a recent Analyst Day, Yamana provided some bullish operational highlights. Management has indicated that the further development in the size and scale of one of its resources in Brazil, Chapada, could potentially result in an entirely new mine.
AUY's quarterly dividend saw a 10% increase in 1Q2012, reflecting on its ability to keep paying high dividends. This is a positive signal for dividend-seeking investors.
Yamana is the only stock among its peers that has shown YTD stock price appreciation of 9%. Given its growth prospects, we believe that Yamana will outperform the market and we recommend a long position.
Goldcorp Inc.
Goldcorp is the world's second-largest gold miner. Its increasing gold reserves, strong balance sheet position, and high liquidity are very impressive. Its strategy to smartly acquire low-cost and high-value mining assets gives it a sustainable competitive advantage over its peers.
The limited reserves at its underground mine, Red Lake, delayed the development of new mining faces in its High Grade Zone (HGZ), which has disappointed some investors. However, we believe that there will be further reserve replacement at these mines. Furthermore, the successful commissioning of the final component of its Penasquito's processing line, as well as the start of commercial production at its Pueblo Vijo joint venture from mid-2012, positions it for a strong performance over the rest of 2012.
Investors can also have a look at Newmont Mining Corp. (NYSE:NEM) and Kinross Gold Corporation (NYSE:KGC) for a gold stocks' portfolio.
Disclosure: I have no positions in any stocks mentioned, and no plans to initiate any positions within the next 72 hours.