Heinz Company (HNZ) has been advancing since March of 2009. It has not traded at its current levels since 1999. Heinz has been in a very strong sustained upward trend. The problem is that contrary to popular belief; trends are not necessarily your friends. They are wonderful, exhilarating and they have a propensity to continue right up until they fail. Trends sometimes lull investors into a false sense of security. Not unlike cattle or sheep grazing in the pasture. They live a charmed existence, eating and drinking to their hearts content; right up until the day trailers pull up and cart them off to the slaughterhouse. Big blocks and heavy aggregate volume (which has been occurring since March 2011) are the equivalent of the trailers arriving at the fence post. With respect to Heinz, the only question is who will get slaughtered.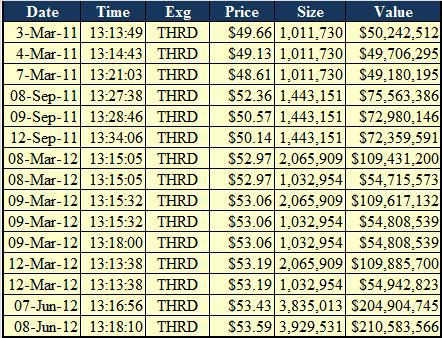 I have provided a daily chart and a weekly chart. If you review the weekly chart, you will see that the blocks began in earnest in March of 2011.
This also indicates extensive distribution along the current channel. The blocks I have included in the matrix are the only trades in excess of one million shares since before 2008. The nature of these blocks is substantive enough, for me to suspect that major positions are being liquidated. The Designated Market Maker in this issue, as well as other exchange insiders, is dumping.
The Heinz chart pattern is transforming a bit from a very strong upward angle to an advancing slow arch which appears to be losing steam. It is a low beta (0.39) stock, so whatever happens, it will most likely be slow. For whatever can be said about this issue and the management style of its Designated Market Maker, it must be acknowledged that he does not appear to act with any urgency.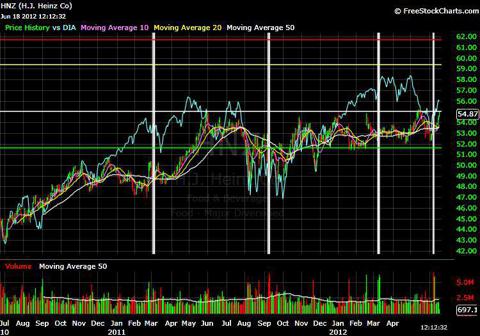 From the weekly chart, you can surmise that Heinz has been distributed along the ridge line of the pattern. I believe that the blocks of June 7 and June 8 are actually being moved through an insider institution distribution channel, which explains the price advancing after the blocks.
That said, I suspect a pullback is imminent. The $55.00 level is a key resistance point. I do not believe it will be penetrated on a permanent basis. It may give way on an intra-day basis and possibly close above in the short term. But it will be only for the short term. I believe $55.00 to be a psychologically charged level. No doubt there will be traders who believe Heinz is positioned to breakout to new highs. This will provide the impetus for the Designated Market Maker to advance this issue a bit beyond the trigger of those buy orders, which he will supply by shorting.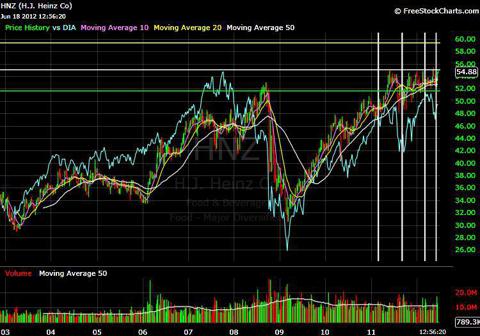 On the Basis of the foregoing these are my views and observations:
The Trade:
I recommend establishing a short position in Heinz Company. Open your position with only 1/4 of whatever capital you intend to commit to Heinz Company at $55.00. Purchase the remaining 3/4 of the position at $59.40 and stop out at $61.73. Do not post your stop out. I have said it before but it is so important that at the risk of being redundant and in an abundance of caution I will say it again. It is too easy for the Designated Market Maker to cash investors out by moving the price above or below your stop out and move the price right back down or up again. In addition, when a stop out is triggered it converts into a market order and that could be disastrous if the Designated Market Maker decides to really take advantage. Remember the "Flash Crash"? I would be looking to exit the trade at a downside price target of $51.63. Do not allow this position to exceed 5% of your overall portfolio.
There is always the possibility that the trade may not work out.
There Is Never A Sure Thing (particularly on a short)
Investors must realize and recognize that there is never a sure thing. Sometimes events that have a low probability of occurring bring forth very serious consequences should they come into being. Investors must judiciously consider what the inherent practical limits are and how much they stand to gain in relation to the risks involved in establishing any position.
In addition, persistence can become desperate folly by allowing a losing position to become a viable argument for deciding on a new position. Rather, such decisions should be based on the current and soon-to-be circumstances.
Any position in which one unexpected factor has a significant impact on your portfolio is the result of poor planning. It is a fault most commonly associated with people who want to explain away their losses. SUN TZU -Art of War "Use an attack to exploit a victory, never use an attack to rescue a defeat."
If you follow the process recommended and the trade does not work, the overall loss in this model is $3,000.00. That amounts to .003 of the overall portfolio (theoretically valued at $1,000,000).
And finally, never be a brave and brainless investor because a fool and his money are soon parted.
A portfolio of $1,000,000 should position size in the following manner.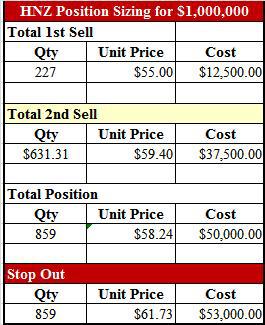 This is a trade, not an investment. Be ever vigilant.
That's it for now…. Have a nice day.
Disclosure: I have no positions in any stocks mentioned, but may initiate a short position in HNZ over the next 72 hours.