Body Central Corp (OTCQB:BODY) the Florida based women's clothing and accessories retailer lowered guidance this morning, leading to company's stock price falling in half. The company lowered Q2 EPS range from $0.26 to $0.28 down to a range of $0.19 to $0.21. This is about a 25% drop in earnings guidance, and at the midpoint of the range would be a year-over-year drop of 40% in earnings. This comes after the company has already disappointed on earnings guidance for this quarter, analysts had been looking for $0.36 per share in the 2nd quarter when the company announced 1st quarter results and gave guidance about 10 cents below that estimate. At this point Body Central is off over 70% from May 1st. The company had a good history of growth, and has met or beat earnings estimates for the past 5 quarters.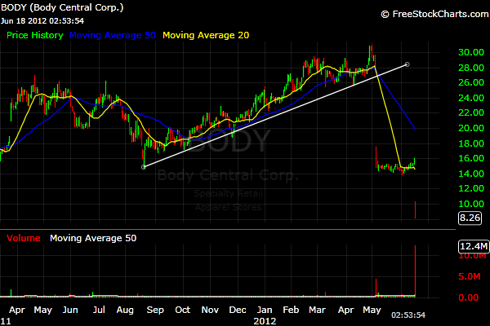 Body Central operates in a very competitive space targeting women in their teens to 30's. The company has negative comp store sales growth, and even in Q1 saw a 1.4% decrease in comparable store sales. The company is making up this lose by targeting increasing their store count by about 15% each year.
With that said all is not lost for the company, Body Central is debt free and has $45 million in cash. Closing underperforming stores to get comp sales positive and expanding outside of their current area could help grow sales. The company currently has 254 stores in 23 states, mostly in the Southeast, with no stores on the west coast or in New England. Long-term goals call for low single digits comp store sales growth, I think that needs to happen sooner rather than later.
The company presents at the Jefferies 2012 Global Consumer Conference at 3 pm Eastern Time tomorrow June 19th, I will be interested to hear what the company has to say. What the company believes is causing current softness, how much this is a long-term problem or short-term issues will be important. With that said I would stay clear of this stock for some time. I would wait to see if the company can meet this lowered guidance, and how the trends in the quarter look. I think it is rare that I company falls like this, and then turns in around back into a high growth story.
Data sourced from: Company filings, Finviz.com, and Yahoo!Finance. Chart from: Freestockcharts.com
Disclosure: I have no positions in any stocks mentioned, and no plans to initiate any positions within the next 72 hours.