CarMax, Inc. (NYSE:KMX), through its subsidiaries, operates as a retailer of used vehicles in the United States. It also sells vehicles that do not meet its retail standards to licensed dealers through on-site wholesale auctions, as well as sells new vehicles under franchise agreements.
It is scheduled to report its Q1 2013 results on June 21, 2012, before the market opens.
Technical Overview
Key Metrics
Market Cap: 6.32B
52-week trading range: 22.77 - 35.17
Trailing P/E: 15.46
Forward P/E: 13.24
Price/Sales: 0.60
Price/Book: 2.32
PEG Ratio: 1.12
Total Debt: 5.05B
Annual dividend yield: N/A
Return on Equity: 16.85%
Return on Assets: 5.66%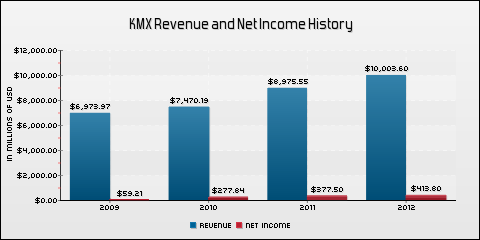 Recent EPS Actuals vs. Estimates
The company has met or beaten analysts' estimates in the last quarters. In the last quarter it reported $0.41 EPS, beating analyst estimates of $0.40.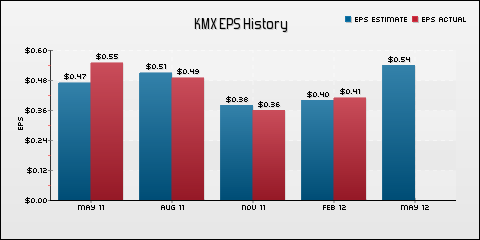 The consensus EPS is $0.54 based on 13 analysts' estimates, down from $0.55 a year ago. Revenue estimates are $2.84B, up from $2.68B a year ago. The median target price by analysts for the stock is $38.00.
Average recommendation: Overweight
Source: Marketwatch
Analyst Upgrades and Downgrades
On February 3, 2012, the company was downgraded from Outperform to Sector Perform at RBC Capital Mkts.
Latest Developments
On April 16, 2012, CarMax, Inc., the nation's largest retailer of used cars, announced today that The CarMax Foundation granted more than $2.4 million to nonprofits in the fiscal year that ended on February 29, which is the largest annual donation since its inception in 2003. Our largest grant total before this was $2.2 million in 2008.
Competitors
CarMax Inc. operates in Auto Dealerships industry. The company could be compared to Asbury Automotive Group, Inc. (NYSE:ABG), AutoNation Inc. (NYSE:AN), Penske Automotive Group, Inc. (NYSE:PAG), and Sonic Automotive Inc. (NYSE:SAH). Below is the table comparison of the most important ratios between these companies and the industry.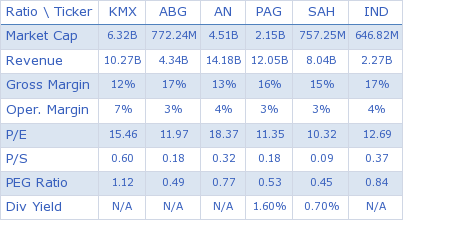 Below is the chart comparison with the stock price changes as a percentage for the selected companies and S&P 500 index for the last one year period.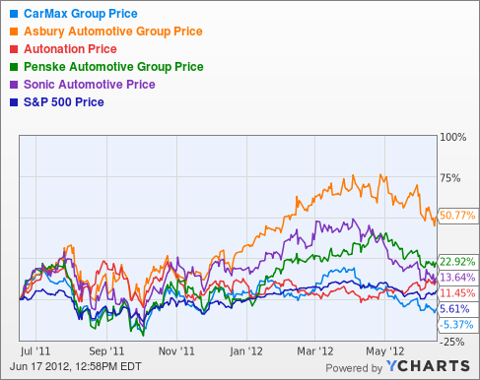 Competitors' Latest Development
Sources: Yahoo Finance, Google Finance, Marketwatch, Finviz, Reuters.
Disclosure: I have no positions in any stocks mentioned, and no plans to initiate any positions within the next 72 hours.