Stocks have certainly come a long way since last October. But then again, they have gone absolutely nowhere since last July. So as we look out across a summer fraught with geopolitical and economic uncertainty, it is reasonable to wonder how surefooted we feel with the stock market trading at current levels.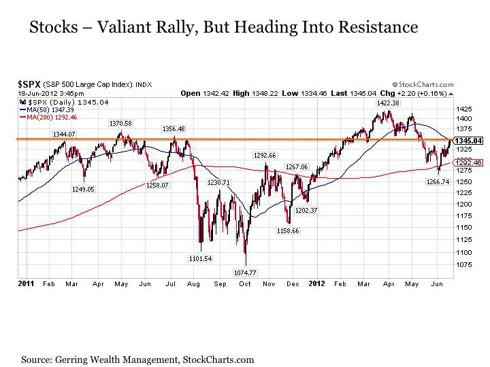 Stocks have recently shown signs of life. After briefly slicing below its 200-day moving average (red line on chart) at the beginning of June for the first time since last December, the S&P 500 (NYSEARCA:SPY) found support and has since marched higher. And it has done so in the face of an uncertain election in Greece and spiraling bond yields in Spain and Italy. As of Monday's trading, it is pressed right up against resistance at its 50-day moving average (blue line on chart). As a result, the next few days including the outcome of the Fed's latest Open Market Committee meeting on Tuesday and Wednesday will go a long way in determining whether stocks can continue this move higher in the near-term.
But what about the longer-term into the summer? This is where the pulse starts to rise for stock investors. So to help answer this question, it's first worthwhile to look at where we were a year ago at this time.
Reflections From A Year Ago
Of course, it was just a year ago in June 2011 when the world was suffering insomnia as they waited for the outcome of a Greek vote. Last time it was just a Greek parliamentary vote to simply approve austerity measures for a bailout that had everyone lightheaded. Oh such a simpler time a year ago, as this go around we had an election where an upstart party nearly overtook Parliament with the potential intent to turn the whole austerity program upside down.
Last year at this time Spanish 10-year government bond yields were trading at 5.53%. And Italy's 10-year government bonds were yielding 4.81%. Today, they are yielding 7.16% and 6.15% respectively.
Clearly, little progress has been made in resolving the crisis that continues to overhang our markets. In many respects, the problems are worse.
But just like last year, stocks bounced off of support at their 200-day moving average. Thus, it is reasonable to consider whether the market has the strength to defy last year's trend and push higher, or if we're destined for another summertime tumble back down into the valley.
Increasing Earnings Malaise
A primary remedy for stock investor dizziness at current price levels has been valuation. Many cite the fact that operating earnings on the S&P 500 are projected to be $104 per share at the end of 2012 and $118 per share by the end of 2013. This implies forward P/E ratios on the S&P in the 11x to 13x range, which are historically attractive valuations.
But here is the problem with basing valuation on forward-looking estimates. What if things turn out much differently than expected? After all, for the S&P 500 to achieve these "baseline" earnings projections, we would need to see a fairly dramatic change in the trend of current underlying forces.
First, margins remain at historically nosebleed levels. Operating margins on the S&P 500 are currently 9.06%, which represents a 26% premium over the historical average of 7.19%. Now if the global economy was operating in an environment where growth was robustly accelerating and corporations had a wide scope to engage in cost cutting to increase operational efficiencies, one might reasonably contend that margins might be able to sustain themselves at above average levels. But given the fact that the global economy is slowing, Europe is on the edge of full blown crisis and corporations have already cut costs to the bone, maintaining profit margins at above average levels for much longer will be a most tall feat. And when margins decline, so too do stock prices.
Second, current earnings reality does not match optimistic earnings projections. Earnings growth on the S&P 500 has been running out of oxygen for some time. The year over year growth rate of operating earnings on the S&P 500 has fallen from the solid double-digits over the last few years to the mid-single digits in recent quarters. And it is projected to fall as low as 2% next quarter. Yet expectations for the remainder of 2012 and into 2013 is for a resumption in double-digit earnings growth. With margins already at their peak and the global economy increasingly fading toward recession in many parts of the world, it is reasonable to question whether the catalyst to reignite such healthy growth will truly occur. And this would not be the first time that we've seen such a script play out differently than estimated, as a similar set up for earnings occurred during the 2007-2008 episode.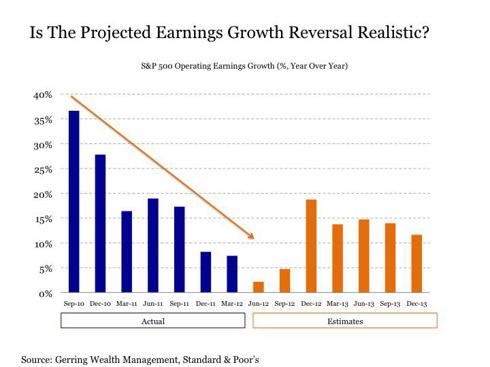 For these reasons, it is worthwhile to take the necessarily precautions against a portfolio edema. For just as stocks have gone nowhere since last June, they have also come a long way since last October. Many of the reasons cited for the sharp market sell-off in 2011 Q3 including a slowing global economy, concerns over the U.S. fiscal situation, and the threat of crisis in Europe are still very much in tact. Moreover, some additional factors are now also in play including concerns that the U.S. might also fall back into recession. And the geopolitical situation in the Middle East has certainly not become any calmer than it was a year ago. In many respects, conditions are measurably worse than they were when the market was trading at 1075 on the S&P 500, yet today we are trading at 1350.
The best remedy against portfolio altitude sickness to help protect against yet another slide down the stock market mountain is to remain hedged. This includes allocations to uncorrelated and negatively correlated asset classes that can hold steady or rise in the event of a stock market avalanche. Examples on the uncorrelated side include Agency MBS (NYSEARCA:MBB), U.S. TIPS (NYSEARCA:TIP), Build America Bonds (NYSEARCA:BAB) and Municipal Bonds (NYSEARCA:MUB). And negatively correlated assets include Long-Term U.S. Treasuries (NYSEARCA:TLT) that gained over +20% during last summer's stock market slide and the Swiss Franc (NYSEARCA:FXF), which is traditionally negatively correlated but has been more uncorrelated in recent months due to its desperate efforts to maintain its peg with the Euro currency.
Of course, one never knows when the Fed mountain guides will magically appear with some monetary oxygen and Diamox to help ease the market's nausea. And if they do, positions such as Gold (NYSEARCA:GLD) and Silver (NYSEARCA:SLV) should directly benefit. It is also worthwhile to maintain holdings in high quality stocks such as McDonald's (NYSE:MCD) and Nike (NYSE:NKE) for this same reason. But even if the Fed arrives with support to help push the stock market to even higher elevations, we at some point will ultimately at have to make our way back down to normal stock price levels. And the higher we climb, the harder that final descent will ultimately be.
Disclosure: I am long MCD, NKE, GLD, SLV, TLT, TIP, MBB, BAB, MUB, FXF.
Disclaimer: This post is for information purposes only. There are risks involved with investing including loss of principal. Gerring Wealth Management (GWM) makes no explicit or implicit guarantee with respect to performance or the outcome of any investment or projections made by GWM. There is no guarantee that the goals of the strategies discussed by GWM will be met.