Market Recap: The market made a nice turnaround after it opened fairly weak after Spanish yields rose. A combination, though, of "risk-on" trading and NAHB Housing Market Index gave the market a boost. Greece elected the EU-friendly New Democracy Party, and that election was solid for the markets as it brings risk down. The housing market got a boost from the fact that they saw the NAHB Housing Market Index rise to 29 vs. 28 expectations, setting up a solid day in the housing industry.
The market is pretty flat and we expect that to remain into the FOMC minutes on Wednesday. No one wants to be overly short or long. Any large dips will be bought and any large rises will be sold. The expectation is that the FOMC will extend Operation Twist, but anything less or more will definitely have very large implications for the market.

Two Trades:
Two trades we are watching right now are a pair trade in Lennar (NYSE:LEN) and Constellation Brands (NYSE:STZ) as well as long in Skyworks Solutions. We like pairing a long in LEN and short in STZ to take advantage of pre-earnings movement. LEN is looking at a very nice quarter YoY and has housing industry strength behind it, while STZ is looking weak, breaking key levels over past couple months. Their last report was a disaster, and it would be hard to expect much of anything from this company before earnings. Along with that pair in equity, we like SKWS long. Apple suppliers should start to pick up into their next round of earnings, and the WWDC announcements were positive for suppliers. SWKS has been consolidating right along the $28 line, and we are expecting a breakout from them soon!
Trade #1: LEN Long, STZ Short
Trade #2: SWKS Long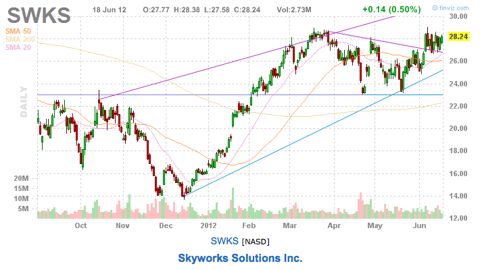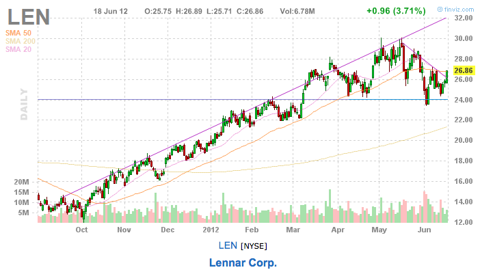 Tomorrow's Outlook:
Tomorrow should be another interesting day as we continue to move towards the FOMC rate decision. We have a lot going on internationally right now, and that continues tomorrow. More developments out of Greek elections will be important as well as Spanish yields. The Great Britain CPI and RPI will be crucial reports for their market as well as Japanese leading index. The most important indicator though may be the German ZEW Survey to gauge consumer confidence. At home, we are looking at Housing Starts and Building Permits that will be important to the markets. Overall, any more signaling from the Fed about their move on Wednesday will be important as well.
Oxen Group Moves:
We had a solid day in the markets as we were able to exit a couple of our positions that we have. We exited two long-term positions from our Extended Value Portfolio with 25% gain in Dollar General (NYSE:DG) but stopped out Thor (NYSE:THO) for 15% loss. We exited a pair trade long Bed Bath & Beyond (NASDAQ:BBBY) and short CarMax (NYSE:KMX) for 5% gain. We closed down our BBBY and Molson Coors (NYSE:TAP) pair at even. We added long in SWKS and above pair in LEN:STZ. We also added a bull put spread in Dollar General to our Options Portfolio.
We have the following positions. In our Short-Term Equity Portfolio we are long Apple (NASDAQ:AAPL), Skyworks (NASDAQ:SWKS) and NetSuite (NYSE:N). We are short SPDR S&P (NYSEARCA:SPY) and Rockwell Collins (NYSE:COL). In our Options Portfolio, we are long Dollar General , Monster Beverage (NASDAQ:MNST) and AutoZone (NYSE:AZO). We are short Garmin (NASDAQ:GRMN) and Aflac (NYSE:AFL). We have a reverse iron condor on Apple . In our Earnings Alpha portfolio, we are long Marriott (NYSE:MAR) and LEN. We are short STZ, Schlumberger (NYSE:SLB) and Walgreen (WAG). We have a reverse iron butterfly in Decker's Outdoor (NASDAQ:DECK).
Chart courtesy of finviz.com.
Disclosure:
I am long LEN.