Penn National Gaming (NASDAQ:PENN) has a buyout offer in progress for $67 per share. On February 29, PENN closed at $45.83. Obviously, there's a big disconnect somewhere. There are also big potential profits to be made whether the deal goes through or not.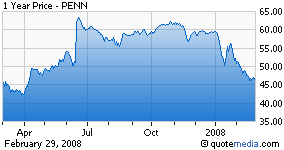 On or about June 15, 2007, Penn National Gaming agreed to a Merger Agreement (buyout) from funds affiliated with Fortress Investment Group LLC ("Fortress") (NYSE:FIG) and Centerbridge Partners, L.P. ("Centerbridge") at $67 per share. With a long approval process as a multi-jurisdiction gaming company, the deal was targeted for completion on June 15, 2008, after which the take-out begins to increase by a fractional amount daily. PENN, which had been trading in the mid to low 50s, jumped to over $63 per share on the announcement.
Since that time, the price has slowly deteriorated along with the market to its current level in the mid $40s. Investors can potentially gain more than 45% in 4 months if the deal goes through as planned at the $67 buyout price. "The Market" obviously thinks the deal will fall through, or the stock price wouldn't be where it is. Without additional information, saying that "The Market" indicates that the deal must be falling through is no more intelligent than saying "it must be true because I saw it on TV".
I believe there has been a snowball effect of bad information, fears, conjecture, market conditions and investor over-reactions causing PENN to be unfairly priced. Investors are afraid of the deal because of the long time frame necessarily involved. The Harrah's Entertainment (HET) buyout was originally supposed to be completed by the end of December, but closed about one month late. Fortress (FIG) itself has been under pressure like many financial stocks and has suffered some downgrades by analysts. Penn's gaming competitors like Pinnacle (NYSE:PNK), Boyd (NYSE:BYD) and Ameristar Casinos (NASDAQ:ASCA) have faced steep declines in stock price (multiple compression), causing the Penn deal to suddenly look expensive. Buyout deals in other industries have fallen through, although they have been deals that were easier to walk away from than this one. Finally, Penn National Gaming has "turned off" quarterly conference calls and most other communications. It is a standard practice in a buyout situation as there is usually not much to say – a buyout deal is already in place at a fixed price.
In this case however, it's had a very unsettling effect on investors as credit markets are in chaos and the deal still won't be completed until summer. Many general investors obviously feel that the deal will fall through. A recent article in a respected publication even suggested that the deal could be "re-cut". I believe a close study of the deal itself and the deal documents suggest that the transaction will go through as planned.
There's nothing in the deal to suggest that it could be re-cut. Either the deal goes through at $67 or it doesn't and break-up fees and other ramifications are triggered. Any other price would be a new and different deal requiring shareholder approval among numerous other additional steps.
We must remember that acquiring gaming approvals in numerous jurisdictions is a long and expensive process that's not to be taken lightly. Fortress and Centerbridge want to be in the casino business. They aren't looking for short-term profits on PENN's stock price. They are looking for the long term income streams that gaming can provide. They want PENN for its existing properties and exceptional management team, but they also want it for its ability to grow into additional markets like Atlantic City or even Las Vegas in the future.
While recent gaming revenues have eroded somewhat – especially for small and mid market regional operators like PENN – there have been some bright spots. In February, the Illinois Gaming Board decided to allow Penn National to retain their Empress Casino in Joliet, a property that most thought would have to be divested after their Argosy Gaming acquisition. Newly opened slot facilities in Pennsylvania itself are performing very well and exceeding many expectations.
There is a great deal of real information to say that the deal is going through on time and at the original price. In late December, some Penn Executives exercised options and completed stock sales. They really could not do so legally if they knew there was something going wrong in the deal. Also, some "change in control" payments to Penn executives for the deal were accelerated into 2007 for tax reasons; again, signaling that the deal is in motion as planned. The company even filed an 8K on January 16th just to provide an update on the deal progress and answer the numerous questions they were receiving. Additional company filings since that time also indicate that the approval process is progressing as planned.
In addition, Fortress and Centerbridge are now allowed to buy PENN shares on the open market. The financing for this deal is in place with Wachovia (NASDAQ:WB) and Deutsche Bank (NYSE:DB), and Penn shareholders overwhelmingly approved the deal in December. A great deal of time and money has already been spent on this transaction, and the penalties are fairly steep if Fortress or Centerbridge attempt to pull out. The break up fee of $200 million has been well publicized, but most people don't realize how tight this agreement is in other ways, even providing for Penn National Gaming to seek an injunction for "specific performance" if they choose.
Although I like this deal to complete, it would be impudent to think at a 45% gain could be had in only 4 months without associated risks. Of course the deal could fall through. Anything can happen. I feel that a smart way to invest in Penn National Gaming may be long equity along with a married put or protective put position to guard against the risk of break up. Another smart strategy may be an option straddle or strangle based on the thought that the deal will go through at $67, or the deal will fall apart and PENN will trade in the $40s.
Deal or no deal? We'll know this summer.
Disclosure: Author holds a position in PENN