Investors who followed the old "sell in May and go away" adage are probably feeling vindicated right about now. After rallying strongly through March and reaching a 52-week high of $1422.38, the S&P 500 (NYSEARCA:SPY) retraced to just under 1270 -- a 10% correction. It's now on the way back up, having gained a solid 6% from the bottom. The Dow (NYSEARCA:DIA) and Nasdaq (NASDAQ:QQQ) followed a similar trajectory. The question is, will the rally last?
. Source: FreeStockCharts.com)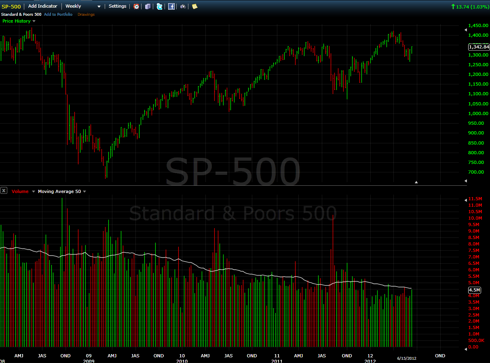 History and analysis both suggest it will. Barring some cataclysmic contagion and/or collapse in Europe, there are several factors that could propel the market into a rally through year end.
Rally Catalyst 1: Expectations Low
Sluggish growth in the United States and positively anemic growth in Europe means that most companies won't be blowing anyone away with blockbuster earnings, with the potential exception of Apple (NASDAQ:AAPL). Reuters has a great article (read it here) on prevailing macroeconomic conditions. To quote a few stats:
Second-quarter revenue growth for companies in the Standard & Poor's 500 index is expected to be just 2.2 percent compared with an average 7.3 percent quarterly increase since the fourth quarter of 1998.
In light of the obviously dark economic times, analysts are cutting their targets. In all likelihood, they will continue to do so. The article goes on to state:
This week, analysts at JPMorgan Chase lowered their earnings estimates and price targets for Google Inc (NASDAQ:GOOG), online retailer Amazon (NASDAQ:AMZN), and travel web company Priceline.com (PCLN), among others... "We still expect to see consensus (estimates) move lower for many names as we approach 2Q earnings over the next 6 weeks," wrote JPMorgan analyst Doug Anmuth in his note.
This pessimism could actually be beneficial for the market. Why? Well, it's easier to jump over a low bar than a high one. With expectations so low, a lot of the "downside" is already priced in -- investors are bracing for a disappointing, lackluster quarter. However, if companies manage to beat earnings estimates, renewed confidence could quickly buoy the market. As Jack Hough from SmartMoney explains, positive earnings surprises have a positive effect on the stock in question -- not just directly after earnings, but for months to come.
Rally Catalyst 2: Europe
In case you're adjusting your glasses to see if you misread that, I can assure you that you didn't. Europe's doing just plain awful. There's no other way to put it. Their latest "solution" is only a "solution" in the same way the last fifteen million "solutions" were a "solution." As succinctly and eloquently explained by Lloyds Bank chief economist Trevor Williams:
They [the European leaders] are groping towards an outcome they are not clear about and there is no plan.
Given that fact, shouldn't investors be worried that the market could tank?
Not really. For context, just check out a few headlines I pulled out of Google news -- and more importantly, the attached dates.
So according to the headlines, Europe's been in full-on crisis mode slash about to collapse for, oh, 24 months now. I'm sure I could've found similar headlines from even earlier dates, but I think I've made my point.
One more point: in June 2010, the S&P 500 was in the 1000-1100 range. Today, two years later, it's in the 1300s.
To borrow a phrase from teenage speak -- awkward.
I'm on the record as being bullish about long-term prospects in the US. (See my Hook 'em Horns article for a complete breakdown of the long-term macroeconomic outlook for U.S. corporations.) But it seems that in the short term, bad headlines out of Europe (when they don't send investors into dark corners) could actually help U.S. stocks.
Here's why. You can't play the risk-off game forever, especially not with Treasuries providing absurdly low yields for ridiculously high prices. If you want return, you have to put your money somewhere, right? Well, in comparison to Europe, the United States looks pretty attractive. As I've discussed previously, U.S. corporations are leaner, meaner, and have fortress strong balance sheets. The effect this has on the global investment community is pretty well summed up by an article in Investment Europe appropriately titled "Eurozone pain makes US the most attractive investment destination."
Basically, the longer Europe chases its own tail, the longer U.S. companies' fundamentals will draw in investors.
Rally Catalyst 3: The Election
It turns out that elections are something of a panacea for the stock market, even if they generally make half the people in the country throw up their arms in protest. From Jim Fink over at Investing Daily:
According to Jeff Hirsch of the Stock Trader's Almanac, since 1952 the S&P 500 has risen during the last seven months of presidential election years 87 percent of the time (13 out of 15). Furthermore, the Dow Jones Industrial Average has averaged a 9 percent gain in years where a sitting president is running for re-election (like this year). So, although Hirsch sees the stock market hitting a 10% to 15% correction bottom sometime during the July through October period, the market should rally significantly into year's end.
Even better news: research suggests that in election years, strong corrections are most prevalent during the second quarter. Does this sound familiar? It should. The market just went through a pretty severe correction. And hey, presto, it was the second quarter.
Conclusion: Domestic Stocks Look Good
Despite lackluster earnings predictions, I'm liking U.S. stocks right now. Because, really, where else are you going to put your money? Treasuries? Europe? Yeah, no, let's stay in the USA.
So go buy American. You can't go wrong with a broad index ETF or a five star mutual fund, but if you're looking to build your own portfolio, the following list of stocks is a good place to start.
3M (NYSE:MMM), Berkshire Hathaway (NYSE:BRK.B), Procter & Gamble (NYSE:PG), Colgate Palmolive (NYSE:CL), Clorox (NYSE:CLX), Kimberly Clark (NYSE:KMB), McDonalds (NYSE:MCD), Coke (NYSE:KO), Pepsi (NYSE:PEP), Johnson & Johnson (NYSE:JNJ) , Apple , Kraft (KFT), General Electric (NYSE:GE), Wal-Mart (NYSE:WMT), Anheuser Busch (NYSE:BUD), Abbott Labs (NYSE:ABT), Exxon (NYSE:XOM), Chevron (NYSE:CVX) , Conoco Phillips (NYSE:COP), Intel (NASDAQ:INTC), IBM (NYSE:IBM), AT&T (NYSE:T), Microsoft (NASDAQ:MSFT), Cisco (NASDAQ:CSCO), and Bank of America (NYSE:BAC)
(Standard disclaimer: perform due diligence before making any investment to see whether it's suitable for your financial circumstances and goals.)
Disclosure: I am long BAC, CSCO. I am also long a diversified portfolio of domestic stocks via multiple mutual funds and ETFs.