by Brian Huber
While management at Exxon Mobil (NYSE:XOM) evaluates long-term opportunities, investors should look closely at the impact of present circumstances on earnings and cash flow. This will guide the near-term stock price as strategies with more distant appeal unfold. This article examines the progress on of development projects, recent financial results, and the impact of both on overall company strength.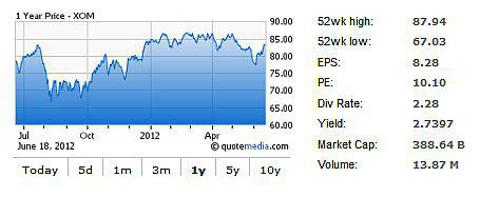 Developments
Drilling activity for Exxon is focused on oil rich locations. Exxon reports that construction for the Kearl Oil Sands project in Canada is 90% complete. The anticipated start date is late in 2012. This facility is expected to eventually produce 345,000 gross barrels per day. The Kizomba Satellites Project in Angola is scheduled to start in mid-2012 and attain a production rate of 100,000 barrels per day. Three satellite platform structures in Nigeria are on track for producing 70,000 barrels per day starting in late 2012.
Exxon signed a series of agreements with Rosneft in April of 2012 to implement the Strategic Cooperation Agreement between the two companies. This long-term arrangement was initially announced in August of 2011. Seismic acquisition is now nearing completion in the Black Sea and is planned for the Kara Sea later in 2012. Exploration drilling is anticipated in late 2014 or early 2015.
Terms of the agreements have Rosneft (OTCPK:RNFTF) taking an equity position in exploration and development projects in the U.S. and Canada. Rosneft also has an opportunity to acquire a 30% interest in 20 blocks in the Gulf of Mexico. Exxon and Rosneft will investigate production technology for oil trapped in low permeability formations in Western Siberia.
Quarterly Results
Exxon's earnings report for the first quarter of 2012 revealed profit of $9.5 billion compared to $10.7 billion in the same quarter one year ago. Earnings per share lagged the consensus analyst forecast but increased 2% over the fourth quarter of 2011 while declining 6% relative to the first quarter of 2011.
Slightly stronger downstream operations partially offset weaker results from upstream production and chemicals business. Quarterly earnings for the upstream segments were 10% lower than the prior year. Chemical business profit for the quarter was $701 million compared to $815 million one year ago.
Measured by barrels of oil equivalent ((NYSE:BOE)) per day, overall production volume was 6% lower for the first quarter compared to a year earlier. Production during the quarter comprised large volumes of lower margin natural gas relative to crude oil. However, liquids output was ahead of the quarter one year ago.
A large contributor to lower volume was weaker production entitlement in West Africa along with reserve declines there. Excluding this element and the impact of divestitures, production was 1% lower year-over-year. Field declines and divested assets reduced natural gas production in the quarter by 3.3% on a per day comparison to the prior year. The slide in liquids production volume was less than 1% when excluding special items. Project expansions in Angola and Iraq enhanced this output.
Exxon's acquisition of XTO Energy in 2010 provided substantial U.S. assets producing natural gas. For the first quarter of 2012, the company's U.S. production of natural gas grew to 61% of total U.S. production. However, management confirmed in its quarterly conference call that more U.S. rigs are now deployed in liquids production. Much of this consists of 61 rigs located in unconventional shale opportunities.
The company is operating 64 rigs in the U.S. - a decrease from over 70 throughout 2011. Although rig use is shifting from natural gas fields to liquids rich areas, the company has not rushed to capture the price benefits from liquids. This does enhance long-term efficiency in field production despite dampening short-term earnings opportunities.
Nevertheless, Exxon controls substantial acreage with proven liquid reserves but does not control the market pricing of liquids. Failure to exploit the current benefits of liquids prices has curtailed profit and cash flow. On an energy equivalent basis, natural gas prices are substantially weaker than crude oil prices.
The downstream business at Exxon had $1.6 billion of earnings in the first quarter of 2012, an increase from $1.1 billion a year earlier. Refining margins were weaker but the company benefited from optimizing refinery capacity and maintaining a superior cost control structure. In addition, asset sales contributed significant gains.
Analysis
Exxon is reasonably valued relative to its peers based upon the ratio of price to earnings. Using the trailing twelve months of earnings and second quarter 2012 stock price, the P/E ratio is about 9, which compares to a range of 7 to 22 for the energy sector. Among large integrated energy companies, the average P/E based upon current fiscal year earnings estimates is 8.4. This measure for Exxon is 10.4. Chevron (NYSE:CVX) is 8.4 and Shell (NYSE:RDS.A) is 8.3.
The operating profit margin for Exxon of 17% is higher than all of its peers other than Chevron. Total net profit margin at Chevron has risen in the past year to 11.4% compared with 8.9% for Exxon. The peer average among the largest energy companies is 8.4%, which is driven by the lower figures for Royal Dutch Shell at 6.4% and BP plc (NYSE:BP) at 6.8%.
Upstream gross profit per barrel for Exxon is about 25% lower than the figure for Chevron. Considering this factor, Exxon's higher overall net margin must result from significantly greater operational efficiencies and better integration with downstream segments. Although some entities - such as ConocoPhillips (NYSE:COP) - have disengaged downstream units from upstream operations, Exxon management believes integration has advantages that it is prepared to capture.
The earnings per share growth rate for Exxon of 4.8% materially lags the 7.9% for Chevron and 8.7% for Royal Dutch Shell. Results at Exxon are hampered by the greater contribution of natural gas to total production. However, the earnings growth gap with competitors may begin closing as Exxon allocates more capital to liquids.
Over the next five years, the company will likely experience a 2% to 3% annual growth in liquids production and 0.5% to 1% annual production growth for natural gas. At the same time, demand for chemicals is poised for renewed advances - especially in the Asia Pacific economies.
Long-term appeal for Exxon stock is also supported by future exploitation of the company' strong resource base - especially unconventional properties. Approximately 43% of the company's liquids base is oil sands and heavy oil. Stability in the resource base is an important metric. It theoretically delivers stronger cash flow in the future, as less spending is required for adding new reserves.
However, in the near-term of the next year or two, the weak outlook for natural gas prices dampens the attractiveness of Exxon. Better total return is more likely from the stocks of other energy companies. Many of these peers have strong balance sheets and higher dividends.
Exxon still remains a staple holding for long-term investors. I expect the share price to retain value and receive support from a higher dividend over the next couple of years. But the stock is poised for growth only over the long haul. As major projects are brought online by Exxon and long-term strategies begin making meaningful contributions, the company is well positioned for the foreseeable future.
Disclosure: I have no positions in any stocks mentioned, and no plans to initiate any positions within the next 72 hours.