Taking a closer look at the utilities market, the relationship between yield and growth has become a little bit out of whack and offers an opportunity for an attractive pair trade (long one security and short another as a hedge) to take advantage of this disparity as it unwinds.
Yield
Consolidated Edison's (NYSE:ED) stock has had a great performance run over the past year increasing more than 19% which has pushed the current yield down under 3.9% based on the quarterly payout of $0.605. Kinder Morgan (NYSE:KMI) on the other hand has been weighed down by the announcement of Goldman, Sachs, The Carlyle Group and Riverstone Holdings pursuing a secondary sale of their investment in the market. Based on the depressed price of the Kinder Morgan shares, the stock currently yields 4.1%.
Growth
Admittedly, a Short ED / Long KMI pair trade is not overly attractive just yet, but at least there is no cost to carry it (in terms of yield). The most interesting aspect of the trade is the growth outlooks of the two companies that I have paired up. Over the past 5 years, Consolidated Edison has only grown its quarterly dividend from $0.58 to $0.605 or less than 1% compounded annually. There is little reason to believe that the growth outlook for ED going forward will be drastically different. However, I do think it will be nominally higher over the next 5 years, but still within the low single digit range. KMI, on the other hand, does not have an extensive history being just recently brought public, but the outlook for dividend growth exceptions are in the low double digits which is not untypical for MLP's general partners.
Returns
To calculate an assumed return we're going to make some assumptions and for an increased margin of safety we will make them overly conservative. For every 100 shares of Consolidated Edison that are sold short, 200 shares of KMI should be bought long (based on 6/13/2012 closing prices).
Consolidated Edison assumptions:
The quarterly dividend grows at $0.01 annually as compared to the past five years where it has grown at $0.005 annually.
The stock continues to trade at its current yield of 3.9% which is lower than it has traded historically.
Kinder Morgan Inc assumptions:
The quarterly dividend grows at $0.01 quarterly, which is inline with analyst expectations.
The stock continues to trade at its current yield of 4.1% which is higher than it has traded historically and relative to its MLP general partner peers.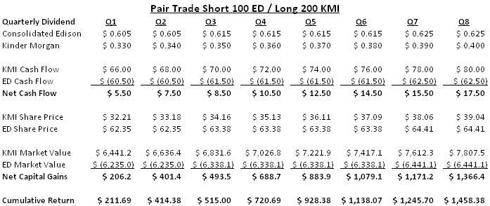 The returns above demonstrate the possibility of lucrative returns within a hedged position. Furthermore, there is additional upside if the both (or either) stocks migrate towards a more historically normal level of yield.
Disclosure: I am long KMI.
Additional disclosure: I am already long KMI, but may increase my KMI position and initiate a short ED position as a hedge with the next 72 hours.