Introduction: In February 2011, US treasury bonds started to rise and by July Uncle Sam's debt was being catapulted to new highs. Bonds prices were influenced by a Fed buying spree as well as the hordes of scared investors who sought "risk free" returns. However, with treasuries selling high above par these market-fearers are only buying into what the prominent contrarian investor Marc Faber recently called "the biggest bubble ever". Much like how prices rose and dropped in 2008/2009 and again in 2010, there is evidence that treasuries are close to falling once more.
The Evidence: In the past year, the iShares Barclays 20+ Yr Treasury Bond ETF (NYSEARCA:TLT) has risen +30%, hitting a high of $130 on June 1, 2012. During the 2008 crash, the ETF only hit levels of $122, below today's apparent floor of $125.
US treasuries are dependent on interest rate levels remaining at their extremely low levels. On June 14, 2012, Bloomberg Businessweek reported that "The Treasury Department auctioned 30-year bonds Thursday at a yield of 2.72 percent, the lowest rate ever for a sale of 30-year bonds." Looking far back, the yield on 10-year US bonds have fallen to levels not seen since WWII when the government imposed an artificial ceiling on yields. According to Real Money's Doug Kass, during the Great Depression, "deflation drove yields to 2.5-4.0%" -- still higher on average than today's rates.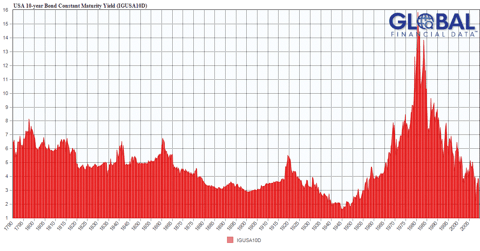 Government Actions: While the Federal Reserve is adamant on keeping interest rates low until 2014, it has become increasingly difficult for the Fed to further lower rates. T-bills are returning almost nothing, and the 30 year is yielding a mere 2.73%.
In the long run things will and must change. As the US government piles on debt it will at some point realize that the only possible way to pay back the deficit is neither through "unpatriotic" taxation nor unpopular budget cuts, but through the devaluation of the dollar. In this way, the Fed will happily pay back debtors with increasingly worthless fiat money. Inflation will be rampant and the government will be pressured by both the top and bottom 1% to raise interest rates. Thus, the Fed will have no option but to raise interest rates.
Market Response: Treasury yields are already lower than inflation. Rationale investors will not continue investing in a losing bet that is simply eating away from their principal. With impending government action looming in the next few years, treasury bond holders will become increasingly wary. Other opportunities in the markets should start drawing capital away from Uncle Sam, namely equity, commodities, and municipal bonds. When the Treasury's bankrollers start selling, prices will probably plummet quickly as they have done before.
Investor Actions: To best position oneself to benefit from collapsing US treasury bonds, one should buy the ProShares UltraShort 20+ Year Treasury ETF (NYSEARCA:TBT). This exchange traded fund seeks to replicate 2x the inverse of the Barclays Capital 20+ Year U.S. Treasury Bond Index (seen with TLT). The ETF is down 52% in the past year and stands to skyrocket when bond prices finally break.
Disclosure: The author has no positions in any stocks mentioned, and no plans to initiate any positions within the next 72 hours. The author wrote this article themselves, and it expresses their own opinions. The author is not receiving compensation for it. The author has no business relationship with any company whose stock is mentioned in this article.