By G C Mays
June estimates of corn (NYSEARCA:CORN) beginning stocks, production, use and ending stocks for the 2012/13 marketing year were mostly unchanged from the previous month in the U.S. However, persistent dryness in the corn belt is beginning to look like a replay of Brazil and Argentina from December 2011 through January 2012.
If drought conditions persist, actual corn and soybean (NYSEARCA:SOYB) yields would be lower than the original estimates, driving prices higher. These higher prices could give another boost to fertilizer stocks, especially CF Industries (NYSE:CF) and Agrium (NYSE:AGU). I use the word "could" because lately the correlation between these nitrogen fertilizer giants and corn has not been as strong due to the european debt crises. Major potash miners and phosphate producers like Mosaic (NYSE:MOS) and Potash Corp (NYSE:POT) could rise as well, but would generally lag the major nitrogen producers unless soil testing dictated otherwise.
Although estimates for the 2011/12 marketing year were largely unchanged as well, there were some changes in estimates that were offsetting. The USDA increased its estimate of corn used for ethanol by 50 million bushels because of increased estimates of Q4 ethanol production. Corn used for ethanol is at a record 5.05 billion bushels. Offsetting the increase in ethanol use is a decrease in exports. The fall is exports is due to increased competition from Brazil. Brazil raised their production estimates for the 2011/12 marketing year to a record 69 million metric tons as ideal weather for second crop corn added an extra 2 million bushels.
Farmers planted most of the second crop in Brazil's Central West region, where corn is typically planted in January; the dry season usually starts in May. However, the rainy season lasted until early June and provided another 4 - 6 inches of rain and this increased corn yields.
At 949.9 million metric tons, global corn production will set a record for the 6th straight year as it exceeds last years record by 76.9 million metric tons. 61.7 million tons, or 80% of the increased production is in the US. Russia and China are also expected to produce record yields.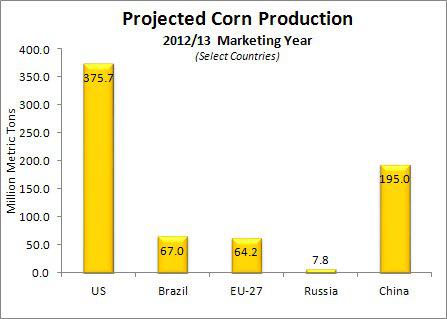 Source: The Mays Report
Recent corn crop ratings show 63 percent of the corn crop rated good to excellent and 9 percent rated very poor to poor. The condition of the spring crop has declined in the last 5 weeks and is now in slightly worse condition than a year ago.
Although spring planting has neared its end in North America, fertilizer stocks like CF Industries and Agrium could rise as higher late summer prices may entice farmers in South America to increase their corn acreage and maximize fertilizer use when their spring planting begins around October. No matter your bias, in my opinion it is very important to use stops prudently when trading stocks of the fertilizer companies in this macro environment because currency exchange rates are so volatile and these stocks are very sensitive to those fluctuations. Just as in South America during their growing season, if drought continues in the corn belt throughout the key pollination period that begins in a week or so we could see that record US production vanish and prices soar.
Disclosure: I have no positions in any stocks mentioned, and no plans to initiate any positions within the next 72 hours.