There is an unconventional revolution going on in the oil business. BP recently released its 2011 statistical review of world energy and had this to say about global oil production:
Annual global oil production increased by 1.1 million b/d, or 1.3%. Virtually all of the net growth was in OPEC, with large increases in Saudi Arabia (+1.2 million b/d), the UAE, Kuwait and Iraq more than offsetting a loss of Libyan supply (-1.2 million b/d). Output reached record levels in Saudi Arabia, the UAE and Qatar. Non-OPEC output was broadly flat, with increases in the US, Canada, Russia and Colombia offsetting continued declines in mature provinces such as the UK and Norway, as well as unexpected outages in a number of other countries. The US (+285,000 b/d) had the largest increase among non-OPEC producers for the third consecutive year. Driven by continued strong growth in onshore production of shale liquids, US output reached the highest level since 1998.
Yes, the United States had the largest increase in production year on year again. Five years ago with American oil production in a thirty year decline trend, very few people could have imagined that we would now be on the upswing or the third consecutive year.
And this upswing is no short term blip. It is the beginning of a long term trend that is made possible by technological advances that now allow oil trapped in tight rocks to be produced economically.
Last week Apache (NYSE:APA) announced that it has quietly accumulated a very large land position in the Mississippi Lime play in Kansas and Nebraska. In total Apache has assembled 580,000 acres that have multiple stacked oil zones.
We had already been starting to hear quite a bit about the Mississippi Lime from companies like Sandridge Energy (NYSE:SD) and Chespeake Energy (NYSE:CHK). The news flow on the play continues as we learn that other companies like Apache and private player Petro River USA have also been quietly building up land positions.
Sandridge was the first company to really showcase the value of acreage in the Mississippi Lime as it monetized slices and slivers of the play. Sandridge has completed to following deals involving its Mississippi Lime acreage:
- Sandridge Mississippian Trust #1 brought in $334 million
- Sandridge Mississippian Trust #2 brought in $590 million
- Joint Venture with Atinum brought in $500 million
- Joint Venture with Repsol brought in $1 billion
- Sale of some SDT units brought in $52 million
In total Sandridge has sold 537,000 acres in the Mississippi Lime for proceeds of $2.48 billion.
Interestingly for Apache shareholders, that 537,000 acres is very similar in size to the position that Apache has amassed in the play, which means that the Apache acreage position is likely worth close to $3 billion.
For Apache which has a $30 billion plus market capitalization this amount of acreage which was bought at very low prices is a nice creation of value for shareholders. For the smaller players like Sandridge adding an acreage position of this size is a company maker.
The Mississippi Lime can now be added to the list of unconventional oil plays below which are making a big difference to domestic oil production: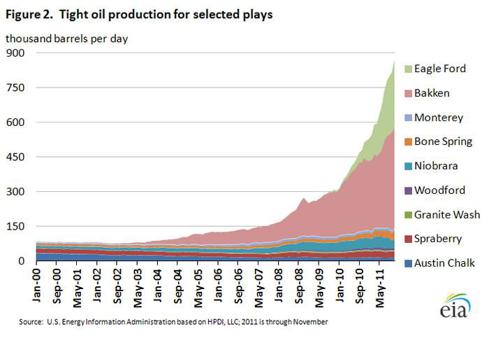 It will be interesting to see how quickly domestic production can continue to ramp up and what if any impact it will have on global oil prices. One thing that is certain is that with American production increasing and consumption decreasing, reliance on OPEC is reduced.
The Mississippi Lime is going to keep that chart above moving up and to the right.
Disclosure: I am long CHK.