With the surge in U.S. shale gas resulting from the new technology of hydraulic fracturing or "fracking" having brought natural gas prices down to around $3 per million British thermal units , the amount of gas needed to generate the same energy as a barrel of oil is now about $13, while West Texas Intermediate oil is trading at $83 per barrel.
Meanwhile liquefied natural gas ("LNG") is selling in Japan for about $16.38 per million British thermal units, nearly six times the U.S. price.
It only makes sense, then, you would think, for U.S. gas producers to ship gas to Asia and cash in on the differential. Except for a few things.
To transport gas it needs to be converted into LNG, which is natural gas cooled to -162C. The cooling process reduces the volume to approximately 1/600th. This makes it entirely practical to transport gas overseas by specially designed cryogenic sea vessels (LNG carriers).
But there is a problem. The United States currently has no gas liquefaction plants in the lower 48 states. The only gas liquefaction plant currently in existence, built in 1969, is in Alaska, and its owners, ConocoPhillips (NYSE:COP) and Marathon Oil (NYSE:MRO) were recently all set to close it down for lack of gas supplies, until ConocoPhillips bought out its partner's share.
The LNG plant was closed over the winter. Recently the plant has started making shipments again, but long term plans for the LNG plant beyond 2012 are unclear.
In April 2012 the Federal Energy Regulatory Commission ("FERC") granted Cheniere Energy (NYSEMKT:LNG) approval to build an export plant for liquefied natural gas at Sabine Pass in Louisiana, the first new gas liquefaction plant in the United States for 50 years. This plant could be ready by 2015.
Cheniere (LNG) will be able to export up to the equivalent of 16 million tons per year of LNG.
The plant will be built in two stages, the first consisting of two production units, or trains, of 4 metric tonnes per annum each, FERC said.
Cheniere has said it working on raising up to $4 billion in debt to help finance construction at Sabine.
Cheniere has already signed firm supply deals with buyers in Spain, Britain, India and South Korea.
Since giving approval for Sabine Pass, the U.S. government has suspended decisions on expanding U.S. gas exports until a study on the price impact on domestic consumers is completed late summer.
Several companies have applied for licenses to export excess domestic reserves to Europe and Asia, however Reuter's reports:
..Between 40 and 80 billion cubic meters of liquefied natural gas will be exported each year, starting from 2015.

These figures are below some estimates that expect U.S. LNG exports to rise above 110 billion cubic meters by 2020, but (analysts) have said that political pressure could limit export capacities.

"There is a lot of lobbying in the U.S. to limit LNG exports and to instead use the gas to allow the domestic industry to benefit from low energy prices," (an analyst) told Reuters.

"Petrochemicals and refined products, as well transportation industries that use natural gas, stand to gain from such a policy, and this could change the entire oil balance in the U.S. economy."

A report this week by Eurasia Group, the New York-based political risk consultancy, said: "Resource nationalism is the biggest political risk to U.S. LNG (exports), with many opponents to exports concerned about the impact on domestic natural gas prices."
But for political reasons the U.S. may not export large quantities of the gas that has saved its industry and citizens billions of dollars, thanks to plentiful supply and a slump in prices.
"It remains to be seen whether American citizens, who accept the discomfort of the shale gas activity for reasons of energy security and independence, will willingly accept it to benefit the bank accounts of a few exporters, especially as a likely consequence of higher U.S. gas exports would be higher domestic prices," said Paolo Scaroni the chief executive of Italy's Eni SpA (NYSE:E).
Meanwhile energy-hungry India has been asking the U.S., Nigeria, and Qatar to export more oil and gas to bridge its gap between supply and demand
All of this puts Cheniere Energy with its pre-approval for a new gas liquefaction export plant in a uniquely favored position vis a vis the competition.
Cheniere Partners plans to work with Bechtel Oil, Gas and Chemicals,Inc. (a private corporation) to design and construct the liquefaction facilities, using the ConocoPhillips Optimized Cascade® liquefaction technology. This proven process has been successfully deployed at several LNG export terminals around the world, and offers a high degree of reliability and control.
Over the last year, Cheniere has secured the necessary licenses and regulatory approvals for the project, and it has signed contracts with customers who will buy the gas. It has also secured some equity and debt financing.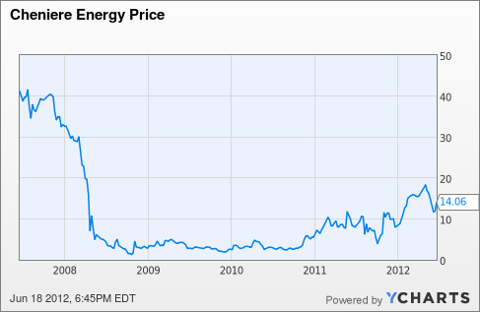 Here are the numbers.

There is nothing very impressive here. What the company does have is:
1. The only current permit to build an LNG export facility.
2. The site ready for construction.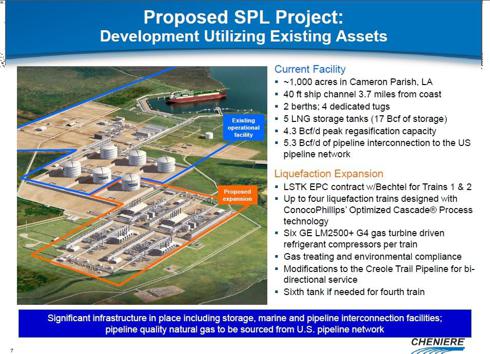 3. Signed contracts from willing purchasers of LNG
4. Progress on the liquefaction plant project, so far short of full financing.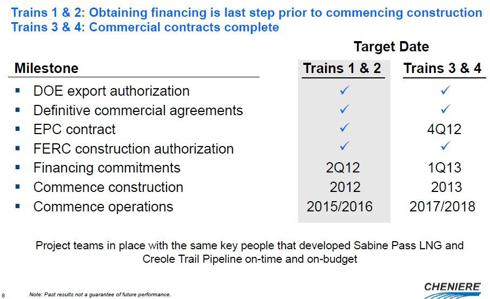 Images courtesy of Cheniere Energy.
Bottom line: This is a speculative stock play.
As CBS news reported, analyst Faisel Khan of Citibank rates the stock a buy, but cautions "building the facility to liquefy the natural gas is complicated and expensive. Cheniere still must get final approval for a $2.5 billion loan and find financing for a second phase of the project. Investors worry that Cheniere may not be able to cheaply finance the full project, or manage the complex construction seamlessly."
Khan says that Cheniere's stock should rise as financing is secured and construction started. He also suggests that a larger company with lower borrowing costs and experience building major projects could buy Cheniere.
Since there is no dividend at stake, and this is a long term play, I would suggest that if one wanted to get a piece of the action, a bull call spread on the 2014 LEAP options would be an appropriate play.
With the stock currently at $14, the $15/$20 bull call spread for about $1.70 would pay off as a triple-bagger if the stock holds $20 in January 2014.
If the company gets its financing, this looks very likely to pay off, given the unique niche that the company occupies at this time.
Disclosure: I have no positions in any stocks mentioned, but may initiate a long position in LNG over the next 72 hours.