As a dividend investor, the markets have been difficult to navigate with the European debt issues. My investing income strategy is to focus upon the most likely outcomes. European countries and the U.S. have ample financial stimulus in order to prevent another Lehman Brothers.
In the long term, printing money does not have positive long term effects. In the short run, dividend investors can benefit by the central banks creating money out of thin air. This will not solve economic problems. I am focusing upon 3 investing for income themes.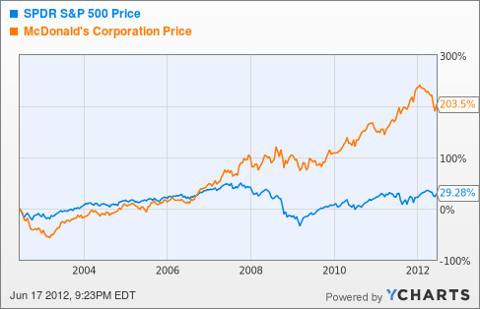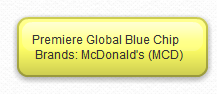 1. McDonald's Corp. (NYSE:MCD) - Global Blue Chip Brand
McDonald's is the leading worldwide global fast food franchise. The company is trading at a price to earnings ratio of 16x. The company has experienced a temporary down turn in its stock. The key issue is the company's exposure to European sovereign debt issues and the impacted countries. McDonald's has about 65% of its sales and 55% of its operating profits derived from overseas.
The stock yields 3% which beats the U.S. Treasury 30 Year Bond yield. Management is focused upon increasing annual dividends, buying back stock, and maintaining a disciplined mindset on delivering high return on shareholder equity. This is a name to buy and put away.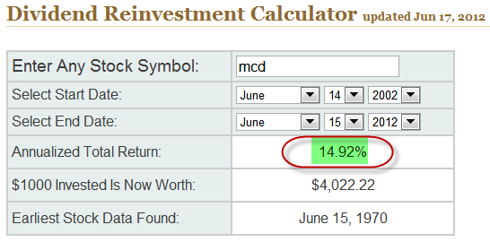 10 Years of Dividend Reinvestment
The above chart highlights the annualized 14.92% return if a dividend reinvestment plan was implemented for 10 years. One thousand turned into four thousand over the course of a decade. In addition, the yield on invested capital increased due to dividend hikes.
Action:
I believe investors should have a desire to load up on strong global brand names. McDonald's is clearly in this category of strong blue chip names.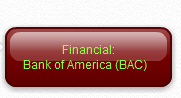 2. Bank of America Corporation (NYSE:BAC) - Financial Beneficiary
Bank of America is dealing with a stacked deck of cards. The Federal Reserve has said the bank can not fail. I like those odds. Of course it is not fair to smaller banks who played by the rules and were conservative during the housing boom. The key rule is, "Don't fight the Fed". At the very least, investors have to consider the Bank of America preferred stock, warrants, or the common stock.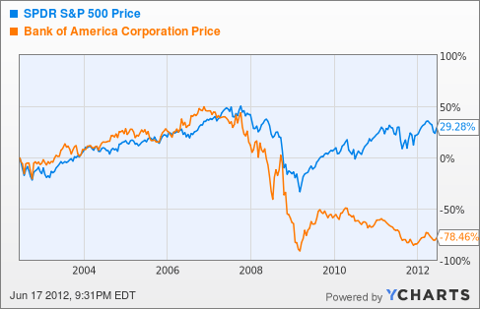 Bank of America's dividend will likely not increase until 2014-2015. The bank should earn around 75 cents to one dollar for 2013. It's a patient play, but the market cap is $80 billion and the U.S. Government will not let the company fail. The company has its issues: mortgage repurchase claims and regulatory capital requirements. When the issues pass, the common stock should warm up with dividend increases.
Action:
I would recommend Bank of America only for patient monetary allocations.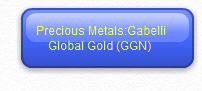 3. The Gabelli Global Gold, Natural Resources & Income Trust (NYSEMKT:GGN) - Precious Metals
The Gabelli Global Gold, Natural Resources & Income Trust is a closed end fund. The entity has paid 14 cents per month for 6 straight years. The current yield is 10% per year. The dividends are paid monthly.
The fund's managers invest in gold and natural resource stocks. Management sells covered calls against the equity positions. As gold and natural resource stocks are likely to increase in an inflationary environment, the fund offers a solid 10% annual yield.
Gabelli Global Gold Dividends Reinvested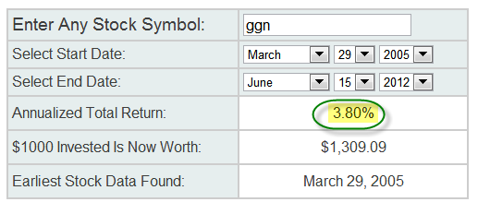 Summary:
I recommend a focus upon high quality brand names. McDonald's, Coca Cola (NYSE:KO), Altria (NYSE:MO) are blue chip names that will thrive during good times and bad times. A focus upon the U.S. deficit and debt levels is crucial. Inflation will thrive with the printing of money. I want exposure to gold and natural resources. Gabelli Gold provides monthly income.
Prior to inflation, however, is where we are today. I recommend investors take a close look at Annaly Capital Management, Inc. (NYSE:NLY). Annaly is a prime benefactor of decreasing interest rates. Annaly borrows at short term rates and invests in longer duration government sponsored entity (NYSE:GSE) mortgage backed securities (MBS). These securities have an implicit guarantee from the U.S. Federal Government.
Linn Energy (LINE) is a limited liability corporation. The company does not have a general partner like most master limited partnerships. The company is an upstream energy enterprise. The company yields 7.1% in a market where the U.S. Treasury Bond security yields 1.6%. The company's natural gas and oil production prices are hedged at higher than present valuations.
The company has 100% of its production hedged through 2015. The producing wells are not wild cat by any means. The wells are long life and possess predictable cash flows. This sounds exactly what an income investor is seeking.