In previous articles, we have compared countries (and by partial implication country funds) in terms of:
imports and exports
transparency and corruption
economic, banking, currency and political stability
GDP growth rates
inbound and outbound foreign direct investment.
In this article, we look at countries in terms of intellectual capital, expressed in terms of patent applications and granted patents. Certainly, there is more to intellectual capital than patents, but there is no more complete and comprehensive global measure of intellectual capital, of which we are aware, than patent applications and grants.
It seems to us that a country can gain economic advantage over other countries principally through,
natural resource exploitation,
low cost production of goods and services, or
innovation.
Patent applications and grants may be a reasonable indicator of the degree of innovation arising within a country.
Just imagine how powerful a country would be if it were a leader in all three dimensions.
The table below shows the ranking of countries by the number of international patent applications (not grants) originating from the 30 most prolific countries in 2007 as reported by the World Intellectual Property Organization [WIPO].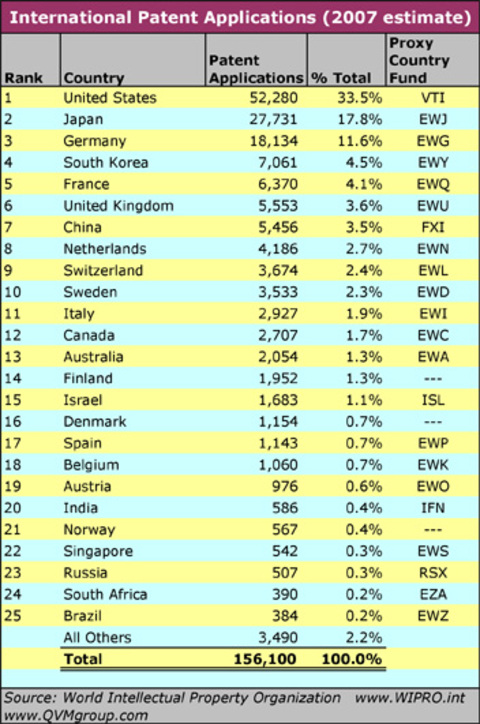 Dr. Kamil Idris, Director General of WIPO said in a February release, "The growth in patent filings by a number of countries in north east Asia and their share of overall patenting activity is impressive and confirms shifting patterns of innovation around the world."
International patent applications from China grew 38.1% in 2007 over 2006, and applications grew 18.8% from South Korea.
Among the top 30 companies filing international patent applications, the U.S. was the leader with 12 companies; followed by Japan with 7 companies; Germany with 4; South Korea with 2; and China, Finland, Sweden, France, and the Netherlands each with 1.
Within the United States the ranking of the top 40 countries according to 2006 patent grants (not applications) is shown below.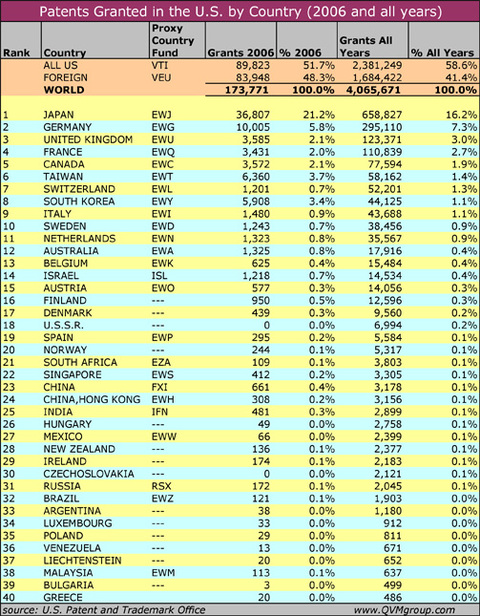 Make of it what you will. We think it is a good idea when investing in country funds to know how each country relates to the others in terms of competitive role and advantage. Intellectual capital is one dimension.