A newly hyped stock named athenaHealth (NASDAQ:ATHN) recently crossed my trading radar. Investors and analysts seem to have high hopes for its stock, which debut on the Nasdaq last September. Curious to whether this could be a secular growth story or just another dot-com dud, I performed an analysis.

Why Wall Street thinks Athena is hot

The $40 billion health care information technology market is in the process of transformation. To aid the quest for cost cutting, technology providers have been nudging hospitals and medical offices to switch towards electronic medical records [EMR] and real-time adjudication [RTA] of insurance claims. The goal is to upgrade our antiquated back office to the 21st Century.

athenaHealth's products specialize in both EMR and claim processing. Their flagship product, athenaCollector, is an online claim processing system geared towards practitioner offices.

One of the biggest hassles for doctors is extracting payment from insurance companies. Roughly 30% of physician claims are rejected by insurers the first time around. The problem is the complexity of the national coding system used to file claims. Claims often get flagged and halted due to conflicts within the insurer's rules database.

athenaHealth has its own processing database to insure that claims go through properly the first time. By taking such problems out of the hands of the physician, it will allow doctors to save time and resources wasted on bill collection. Athena's revenue is taken from a 3% fee per transaction.

In addition to claims processing, the company is trying to grow in the area of EMR and practice management services (PMS). Its athenaClinicals product is a web-based EMR system.

The good news for athenaHealth

Several things I find appealing about this company:

1) It's in a high growth secular field. Information technology for practitioners is expected to grow at 20%.

2) The product is offering has a compelling value proposition to doctors

3) 3) Most of the IT competitors in this industry such as Cerner and McKesson are focused on big contracts with hospitals. Athena has equipped itself for a guerilla marketing campaign aimed at individual practitioners.

4) athenaHealth has positioned itself to have a "good guy" image among doctors. Attempts by insurance companies to launch similar products such as UnitedHealth's Ingenix have failed to catch on due to a lack of trust among doctors.

5) This product would be appealing to practitioners because it does not require an expensive in-house server set up like the Cerner Millennium package.

Business risks facing athenaHealth

I feel that a major challenge for the athenaClinicals EMR business is security. Could the current generation of doctors be convinced that it's safe to have patient medical records zapped to a server miles away over the Internet? I know that even the most tech savvy doctors and lawyers are hesitant to place client documents on a computer connected to the Internet.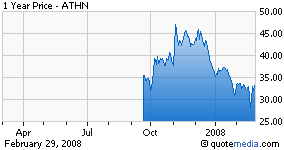 Already on the Q3 conference call, management noted that revenue from athenaClinicals was small and the investment into infrastructure has pulled down overall margin. I do not think this is a product that will take off.

Finally, I could see this type of service easily becoming a commodity. With so many players in this competitive field, a shift in the industry could easily allow another provider to dominate. If athenaHealth does not get bought by a larger company like GE Healthcare, it has a good chance to get crushed by a more well-known name in the field.

Valuation Risk

The story of athenaHealth overall seems not bad. However, the fly in the ointment is valuation.

Since my biggest question was, "What price do I buy this stock?" I built a full discounted cash flow model out to 2015. After running a range of scenarios of varying revenue growth and profit margins, I determined that most of the upside has already been factored into the stock.

According to the DCF model, unless revenue growth has a spectacular jump and profit margins significantly increase, very little upside is left in the stock. The 32 price range seems to fairly value the story as it stands, if not a bit too much. If growth at all stalls, this could easily become a $5 stock. Personally, I think the low 20s is more suitable.

Even by multiples this stock seems expensive. It trades at nearly 70 times expected earnings for 2008. Even the 2008 Price/Sales ratio of 8 is outrageously above the industry norm of about 2.

Furthermore is the looming threat of equity dilution. In January, management withheld a secondary offering of shares due to market conditions. I expect this to return once stability returns to the market and/or we get a small rally in ATHN.

Beware the Siren!

Many of the analysts sell a bullish story on athenaHealth. But keep in mind that the brokers covering this stock are the same guys who took it public and continue to do banking deals with them.

Maybe the story can last a quarter or two. If the stock gets short squeezed on an irrationally exuberant response to this Wednesday's earnings, take it as a selling opportunity.

If you stick with athenaHealth for the long term, I am certain she will send your portfolio to the hospital!

athenaHealth DCF Model (excel doc)

Full Disclosure: At the time of this writing, Winston is short shares of athenaHealth.