Just like the overall market, Indian ADR's have struggled since 2008 rolled in.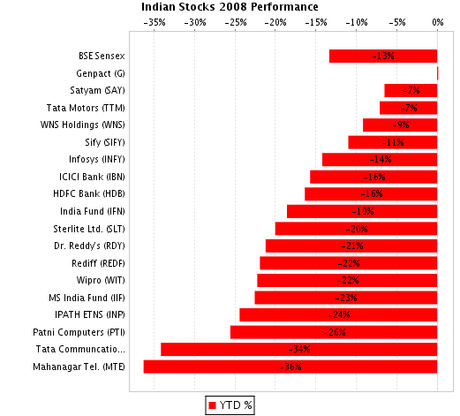 Note: Videsh Sanchar Nigam Ltd. (NYSEARCA:VSL) is now called Tata Communications (TCL).
As far as I am concerned the only Indian ADR worth looking at this point is Sterlite (BATS:SLT). ICICI Bank (NYSE:IBN) and HDFC Bank (NYSE:HDB) are also worth considering, but I would wait for a little better entry point.
As far as other ADR's are concerned, I don't see anything exciting at this moment. Let me know if you think otherwise, as any ideas would be welcome.
ETFs/ETNs/CEFs
The recent launch of Wisdomtree India ETF (NYSEARCA:EPI) looks better than the India IPATH ETN (NYSEARCA:INP). Energy plays a bigger role in EPI and technology plays a bigger role in INP.
The Powershares India ETF (NYSEARCA:PIN) is about to launch as well. The ETF pick might end up being between Powershares India ETF vs. Wisdomtree India ETF.
Although the Indian markets have been hit by the turmoil here in the United States, India still remains an attractive investment destination. It's certainly good to see the launch India ETFs to give people more choices to invest in India.
Full Disclosure: I am long Sterlite (SLT).