There is no good way to put this but solar stocks have been beaten down pretty badly since the start of 2008. There was some irrational exuberance when it came to solar stocks in 2007. This downtrend was inevitable, but the overall market conditions might have made it worse than it should have been.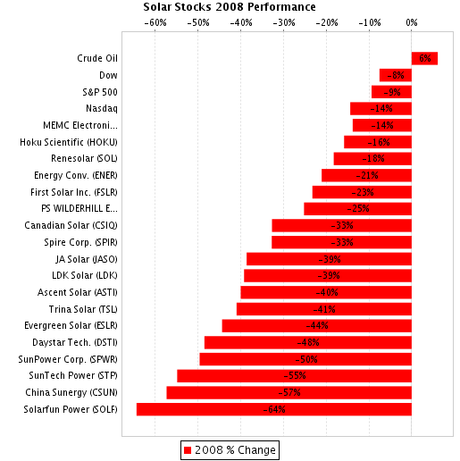 Crude oil and solar stocks are moving in the opposite direction with predictions that oil will continue to move higher.
The inability of congress to extend the renewable energy tax breaks beyond 2008 is also creating uncertainty even though most solar cell makers depend on European countries for majority of their revenues.
At some point you have to look at some of the quality solar companies.
I personally only fell that there are four solar stocks that are worth investing in (you can trade in other solar stocks) at this point:
Suntech Power (NYSE:STP)
Sunpower Corp. (NASDAQ:SPWR)
First Solar (NASDAQ:FSLR)
MEMC Electronics (WFR)
All of these are quality companies and leaders in different categories:
Suntech Power (STP): The is the largest solar company in China, and one of the biggest pure play solar companies in the world. Suntech also has pretty considerable R&D, and is not just a low-cost Chinese solar cell producer.
Sunpower Corp (SPWR): This Silicon Valley-based company is a leader in solar cell efficiency.
First Solar (FSLR): It is the leader in cost, and doesn't use polysilicon which continues to remain in short supply.
MEMC Electronics (WFR): As long as polysilicon supply remains tight, MEMC electronics will benefit.
One thing that remains certain is that solar stocks will continue to remain volatile. These stocks could either be up, or down 20% a month from now. But unlike corn ethanol, solar cells are here to stay, and the technology continues to advance.
I have made my fair share of mistakes in the past when it comes to investing in solar companies. I am currently trying to see if I can pick a bottom in Suntech Power and SunPower.
Full Disclosure: No position in any of the stocks listed above.