The power of diversifying across asset classes has rarely been more convincing than it was last month. Perhaps even more notable is the fact that the winners and losers of late are beginning to reflect the longer term trend.
Consider the table below, which ranks February's total return among the major asset classes. Commodities were the top peformer, surging more than 12% last month. In fact, commodities have been the leader for the past 12 months. At the bottom of the rankings: REITs, the big loser for February, and for the past year as well.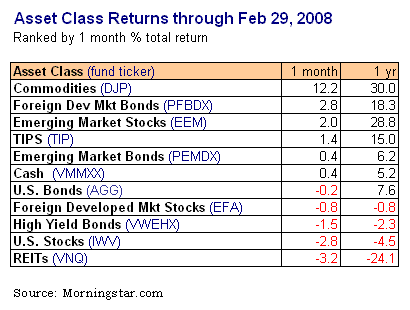 No one knows when the correction will stop, but it's worth reminding that the division between bull and bear markets across asset classes is nearly evenly divided. Recognizing that momentum doesn't last forever (because it inevitably gives way to the value factor, and then vice versa) has us thinking about the next big shift in strategic portfolio design, and how we make take advantage.
For the moment, momentum has the upper hand, which is to say the winners keep winning and the losers keep losing. For now...