Cameco Corporation (NYSE:CCJ) is one of the world's largest uranium producers. The company's uranium products are used to generate electricity in nuclear energy plants around the world, providing one of the cleanest sources of energy available today. Cameco's shares trade on the New York and Toronto stock exchanges.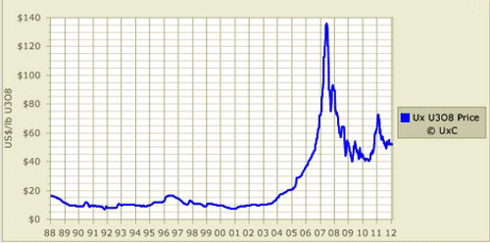 Uranium is a commodity with one of the strongest outlooks and the next bull phase is just about to start. The number of reactors is expected to surge from 430 today to more than 820 by 2030. Current uranium spot prices stand at $51 a pound. Analysts expect spot prices to average $55 in 2012 and $58 in 2013.
Fundamentals: Improving Uranium Market
Japan's decision to restart two nuclear reactors for the first time since last year's nuclear disaster could help boost uranium prices and equities, analysts at Dahlman Rose and Co. said Monday, June 18, 2012.
Analysts expect Japan's decision over the weekend to restart idled Units 3 and 4 at Kansai Electric Power Co.'s (KEPCO) Oi nuclear power facility to positively impact uranium spot prices over the near to medium term.
China could re-launch nuclear power ambitions to stimulate the economy. Leaders have already approved its 2020 nuclear-safety strategy and have already inspected existing nuclear reactors. China's National Nuclear Power Company is planning an IPO on the Shanghai Index to finance new nuclear power projects.
India has plans to grow nuclear power capacity from 5,000 megawatts to 63,000 megawatts by 2030.
The UK and France recently inked a declaration for cooperation on nuclear energy.
Uranium demand has always outpaced supply. According to Cameco, the largest producer of uranium in the U.S., we could soon see a much wider gap in supply and demand. Last year, 170 million pounds of uranium were consumed, but only 140 million pounds were produced.
Invest in Cameco: Participate in the Uranium Bull Market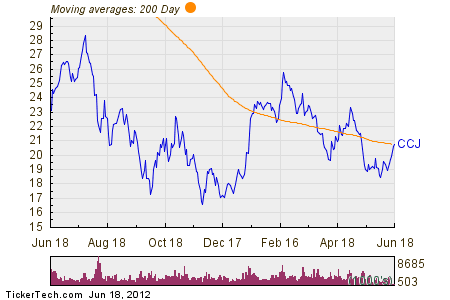 Being one of the largest producers of uranium in the world, investing in the stocks of Cameco Corp. is one of the best ways to participate in the next uranium bull market. Cameco shares are now trading above the 200 DMA, indicating a new bull phase is just developing.
Cameco Acquires Majority Ownership of the Millennium Project: The company announced on June 11, 2012, that the agreement with AREVA Resources Canada Inc. to purchase AREVA's 27.94% interest in the Millennium project for $150 million has closed. With the closing, Cameco's interest in the Millennium project increases to 69.9%. The remaining 30.1% is owned by JCU (Canada) Exploration Co.
The Millennium project is a proposed uranium mine consisting of 590 hectares of land. Exploration on the Millennium project area to date has identified indicated resources of 50.9 million pounds of U3O8.
Technical Indicators: Buy Catalysts Ahead
In trading on Monday, June 18, shares of Cameco Corp. crossed above the 200 DMA at $20.85, trading as high as $21.04 per share before finally closing at $20.88, above the 200 DMA. The share has been trading in a narrow range for the last one month.
Click to enlarge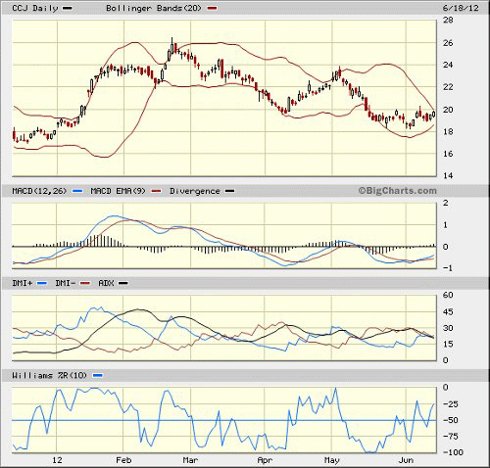 Bollinger Bands indicator shows that a break-out is imminent. MACD and DMI just gave us a buy cross, where the blue line crosses above the red. The stock has found solid support at $19.50, and after consolidating for the last month or so, we may now begin to see buy catalysts ahead.
Source: MarketWatch and Bloomberg.
Disclosure: I am long CCJ.