PetSmart
(NASDAQ:
PETM
) is expected to report Q4 earnings Wednesday with a conference call scheduled for 4:30 p.m. ET.
Guidance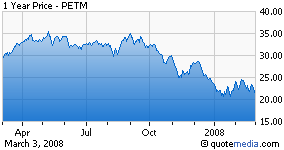 Analysts are looking for a profit of 59c on revenue of $1.34B. The consensus range is 57c to 61c for EPS, and revenue of $1.31B to $1.36B, according to First Call. In January, the company revised its EPS guidance and now sees 57c to 61c and same store sales up 0%-1%, citing weak sales in the last half of November and most of December. PetSmart previously projected SSS growth in the low-single digits for Q4 and EPS of 70c to 74c; the company expected 2007 EPS $2.05 to $2.09, including a 48c gain.
Analyst Views
S&P
analysts expect a slowdown in consumer spending to impact sales of discretionary pet supplies, noting PetSmart has declined over 20% within the past three months, but continues to believe underlying demographic trends for the industry remains very strong. The firm, which upgraded shares to Strong Buy from Buy, sees significant potential for store expansion over the intermediate term, and expects margins to widen on continued emergence of pet services, a category in which PetSmart is dominant.
Cowen
analysts cut 2007 and 2008 EPS estimates for the company to $1.54 and $1.64 from $1.67 and $1.86, respectively. The firm said PetSmart's margins are likely to remain under pressure on account of a mix shift to lower margin consumables and an increase in promotional activities.
While
Wachovia
analysts like the fundamentals in the pet space and think PetSmart is positioned to win market share over the next few years, uncertainty surrounding the company's longer-term margin profile prompted the firm to cut shares to Market Perform from Outperform.