The men's apparel market in China has grown rapidly in recent years primarily due to enhanced living standards, increased disposable income and a rising level of style and brand consciousness among male consumers. The rapid growth in urbanization and economic prosperity in second- and lower-tier cities has also brought about a significant increase in spending power in these cities, including spending on men's apparel products.
The men's apparel market in China primarily consists of three major segments, namely the men's business formal segment, the men's casual segment and the accessories segment. The business formal segment used to account for the majority of men's apparel sales. However, as demand for fashionable leisure and casual apparel in Western styles increases, the casual segment has increased as a percentage of the men's apparel market.
1. China Xiniya Fashion Limited (XNY) is a leading provider of men's business casual apparel in China. The company designs and manufactures men's business casual and business formal apparel and accessories, which are marketed under the Xiniya brand, and sells through its distribution network that includes 29 distributors. Its products are sold to consumers at over 1,600 authorized retail outlets owned and managed by third parties located in 21 provinces, five autonomous regions, and four municipalities in China. This retail network focuses on second and lower-tier cities, where increasing affluence has led to an improvement in living standards and where most international men's apparel brands do not have a significant presence. The company's target consumers are male working professionals in China between the ages of 25 and 45 who seek fashionable clothing to suit their working and lifestyle needs.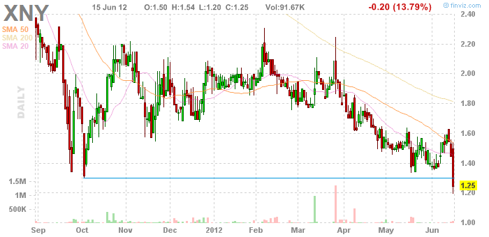 The company has $146.3 million in cash and 57.7 shares outstanding, which creates net cash of $2.54 per share.
Earnings per ADS were $0.12 in the first quarter of 2012 compared with $0.08 per ADS in the first quarter of 2011.
Second-quarter outlook
Revenue in RMB for the second quarter of 2012 is expected to increase by 19%-21%. Earnings per ADS in the second quarter of 2012 are expected to be in the range of $0.03 -$0.04.
Insiders have been buying shares
As of March 31, 2012, the company, Mr. Qiming Xu-Xiniya's Chairman and Chief Executive Officer, and Mr. Chee Jiong Ng-Xiniya's Chief Financial Officer, have purchased, through the public market pursuant to a written plan, an aggregate of $787,500, $87,500 and $21,875 worth of ADSs, respectively, or 389,032, 43,244 and 10,823 ADSs, all at an average price of $2.02.
The company has grown revenue and profits three years in a row
| | | | |
| --- | --- | --- | --- |
| Year | 2009 | 2010 | 2011 |
| Revenues RMB thousands | 672,075 | 899,252 | 1,180,036 |
| Gross profit RMB thousands | 233,302 | 310,019 | 404,899 |
| Gross profit margin | 34.7 % | 34.5 % | 34.3 % |
2. Zuoan Fashion Limited (ZA) is a leading design-driven fashion casual menswear company in China. According to a Frost & Sullivan Report, Zuoan was ranked second in China's fashion casual menswear market in terms of retail revenue in 2009. Zuoan offers a wide range of products, including men's casual apparel, footwear and lifestyle accessories, primarily targeting urban males between the ages of 20 and 40 who prefer stylish clothing consistent with a sophisticated lifestyle. Through extensive networks of distributors and retail stores, Zuoan sells its products in 29 of China's 32 provinces and municipalities. As of March 31, 2012, Zuoan had 1,295 stores located in China.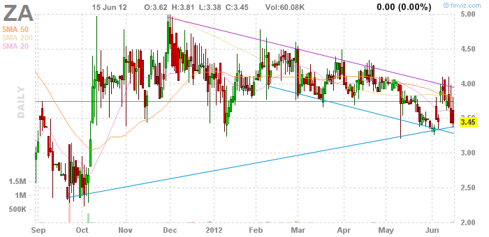 The company has $148.7 million in cash and 27.8 million shares outstanding, which creates net cash of $5.35 per share.
Diluted earnings were $0.38 per ADS in the first quarter 2012, compared with $0.31 per ADS in the first quarter of 2011.
For the second quarter of 2012, the company currently anticipates revenue in the range of $46.1-$47.6 million, gross margin of approximately 45%-47%, net income of approximately $9.8 -$10.2 million and basic and fully diluted EPS of approximately $0.09.
In March, Zuoan commissioned an independent third-party research company, Frost & Sullivan to conduct a comprehensive census count of Zuoan retail stores in order to confirm the accuracy of Zuoan's advertised store count data as of December 31, 2011.
In the study, Frost & Sullivan confirmed the existence and operational activity of selected stores in the majority of Chinese provinces in which Zuoan stores operate. One hundred and twenty cities in 23 provinces were randomly chosen for this survey. Frost & Sullivan used the Stratified Random Sampling method, and then conducted phone interviews / on-site checks to confirm Zuoan's store locations in each of the sampled cities. In each city, the number of stores checked was proportional to the distribution of Zuoan's stores nationwide in China. With such methodology, the actual audited store counts could be projected to reflect the total number of Zuoan stores within a +/- 5.5% sampling error at 95% confidence level. Frost & Sullivan began its fieldwork in March 2012, and completed the assignment in April 2012.
Mr. Hong, commented:
Improving our transparency remains a priority for Zuoan which is why we proactively engaged Frost & Sullivan to independently verify our retail store locations. We are pleased with their store verification results which helps confirm the accuracy of our retail store counts and instills greater trust in our business operations. We hold our public company listing status in very high regard to ensure our investors have the utmost confidence and understanding of our business.
The company has grown revenues and profits five years in a row
| | | | | | |
| --- | --- | --- | --- | --- | --- |
| Year | 2007 | 2008 | 2009 | 2010 | 2011 |
| Revenues RMB thousands | 434,472 | 598,344 | 693,089 | 872,085 | 1,230,881 |
| Profit RMB thousands | 91,411 | 132,683 | 153,898 | 183,001 | 255,691 |
Conclusion
My first price targets for both of these companies are the net cash levels. I am currently holding a long position in China Xiniya Fashion.
Disclosure: I am long XNY.