Socialists Win Absolute Majority
On the same day the world's attention was focused on Greece, an arguably more important election took place in France. As was already deemed highly likely after the first round of the parliamentary elections a week earlier, Mr. Hollande's socialist party received an absolute majority.
"French President Francois Hollande's Socialist Party and its allies won an absolute majority in the National Assembly, exit polls showed, paving the way for them to pass legislation without the aid of other members of parliament.

The Socialist bloc won 314 out of the 577 seats, pollster CSA said, with 289 needed for a majority. Former President Nicolas Sarkozy's Union for a Popular Movement party and its allies have 228 seats, CSA said, and the anti-euro National Front won two seats. Turnout in the second and decisive round of legislative elections yesterday was 56 percent.

"The French people have amplified their call for change," Socialist Party Head Martine Aubry, said on France 2 television.

The victory gives the Socialists control of practically every political institution in France - the presidency, the upper and lower houses of parliament, all but two of the regions and most of the country's big cities, communes and departments - - a first in the Fifth Republic.

Control of the lower house of parliament will allow Hollande to push through the tough decisions needed amid Europe's debt crisis. With growth stalling at home, Hollande now faces the task of telling the French people that the state's depleted coffers may mean cuts in spending and higher taxes as he makes good on his deficit-cutting promises."

"The result means that President Hollande and his government have free reins to continue to govern," said Thomas Costerg, an economist at Standard Chartered Bank in London.
(emphasis added)
So a a little over a quarter of the eligible voters was actually responsible for this victory, given the turnout of 56%. This has supposedly amplified the 'call for change'? We would rather tend to interpret such a voter turnout as proof positive that a critical mass of voters is getting completely fed up with politics.
It appears a number of people think that the fact that Hollande surprisingly finds himself with more political power than any other French president of the 5th Republic before him is a good thing because it will allow him to push through his program without facing significant headwinds. To this we would point to our previous discussion of the breathtakingly nutty economic policies his cabinet colleagues have come out in support of in recent weeks.
It is almost a little bit like with the rise of various dictators in Europe in the more distant past: nobody took the political goals they clearly enunciated in advance seriously. 'They can't be that crazy' was the general assessment. But they were, and the subsequent reality exceeded even the worst expectations.
Hollande and his government, in case it has not been properly understood, is socialist. Therefore, it would be naive to expect it to actually shrink the size and power of the State. The exact opposite is likely to occur.
If the plan to cut the deficit is actually pursued by this government (and we're not quite sure how cutting the deficit jibes with Hollande's 'anti austerity' message, since the two are mutually exclusive propositions), there is only one means the government can and will most likely resort to: it will raise taxes.
That cannot possibly suffice to attain the goals envisaged by the European 'fiscal compact'. In fact, it will likely put them further out of reach due to the deleterious effect on the economy that has to be expected as a result. So he will have to cut spending, against his election promises. But he's a tax-and-spender at heart, so what type of spending will he cut?
The Next Body Blow to The Economy Is Coming
As reported at 'Global Tax News', a 'plethora of tax increases' is now expected to come down the pike in France. Mind, this is a country that is - similar to most other European nations - already host to egregious confiscatory taxes. If a monarch 200 or more years ago had dared to ask for a similar tax take, his head would have been parted from his shoulders within days at most. And now they want still more. It is worth quoting from the report at length:
"With the French left looking set to gain an absolute majority in the National Assembly after the first round of legislative elections, the government is currently preparing an 'enormous' raft of tax measures to redress the public finances, primarily targeting savings, wealth and top income earners.

With scant regard for much-needed expenditure cuts, despite the recent publication of a report from the General Inspectorate of Finances indicating that around EUR3.9bn (USD4.9bn) in savings is necessary each year to achieve a budgetary balance, President François Hollande is busily preparing behind the scenes a package of additional tax rises under the guise of tax reform designed to ensure greater fiscal justice.

Commenting on the government's plans, Socialist Party (NASDAQ:PS) leader Martine Aubry insisted that there are other means of restoring the public finances rather than simply reducing spending. There is "enormous" scope to realize this goal by introducing additional taxes, Aubry stressed.

French lawmakers are due to vote on a supplementary finance bill in July, providing for the most emblematic measures contained in President Hollande's election campaign, including the introduction of a 75% rate of income tax, and plans to reform the country's solidarity tax imposed on wealth (NYSE:ISF). Other remaining tax initiatives provided for in the campaign programme are to be inscribed in the country's 2013 finance bill, due to be examined in the autumn.

The President's last minute plans to tax at 75% income in excess of EUR1m to secure election votes could, however, prove disastrous for the economy, as it brings with it a real risk of increasing the number of fiscal exiles relocating abroad.

The excessive tax burden would affect not only top executives of large companies in France, but also the heads of small- and medium-sized companies (SMEs). The combination of a tax levied at 75% coupled with plans to align the taxation of capital with the taxation of work, and critics of the proposals warn that they could prove catastrophic. Gains realized from the sale of a company, if in excess of EUR1m, could for example be taxed at 75%.

Hollande's aim of reforming ISF, includes plans to restore the wealth tax scale of between 0.55% and 1.8%, in place before the former government's 2011 reform, to be applied on wealth in excess of EUR1.3m. Currently a 0.25% rate is imposed on net taxable wealth in excess of EUR1.3m and 0.5% on net taxable assets above EUR3m.

Despite the legal and technical problems associated with the reform, the government plans to increase ISF from 2012, to be achieved possibly by means of imposing an exceptional wealth tax contribution on taxpayers, akin to the exceptional contribution imposed on top income earners in France at the end of 2011.

To guard against claims that the 75% tax rate is "confiscatory" and therefore unconstitutional, the new President plans to reinstate the so-called "Rocard cap" (plafonnement Rocard), stipulating that the sum of income tax, wealth tax and social contributions (general social contribution and contribution for the repayment of the social security debt) must not exceed 85% of household income.

The new government is also busily preparing for an assault on existing and highly costly tax breaks (niches fiscales) in France to reduce the deficit. In accordance with the President's campaign programme, the government plans to cap tax breaks at EUR10,000 a year, compared to EUR18,000 plus 4% of income currently."
(emphasis added)
Wow, what a relief - the total tax take must not exceed 85% of one's income! So if they leave people 15% of what they earn, this is not 'confiscatory' and hence not in conflict with the constitution. This is worse than highway robbery - at least highwaymen don't pretend that what they do is anything other but theft at gunpoint. We have yet to encounter a mugger who refers to his activities as exacting a 'solidarity contribution' in order to achive 'social justice'.
Given the likely effect on small and medium size enterprises, we can probably rest assured that the downward spiral of the French economy is set to continue apace. Note the hint above that there will be 'scant regard for much-needed expenditure cuts' - this is precisely what we are expecting as well. An initial example of this 'scant regard' for spending cuts was already delivered with the repudiation of Sarkozy's timid pension reform. While France has now lowered its retirement age from 62 to 60 years, Germany has increased its retirement age from 65 to 67 years.
As we have pointed out, this French pension extravaganza is to be funded with a 'tiny hike in payroll taxes' to be paid by both employers and employees. The math is untenable of course, but the point has been made that Hollande is indeed a dyed-in-the-wool tax and spender.
Moreover, he and his cabinet colleagues apparently labor under the misguided belief that they can actually suspend economic laws. The hubris is astonishing - this is no different from a politician claiming he can order the suspension of gravity. It would be funny if it the likely consequences weren't so serious.
Will France Soon Become Part of the Infamous Deadbeats Acronym?
The markets are still giving France the benefit of the doubt, in a way. Its bond yields - which reside at about twice the level of Germany's yields ever since the two decoupled in the summer of 2011 - remain quite low at the moment. However, it is precisely this decoupling that should give everyone pause. This is how all the other sovereign debt catastrophes in the euro area have started out as well. Moreover, the CDS markets are clearly indicating that France's current credit rating is unlikely to be sustainable.
---
Click to enlarge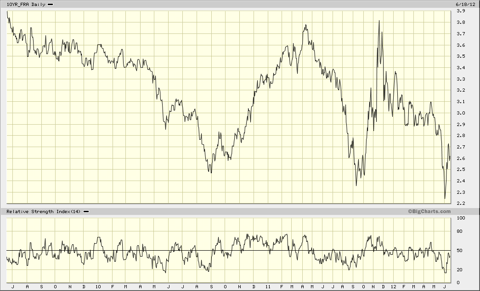 France's 10-year yield remains low - for now. The markets are likely adopting a 'wait and see' stance until the effects of Hollande's policies on the deficit become clearer.
---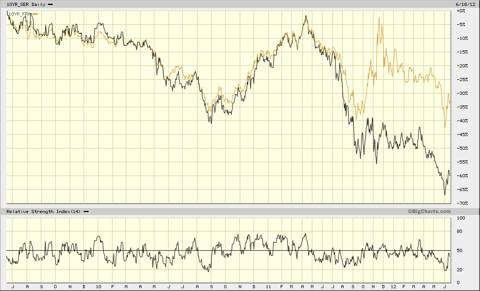 French and German 10 year yields compared. After tracking extremely closely for a very long time, they have decoupled with the escalation of the euro area crisis last summer. Ever since, a large spread has been maintained.
---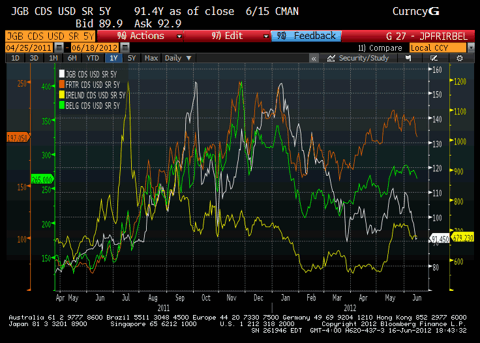 5 year CDS on France (the orange line - the rest are Japan, Belgium and Ireland) are at about 200 basis points. Not a very high absolute level, but for a euro area 'core' nation it is actually quite an embarrassment.
---
We have little doubt that the policies recommended by France's cabinet members in recent weeks will further entrench already extremely high institutionalized unemployment and dampen economic activity. No-one in his right mind will start a business under such circumstances. With the French economy already contracting (recent PMI data show a disconcerting acceleration southward), these policies have a usefulness that is roughly comparable to a hole in the head.
---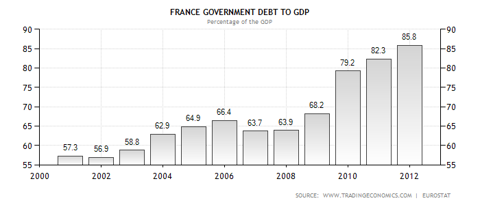 France's debt-to-GDP ratio is dangerously close to the psychologically important 100% threshold.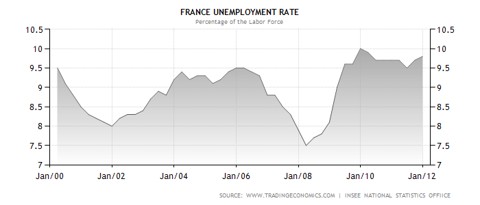 France's unemployment rate is at a 13-year high. The policies pursued by the new government are bound to entrench institutionalized unemployment.
---
The weakest and most vulnerable part of the French economy however are still the country's banks. They are exposed to the euro area crisis to a greater extent than any other banking system.
Below is the exposure of French banks to the 'PIIGS' in billions of euros - public, and private debt combined (including the considerable exposure to the debt of other banks in these countries), as of June 2011 (BIS data):
Italy: €416.5 billion, Spain: € 150.9 billion, Portugal: € 25.66 billion,
Ireland: € 32 billion, Greece: € 55.8 billion - Total: € 680.86 billion
In Italy and Greece, French banks are by far the biggest foreign lenders. In Spain, they are the second biggest just behind Germany's banks (this helps to explain why Spain was able to get a 'bank bailout with special conditions' so quickly and easily). Obviously, the debt crisis in these countries is of great moment to France's big banks.
At present, the market is not particularly worried about any of this, but it is also not particularly happy. What we are saying is that for the moment, the idea that France's banks could require a government bailout has receded into the background, as the ECB's LTRO's and the extra-cheap Fed-ECB dollar swap lines are held to have decisively dealt with the banks' funding problems.
However, the market still prices French bank stocks at the very low end of their range of the past year - as demonstrated by the charts of Societe Generale and BNP Paribas depicted below:
---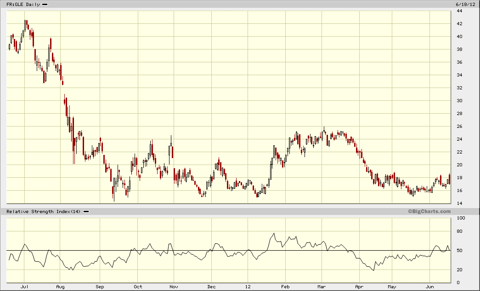 The share price of Societe Generale (OTCPK:SCGLF) over the past year. No joy for shareholders just yet.
---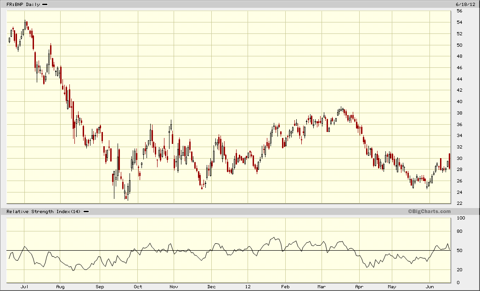 BNP Paribas (OTCQX:BNPQY) - a very similar situation. Shareholders have little to celebrate.
---
In 2004, France's current account surplus turned into deficit. However, as can be seen below, the deficit is not overly large (it currently amounts to about 2.2% of GDP):
---
France's current account has been in deficit since 2004.
---
The TARGET-2 liability of the Banque de France currently amounts to only €26.3 billion as of April, down from a crisis high of about €120 billion. This is curious, as the Banque de France concurrently reports that central bank borrowings by French commercial banks have reached a new record high - a sign that the banks have been forced to replace private sector funding with central bank funding. In short, the contracting TARGET-2 liability is not a sign that funding stresses in the banking system have relented.
Of course we don't know yet how the most recent developments in the euro area have affected this situation.
The charts below come via the German site 'Querschüsse.de':
---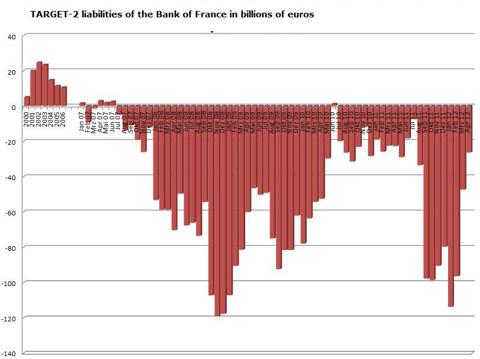 TARGET-2 liability of the Banque de France - falling for the third month in a row in April.
---
French bank borrowings from the central bank: a new record high was reached in April.
---
All in all this paints a none-too comforting picture. Considering the vast exposure of French banks to Italy and Spain - the very countries now at the center of the debt crisis - one wonders how long the LTRO-induced calm can last. Will the market extend the benefit of the doubt to the Hollande government even in the event of the focus returning to the dangerous situation the banks find themselves in? We rather doubt it.
The initial 'decoupling' of French and German government bond yields was predicated precisely on the idea that the French government may potentially find itself saddled with a huge bank bailout bill itself. This danger has by no means diminished - in fact, given the recent action in Spain's and Italy's bond markets, one could well argue that it has increased further.
---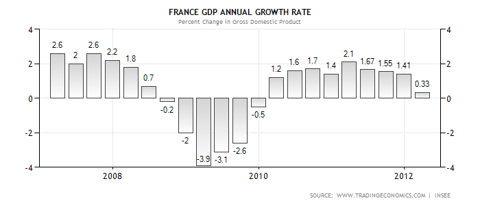 France's annual GDP growth rate is on the verge of contraction.
---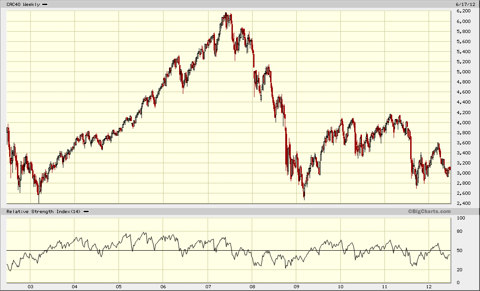 A long-term chart of the CAC 40 index in Paris - this chart reflects the sorry state of France's economy well. It strongly reminds us of the post-bubble Nikkei's path so far.
---
Addendum 1: Mrs. Merkel Warns on France
In the meantime Hollande's antics have made the Germans nervous. Mrs. Merkel saw fit to utter a warning about France's economy - Hollande should take heed. As the FT informs us:
"Angela Merkel has warned that France is losing economic competitiveness, suggesting publicly for the first time that Berlin is beginning to see its big western neighbour as more of a hindrance than a help in trying to solve the eurozone crisis.

In remarks that could raise tensions between the currency bloc's biggest members, the German chancellor lauded Germany as the eurozone's "anchor of stability and growth engine", while lamenting a "growing" divergence in French unit-labour costs, which have continued to rise in past years as Germany was able to bring its in line.

[…]

There are also worries Mr Hollande's leftist course will further undermine a French economy already fragile after only halfhearted liberal reforms by Mr Sarkozy. This could quickly leave Germany as the only big eurozone country capable of financial "heavy lifting".

Wolfgang Schäuble, German finance minister and a conservative like Ms. Merkel, raised eyebrows in Paris when in an interview this week with Italian newspaper La Stampa he criticised Mr Hollande's decision to restore the right of some workers to retire at 60 at a time when most European countries were extending the retirement age.
(emphasis added)
So Schäuble 'raised eyebrows in Paris' with his critique? That's all?
Addendum 2: Ortiz Pleads for More Money Printing (What Else)
In a related development, Guillermo Ortiz, the former governor of Mexico's central bank, opined that the 'ECB could end the crisis immediately' - if only it were to print enough money:
"The European Central Bank can stop the region's sovereign debt crisis "almost immediately" by carrying out a "massive" round of government-bond purchases, said Guillermo Ortiz, the chairman of Grupo Financiero Banorte SAB and Mexico's former central bank governor.

"The European Central Bank has done quite a bit," Ortiz said today in an interview in Los Cabos, Mexico, where he was attending the business summit of the Group of 20 nations. "The problem is it needs to do more."
(emphasis added)
They must be hard of hearing just about everywhere on the planet. How many times does it have to be said that the ECB is not allowed to do that and for very good reasons?
We admit of course that 'not allowed' doesn't necessarily mean 'will forever refrain from doing it'. Experience shows that in perceived emergency situations certain legal fine points are quite often craftily circumnavigated by officialdom. Often enough they are also simply ignored, with forgiveness usually expected to be granted due to the exigencies of the moment demanding a 'firm response' or whatever euphemistic phrase is later used to describe such flagrant breaches of the law.
However, the ECB is in a bit of a corner on that one, since it frequently mentions this very prohibition when explaining its conduct - and should the ECB somehow forget about it, there is always Jens Weidmann to remind it.
Charts by: bigcharts, querschüsse, tradingeconomics, Bloomberg.