The distributor of this research report, Gould Partners, is not a licensed investment adviser or broker dealer. We are a consultant to Emergent Health Corp. and have received $10,000 for independent research.
Life extension is one of the most exciting areas within the healthcare sector. From treatments for debilitating conditions common in emerging markets to improvements in general well being, life extension strikes human wonder. It will also drive significant and sustainable returns given that cures target highly to perfectly inelastic demand. Gilead (NASDAQ:GILD), GlaxoSmithKline (NYSE:GSK), Emergent (OTCPK:EMGE), and Johnson & Johnson (NYSE:JNJ) are all trading below intrinsic value despite targeting this demand. These companies range from micro-caps to mega-caps.
Gilead primarily focuses on treatments for HIV/AIDS and other sexually transmitted diseases. Despite poor performance in the last two quarters (EPS was a respective 8% and 33.7% below consensus in Q4 2011 and Q1 2012), investors still trusted the underlying fundamentals -- driving the stock price up 35.1% over the last six months, which nearly quintupled the return on the Dow Jones.
Gilead's EPS over the past five years: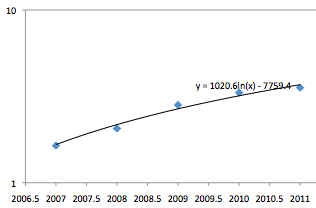 Source: Internal research.

The biotech firm has produced strong and consistent earnings growth since the loss in 2006. If you take a logarithmic regression of EPS over the last half decade, you can extrapolate 2016 EPS as $6.21. In order to get any meaning out of this figure, you need to take an exit multiple calculation that is appreciative of peer levels and the past.
Gilead has a P/E multiple that is currently 84% of its historical five-year average and well below its peers. Multiplying my 2016 EPS estimate by a 17 times multiple, the future value of the stock comes out to north of $100. Discounting backwards by 10% yields a price target of $65.59, which offers a 32.3% margin of safety. The market seems to be factoring in a discount rate that is closer to 20% -- an egregious amount for the healthcare sector.
Micro-cap Emergent Health Corp. has a similar pipeline that improves life quality and length. Its new Infinity Plus Anti-Aging Support helps to increase adult stem-cell circulation. These stem cells are responsible for creating our organs and increase telomere lengths. As organisms age, telomeres have been shown to shorten, and scientists believe that stopping this progression can add life years.
Like Gilead, Emergent has an active pipeline that is complemented by solid IP protection. The emerging company specifically operates in regenerative medicine, which faces positive secular trends as baby boomers hit retirement. Management has stated that the firm's JDI International member network has realized double-digit monthly growth, and it is likely to continue this trajectory as revenue synergies are unlocked. For example, Vita-Stim Stem Cell Nutrition consumers can likely be rolled over into purchasing the Infinity Anti-Aging line.
When it comes to life extension, GlaxoSmithKline has developments targeting the HIV market. It has been attempting to gain share of other catalysts, notably Human Genome Sciences (HGSI), which implemented a poison pill to deter a hostile takeover attempt. No matter, GlaxoSmithKline has been busy investing elsewhere: The healthcare firm is set to, one, acquire Cellzome and its proprietary proteomics technology and, two, increase interest in Theravance (THRX). On the organic side, GlaxoSmithKline has two potential melanoma drugs that, when combined, reduce cancer progression with limited side effects.
Mega-cap firm Johnson & Johnson has been a very safe investment over the last half decade. Even still, the S&P 500 has roughly doubled its return over the last decade. Johnson & Johnson offers a 3.7% dividend yield and trades relatively high at 18.2 times past earnings given the slow growth. EPS has beaten expectations, albeit slightly, over the last five months.
If Johnson & Johnson were to yield a reasonable EPS of $5.75 in FY 2014 and trade at 16 times earnings, the future price of its stock would be $92. Discounting backwards by 8% would imply that the target price is $73.03. While that doesn't offer much of a margin of safety, it is strong enough when combined with the dividend yield and 0.5 beta.
Disclosure: I have no positions in any stocks mentioned, but may initiate a long position in OTCPK:EMGE and GILD over the next 72 hours.
Disclaimer: Investors are cautioned to perform their own due diligence as information contained within this report has been derived from public sources and management and cannot be guaranteed by us to be fully accurate. Always discuss investments with a licensed professional before making any financial decision. Statements made herein are often "forward-looking statements" as defined under Section 27A of the Securities Act of 1933, Section 21E of the Securities Act of 1934, and the Private Securities Litigation Reform Act of 1995. Since these statements are uncertain, actual results may be materially different from those expected.