Though still down over 40 percent from its trading price one year ago, Sprint Nextel (NYSE:S) shares appreciated 30.93 percent over the last month. See the mid-term chart, below: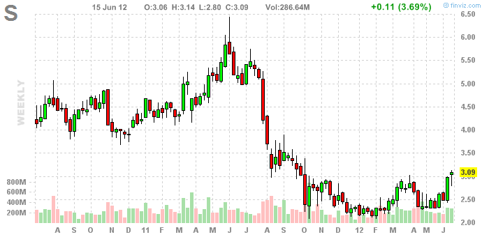 At this point last year, Sprint did not yet have the iPhone and was losing customers because of that. Though still mired in its mid-term valley, and still holding a big bag of debt and network upgrade costs, Sprint's recent move higher broke through last tested resistance. See a more recent chart, below: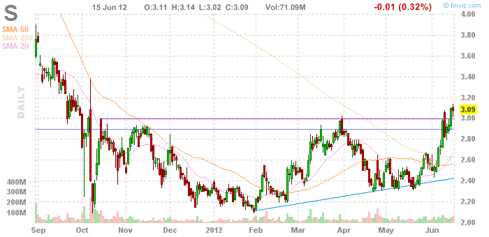 While some of Sprint's recent outperformance compared to the broader market is likely due to its general lack of European and Emerging Market exposure, much of Sprint's move higher in June is related to its continued relations with Apple (NASDAQ:AAPL). Sprint started to sell the iPhone when Apple launched the 4S model, to start the fourth quarter of 2011. Sprint received the iPhone after Verizon (NYSE:VZ), the largest U.S. mobile service provider, which got the iPhone in early 2011, and AT&T (NYSE:T), which has had the iPhone from its beginning and still has the most iPhone users.
The lack of the iPhone was previously notably contributing to attrition in Sprint's customer base. The company did report a turn-around in its subscriber losses due to strong iPhone sales. Sprint is also the only of the three main mobile operators to continue to sign unlimited data plans for iPhones, with AT&T and Verizon both trying to phase out unlimited data, and this may appeal to many data-heavy users that are not around wifi. Since Sprint has only had the iPhone from the start of Q4 of 2011, it has benefited from the addition for a short period of time.
Additionally, Sprint recently announced that starting June 29, it will sell the iPhone through the Virgin Mobile USA branded prepaid service. Sprint is the second U.S. pay-as-you-go carrier deal for the iPhone. Leap Wireless International (LEAP) also recently announced it will offer the phone on its network. Sprint acquired Virgin Mobile USA in 2009, from billionaire Richard Branson's Virgin Group. Virgin's U.S. business was already running its on Sprint's network.
Unlike the pricing under the big three's contracts, the prepaid Virgin iPhone will not be heavily subsidized, making the iPhone 4S cost $649, and the iPhone 4 with 8 gigabytes memory cost $549. Virgin will offer plans for $30 and $50 per month, and customers will be able to use their iPhone as a mobile hotspot for an additional $15 per month. Therefore, Virgin's iPhone plans would be more expensive upfront, but should end up having a lower total cost under the time-frame of the general phone plan.
Virgin Mobile has been popular with youths, to whom the service is often marketed, as well as many older individuals that do not regularly use mobile phones. Other than Virgin Mobile USA, Sprint also owns Boost Mobile, which could also soon get the iPhone, as might several other prepaid plans. By expanding these brands' hardware options to include the iPhone, they are not only likely to keep more of their already existing subscribers, but might also lure new capable but price-conscious customers.
Last week, Verizon Wireless announced plans to eliminate almost all of its current phone plans and exchange them with a system designed to allow consumers to share data usage among up to ten phones and other mobile devices. The new plan scheme takes effect on June 28, or a day before Virgin Mobile USA will begin to sell the iPhone. Verizon's new usage plans are designed to allow individuals bundle devices like tablets and laptops to a single phone plan, as will also allow the bundling of family members' phones.
Under Verizon's new plans, called "Share Everything" plans, the cheapest plan begins at $90 per month. Plans are designed to include unlimited phone calls and texting for one phone and 1 gigabyte of data that can be used by that phone or other devices. Users will be able to add a device such as a tablet to their plan for $10 more, or a USB data stick for a laptop for $20. Additionally, these new plans will allow customers to adjust their data allowance on a monthly basis, with a $15 per gigabyte charge for over-usage.
Comparably, Sprint's unlimited plan should be cheaper for individuals with high data usage, but limited users of data could conceivably identify savings with an option more specifically tailored to their level of usage. Sprint offers unlimited data and limited phone use for $80 per month and an unlimited phone and data plan for $110. Further, Virgin's plans will be about half that cost, even if including hotspot capability. Additionally, Sprint does not yet offer direct data plans for the iPad, though one could use it through a hotspotted phone, but it is likely to gain the iPad as it continues to upgrade its network.
Nonetheless, while Sprint may be able to offer more competitive pricing plans than its competitors, it is possible that a qualitative difference will exist in the service offered. It is still unknown how well the iPhone will run through the allotment of network given to Virgin, or whether continuing to add unlimited data plans will cause a bottleneck issue within the total network.
Whatever affect adding the iPhone to Virgin Mobile USA will have on Sprint, the market will not get a real basis of understanding until at least when Sprint reports its Q3 results in the Fall. Sprint is not without its issues, which include a sizable amount of debt, and a constant need to upgrade networks alongside two far larger competitors. But if there is a benefit to be had from offering the iPhone and other Apple products then Sprint is very likely to continue benefiting from further Apple-based tailwinds over the next few quarters.
Additionally, Sprint has a good working relationship with Google (NASDAQ:GOOG) and its Android OS, including being early adopters of Google Wallet and allowing for data only plans that integrate Google Voice. Moreover, Sprint had $2.53 in cash per share at the end of Q1 2012, with decent cash flow and the apparent ability to service its near-term debt obligations. This, coupled with its current tailwinds and lack of European exposure, could bode well for Sprint over the coming quarters.
Disclosure: I am long S.