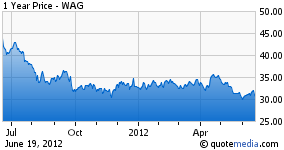 Seeking to diversify revenue streams while continuing to fight with ExpressScripts (NASDAQ:ESRX) over reimbursement rates, Walgreen (WAG) has bought almost half of Alliance Boots, a European drug chain. It has an option to buy the rest.
The price, $6.7 billion, is not small for a company with a $26 billion market cap. The company will have to raise $4 billion in cash and is giving up 3% of its equity in the deal. But much of that is going to buyout firm KKR, which now has a substantial stake in WAG's success.
Along with the eurodeal, WAG announced a dividend hike, to 27.5 cents/share, and a fairly weak quarter with earnings of 62 cents, meaning it's now paying out nearly half of earnings to shareholders, bringing the yield up to 3.4%. Given the morning's early price action -- down 5% -- investors may now be able to get a 3.5% yield on the stock.
Alliance Boots gives WAG sales that aren't tied to the ExpressScripts problem, along with a hefty stake in European stability. The stores are also fairly traditional -- aisles of merchandise -- rather than the "wellness services" concept WAG was pushing in the U.S.
The moves may make some wonder about the future of Alan E. London, brought in earlier this month as "chief medical officer" after a career he spent in areas like best practices and medical homes. London's group is expected to help grow its Take Care clinic system, an effort to diversify away from products and into health care services. But it may lack the capital London feels he needs to proceed. He will need to be as patient as WAG investors.
Take it all together and you have a company with a higher risk profile but more potential to survive a protracted dispute with ESRX. The move by investors away from WAG and toward CVS Caremark (NYSE:CVS), which does own a pharmacy benefit manager, may well continue, but those of a more speculative bent may like the WAG yield and promise.
Let the traders get out of the stock and then think about getting in as a long-term investment. If the company can make a deal with ESRX, it's going to pop.
Disclosure: I have no positions in any stocks mentioned, and no plans to initiate any positions within the next 72 hours.