Eight months ago we asked, "What's Driving Amazon's Stock Price?" At the time, Amazon (NASDAQ:AMZN) was trading at a share price $72 and a forecast EV/EBIT multiple of 50. We valued the company at $59 with a sensitivity range of $53 to $65. As Amazon's strong 1st quarter performance continued through 2007, the stock price climbed to over $100. In line with the wider market volatility, Amazon has plunged from $97 at the beginning of January to $62.43 at yesterday's market close.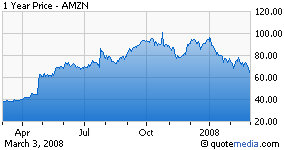 Incorporating the latest consensus analysts estimates, we estimate Amazon's value at $60.83 with a sensitivity range of $56.41 to $65.46. Our mid-point valuation represents a forecast EV/EBIT multiple of 25.3 compared to the 26.9 implied by the current price. This valuation is based on revenues and EBIT growing to $28.9 billion and $1.64 billion by 2010 respectively. These are aggressive growth forecasts that assume the current top line growth will continue and Amazon can achieve it's elusive margin expansion. See valuation summary here (.pdf warning).
Amazon's core online retail business can be expected to continue to grow, driven by an increasing number of online transactions and the introduction of new product lines. Offerings including WebStore, Associates and the Amazon recommendation engine contribute to Amazon being a platform for e-commerce rather than just a destination. This platform will allow Amazon to facilitate and monetize the expected e-commerce growth beyond the core Amazon.com property. As Amazon's role as a platform continues to evolve, it will increasingly be in competition with Google (NASDAQ:GOOG). The Associates program offers an alternative to Google's Adsense and Amazon's recommendation engine has the potential to offer an alternative to Google's search functionality.
Although Amazon have done an outstanding job building their core business to where it is today, the future of Amazon may be determined by the potential of the Web Services platform that they are establishing. It is difficult to quantify the size of the opportunity and nearly impossible to place a value on Amazon Web Services today, but this option has significant upside potential.
It is difficult to identify a direct comparable for Amazon. Evaluating the multiples of other leading technology stocks adds a degree of context to Amazon's forecast EV/EBIT multiple of 26.9. Google and eBay (NASDAQ:EBAY) have forecast EV/EBIT multiples of 16.7 and 11.1, respectively. While all three of these companies have unique risk and growth profiles, these multiples highlight the growth being factored into Amazon's stock price.
Despite Amazon's recent decline in stock price and the aggressive growth forecast (particularly at the EBIT line), the current share price is at the top of our valuation range. The current valuation multiple is significantly higher than other leading technology companies highlighting the market's strong growth expectations for Amazon. A significant unknown is the potential value of Amazon's Web Services offering. Based on our analysis, Amazon appears reasonably priced, with the level of upside a function of the potential of Amazon's growth options.
Disclosure: none