Barnes & Noble Inc. (NYSE:BKS) released 4th quarter earnings before the bell on June 19th, showing a loss of 98 cents per share, compared with analyst estimates for a loss of 95 cents. This was an improvement from a loss of $1.04 per share a year ago, and net revenue in the quarter was up 0.4% to $1.38 billion. However that fell $60 million short of expectations. Nook sales slid 9.7% in the quarter but were up 34.3% for the year. Nook sales were below expectations in the quarter because of the delay in shipping Nook with GlowLight, and the company took back the Nook Simple Touch product as a result of light holiday sales. The company starting shipping the Nook Simple Touch with GlowLight in the 1st quarter of fiscal year 2013 and this should increase revenues for the Nook line. One positive on the quarter were core comparable sales, which excludes Nook sales, gaining 6.9% from the same period a year ago.
The company believes it has 25% to 30% of the ebook market, and believes it share is flat to growing slightly. There was growth of physical books sales, and Barnes & Noble gained share there during the year as a result of the Borders closings. Borders liquidation leaves Barnes & Noble as the only national brick & motor bookstore in the U.S.
The partnership with Microsoft (NASDAQ:MSFT) will give the Nook platform access to Windows 8 customers, and provides the new subsidiary with much needed capital. Barnes & Noble College inclusion in this partnership could be one of the more interesting pieces of this partnership. Textbooks have not seen the transition to digital that other books and publications have seen. Given that Barnes & Noble currently has 647 college bookstores serving 4.6 million students and faculty, it could become a key player in a transition to digital textbooks. Microsoft's newly announced tablet could be a possible platform for digital textbooks. At the same the Surface tablet is also a competitor to the Nook line, although it is largely targeted at the Apple (NASDAQ:AAPL) iPad.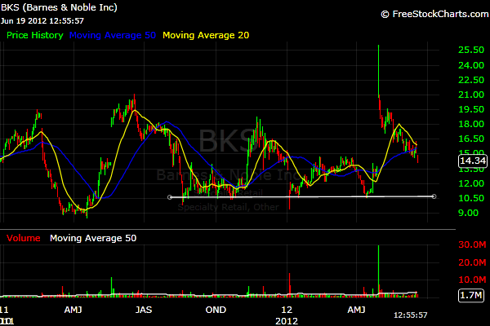 The chart of Barnes & Noble has been all over the place as the street has had a hard time gauging this company's mixed prospects. On April 30th Barnes & Noble announced a partnership with Microsoft which Microsoft will invest $300 million - the stock spiked to $26 but then traded moved lower throughout the day to close at $20.75, still a gain of over 50% on the day. The stock has moved down even since, and now sits less than a dollar above the closing price on April 27th. It should continue to close that gap completely. This slide could continue until finding support just under $11 per share.
Overall any investment in Barnes & Noble would be highly speculative and based on the success of Nook, and the new partnership with Microsoft. The company is a long ways from being profitable, and I would not consider an investment in BKS until it at least reached support levels under $11 per share. At this point the partnership with Microsoft does not appear to be a game changer for Barnes & Noble, and it remains to be seen what gains the company will get from providing a digital bookstore integrated with Windows 8.
Data sourced from: Company filings, and Yahoo!Finance. Chart from: Freestockcharts.com
Disclosure: I have no positions in any stocks mentioned, and no plans to initiate any positions within the next 72 hours.