At this point, "where to begin?" is the question to ponder when opening a dialogue on the consumer sector. Economic/consumer sentiment numbers since the conclusion of the holiday season have been downbeat to say the very least. Layer on top of the disappointing macroeconomic news flow a convergence of mostly poor 4Q07 financial reports from companies such as Lowe's Inc. (NYSE:LOW), Macy's Inc. (NYSE:M), and Target Corp. (NYSE:TGT), and one has to wonder how consumer-oriented stocks have actually held up reasonably.
We attribute this modest defiance of conventional wisdom to the general optimism surrounding the effect of tax rebate checks, which will be in the hands of eager consumers by late May. Most surveys we have tracked to gauge the thinking of consumers as to how they will allocate their tax rebate checks from Uncle Sam mirror the trends evidenced back in 2001. According to the National Retail Federation, 40.6% of consumers plan to spend their new found money on basic items and perhaps a big ticket splurge. The remaining 54.6% of the crowd is looking to be more prudent, allocating the funds to the bolstering of savings accounts or paying down bloated credit card balances. Either way one dissects the issue, Gross Domestic Product [GDP] in 3Q08 and 4Q08 should receive a solid boost, and importantly will set the stage for a rebound in consumption heading into 2009.
Getting back to the aforementioned drumbeat of softer than expected macroeconomic related readings, consumer confidence measures (University of Michigan and Commerce Department surveys) are at levels typical of recessionary periods. Many households are no longer experiencing the wealth effect that greased the spending engine of the recent bull market. Home values across the U.S. are plunging, income growth has slowed, and the job market is clearly cooling, all of which will continue to weigh on the readings from consumer surveys and retail sales. With the bulk of the retail sector yet to report 4Q07 financials and 2008 guidance, in our view the stocks will continue to trade range bound near-term.
That being said, there have been a few bright spots thus far from consumer centric companies' 4Q07 earnings reports, such as tight inventory management, successful combat of cost increases from China, and effective marketing campaigns. For the companies that fall under this umbrella, they are uniquely positioned to capture renewed demand as tax rebate checks are received later this year. Additionally, disciplined management of business fundamentals at a time of economic turbulence speaks volumes to brand equity and executive leadership, two important pillars in the retail sector that take on added weight currently.
Top Investment Ideas
Wal-Mart Stores Inc. (NYSE:WMT)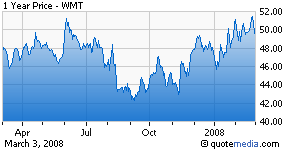 There was no hiding Wal-Mart's leadership position this past holiday season in terms of merchandise pricing (see conference call transcript). The company's "Save More, Live Better" marketing message was in full view on television, and as evidenced by the underlying 4Q`08 financials, it resonated with the targeted audience (the same can't be said for Target, who admitted in its earnings conference call its marketing message is not sticking). Wal-Mart outperformed cheap chic rival Target Corp. (TGT) on a comparable store sales (or comps, which are sales from stores open in excess of one year) basis during the holidays, a dramatic reversal in fortunes from what we have observed over the past three years. Average ticket grew solidly at U.S. stores, and there were indications that Wal-Mart's poor customer traffic trends are starting to course correct as consumers remain extremely price conscious.
Drilling deeper, the company's control of inventory while maintaining healthy in-stock positions is a feat to marvel at, not to mention the realization of 4Q`08 gross margin expansion against significant price reductions. While the Wal-Mart U.S. division demonstrated strong operating metrics, it appears that the company is taking the fight back to overseas competitors by extending its price leadership message.
All told, it's hard not to get excited about Wal-Mart's ability to expand the gross margin rate, control inventory, and aggressively reduce capital expenditures under the current economic climate. We are particularly encouraged by the expected modest reduction in capital expenditures in 2008 versus 2007, which should serve to improve returns, boost cash flow, and allow for greater focus on store remodeling. With valuation at compelling historical/relative levels, strengthening operating fundamentals of Wal-Mart, and the company's general position globally to save consumers money amid tough economic circumstances, we are modeling for the stock to hit $57.00 by the end of 2008.
Abercrombie & Fitch Co. (NYSE:ANF)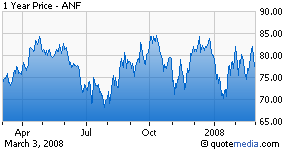 Against a litany of soft 4Q07 sales trends from the specialty apparel sector, Abercrombie's holiday report card was quite compelling (see conference call transcript). Despite comps decreasing at three of four divisions, the company was able to leverage operating expenses. Additionally, a higher initial markup helped to drive 80 basis points of gross margin expansion year over year. These developments speak volumes as to the company's investments to improve processes and internal operating functions, as well as its stable of brands that resonate with teens despite limited product markdowns.
Now that international expansion opportunities are becoming a component of the Abercrombie story, investments in the business are yielding noticeable improvements in fundamental business processes (for example inventory was down 25.0% at 4Q07 end), and young adults likely to spend their rebate checks on discretionary goods, we are confident in our modeling of the stock hitting $91.00 by the conclusion of 2008.
Written by Brian Sozzi, a Research Analyst for Wall Street Strategies (www.wstreet.com) specializing in the apparel/hardline goods sectors of the retail industry.
Disclosure: none