Here at Israel Opportunity Investor [IOI] we would never engage in any type of gambling, so as not to corrupt our precious young readers. However, one Israeli company has no qualms about closing deals in the industry. On Monday, Nice Systems (NASDAQ:NICE) announced that it had signed a multi-million dollar deal to help with video security for Victoryland.
Based in Shorter, Alabama, Victoryland holds live greyhound racing and simulcast greyhound and horse racing from all over the country. The facility is also home to well over 3300 video bingo machines. Video analytics from NICE will enable Victoryland security staff to streamline operations and improve security and safety by monitoring occupancy, the traffic of attendees and eliminating fraud at the facility.
Roman Burchart, Director of Technical Services at Sport View Technologies said:
We selected the NICE solution with its video content analytics to enhance the facilities surveillance capabilities, as well as to be able to provide high quality video evidence of potentially prosecutable activities. We also expect that leveraging the IP solution will enable us to significantly decrease the cost of the project's installation over a traditional analog solution.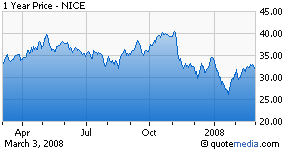 At IOI, Nice is one of our favorite stocks and this deal helps reinforce why we like the company so much. The various verticals that Nice can sell into keep expanding. There is enormous demand for its suite of security products.
The fact is that it should use the video analytics to determine the winner of the race. I admit it, I once went to an evening of Greyhound racing, and it's really hard to follow the race. They run so fast it's impossible to see which Greyhound wins.
If you are looking for a long-term investment instead of a short-term bet on either a win, place, or show, you may potentially want to investigate Nice Systems.
Disclosure: The author's fund holds a position in NICE. He has no position in any other stock mentioned as of March 3. 2008.