GOLD MINERS ETF PRODUCTS JUMP AHEAD OF GOLD PRICES
Gold miners ETF products bucked the tide yesterday. While the price of gold was essentially flat, gold miners ETF funds like GLDX, GDXJ and GDX rose between 1.7% - 5.5% on the day. Here's the daily performance chart showing the bounce gold miners had on Monday.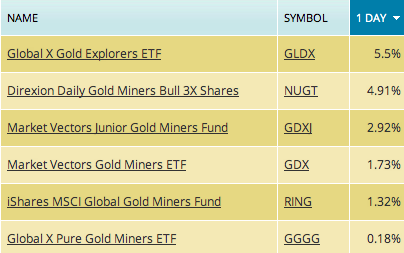 The truth is that gold miners ETF funds have been outperforming physical gold ETFs for over a month now. Perhaps it's because gold miners ETF products had been the victim of such a steep sell off versus gold that contrarians stepped in to bet that the disconnect had to revert back to the mean. Here's a performance chart of the best performing ETFs over the last month. Note the largest physical gold ETF, GLD, takes the bottom rung of this ranking while mining oriented products have soared.
Despite the surge in gold miners ETF performance of late, these ETFs are still in negative territory in 2012 and have a dreadful one year track record. Their disconnect from gold prices had punished their valuations and caused some to question whether gold stocks were now permanently disconnected from gold. Lately however there has been more chatter about a reversion to the mean for gold stocks and thus these volatile companies have been on the rise. Here's a one year chart from stockcharts.com comparing the SPDR Gold Trust against the two largest gold miners ETF funds, GDX and GDXJ.
Going forward it appears that gold miners have a decent amount of momentum. While these stocks and ETFs can work off the premise of being "oversold" or "disconnected for too long," physical gold will be mired in the EU drama and the resulting strength or weakness of the U.S. Dollar. Thus gold miners may continue their trend of out performance, despite a poor performance over longer time periods.
Disclosure: I have no positions in any stocks mentioned, and no plans to initiate any positions within the next 72 hours.