Bank of Hawaii (NYSE:BOH) based in Honolulu Hawaii is one of two major banks operating in the State of Hawaii, the other being First Hawaiian Bank. Bank of Hawaii has more branches, ATM's, and accounts, but First Hawaiian has more assets. First Hawaiian is a subsidiary of Bancwest which is a subsidiary of BNP Paribas (OTC:BNOBF). The third largest bank in Hawaii with about $6 billion in assets is American Savings Bank, a subsidiary of Hawaiian Electric Industries (NYSE:HE), the electric utility in Hawaii providing power to about 95% of Hawaii residents. The two other players in the Hawaii banking industry are Central Pacific Financial Corp. (NYSE:CPF) and Territorial Bancorp Inc (NASDAQ:TBNK) with approximately $4 billion and $1.5 in assets respectively.
Bank of Hawaii currently yields 4%, compared to Central Pacific with no dividend, and Territorial Bank with a 2% yield. Bank of Hawaii has beat earnings estimates in each of the last 3 quarters, most recently beating by 14 cents or 17% in the quarter ended March 31st. The next earnings announcement for BOH is in about a month on July 23rd and the street will be looking for $0.87 per share. This would be a gain of 17.5% year-over-year. For the full year analysts are only looking for earnings growth of 4.5%, and no earnings growth in 2013, so the company is trading at 13 times both current and forward earnings. This slow growth is important because with a current payout ratio of 50% BOH would need to see significant earnings growth to raise the dividend. I think earnings would have to rise above $4 per share for the year to see the dividend increased to $2 per share holding the payout ratio at 50%, this could be 12 o 24 months off. A $2 per share dividend would yield 4.4% at current prices.
If you look at the strength of the economy in Hawaii, and the strength of Bank of Hawaii this is one of the better regional bank plays today. This past April was a record for visitors and visitor expenditures, at 650,000 visitors and $1.17 billion in expenditures. Visitors to Hawaii are expected to reach 7.7 million this year, just passing the all time high of 7.6 million in 2007. The bank is targeting about 40% mortgages, 40% commercial and 20% consumer lending, so the bank is well positioned to see gains as the economy improves. I think the high exposure to commercial lending will benefit the bank first as development and construction pick up in Hawaii.
When looking at the chart for Bank of Hawaii the last few months of price action look almost identical to the same period a year ago. You can see that last spring when BOH broke below the 50 DMA it never moved above that moving average all summer and fell to lows in the mid 30s in early October. In early October the stock started an uptrend that was in place through mid May. The break of that uptrend and subsequent fall below the 50 DMA have taken the stock down 10% over the past month and a half. Today the stock sits just about an important level of support just about $44 per share. I would not buy at the current levels but would instead watch the action in this name. If BOH continues to hold support near $44 it could be very positive, and I will be watching for the 20 DMA to cross above the 50 day.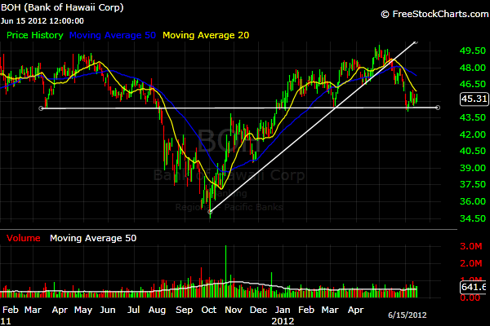 Overall this a bank in a favorable situation with a less competitive environment and comparatively better economy then many places in the country, however the current price action is not favorable for an investment right now. Two possible ways to get in now would be to buy today at about $45.30, and write an October 45 call, collected about $2.30. The call is currently in the money by 30 cents however if BOH closed at its current level at expiration you would gain $2 on the trade or about 4.4%, an annualized gain of 14%. The other option would be to write an October 40 put, and collect about $0.90 per share. This gives you 14% of downside in the stock before you start losing on the trade, and an annualized yield of 15% on the money required for the trade. It is important to note options are thinly traded on BOH and have large bid-ask spreads. Careful execution of trading strategies is important, use limit orders.
Data sourced from: Company filings, Finviz.com, and Yahoo!Finance. Chart from: Freestockcharts.com.
Disclosure: I have no positions in any stocks mentioned, and no plans to initiate any positions within the next 72 hours.