Investors considering opening short positions in shares of Sprint (NYSE:S) at these levels need to exercise caution. The company's shares are down more than 70% from its 52 week high and have declined over 25% in the last week. While the company's financial performance more than justifies these reductions, significant future reductions are unlikely for the following reasons:
The enterprise value of Sprint has fallen to just over $40B; $20B from debt (including the recent $2.5B loan) and $20B in market capitalization. At these levels, each Sprint subscriber is valued at just $760.00, less than half the amount that Cingular paid for AT&T Wireless in 2004 and nearly one fourth what TPG and Goldman Sachs paid for Alltel just last year.
CEO Dan Hesse "kitchen sinked" the 2008 earnings forecast and set expectations to near ZERO. The company's forecast included a predicted a loss of 1.2M subs in Q1 and Q2, I would expect something less.
Mr. Hesse has replaced the old leadership team and instituted a "back to basics" play book which overtime will significantly improve customer satisfaction and retention.
The company borrowed $2.5B to pay off 2008/2009 maturing debt and provide liquidity beyond the $2B+ in cash they currently have on hand. Since this transaction will be used to pay maturing debt, it will not increase the amount of debt outstanding. In addition, the company eliminated their dividend which will save approximately $300M annually, further improving the company's liquidity.
The value of the company's spectrum alone is worth well in excess of $20B. Just look at the bids from the latest government auction for proof.
An announcement regarding the future of WiMax and possible investments from Intel are rumored to be coming the following weeks.
Much of the incremental selloff of Friday was due to the overall market being down over 350 at one point. Shares of Sprint actually held up well on Thursday and only moved down of Friday after the credit rating downgrades.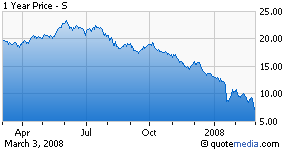 Overall, the business outlook for Sprint for the next 3-4 quarters does not look good, however most of the bad news is baked into the shares. The stock could see an incremental 5-10% downside if the overall market sells off big this week, but I would be cautious opening new short positions at these levels. If you do, stay close to your computer to ensure you can move quickly cover your position should any positive reports about Sprint come out. Right now all the street sentiment is bearish. That's normally when you get a reversal.
Finally, while I doubt the company will be acquired in 2008, the prospect of that happening will keep the shares from totally tanking.
Disclosure: Author holds a long position in S