Magellan Midstream Partners (NYSE:MMP) has an enviable record of distribution growth, which has produced attractive share price growth. The company's current growth plans to maintain that record include a shift away from Magellan's core revenue producing assets, but the new plans dovetail nicely with the currently owned assets.
Magellan Midstream Partners focuses on the transport of refined petroleum products - gasoline and other fuels. Currently the company generates 77% of operating margin from 9,600 miles of product pipelines. The pipelines connect to the bulk of refineries on the Gulf Coast, Mid-Continent and upper Midwest. Petroleum terminals generate 22% of operating margin. Magellan owns 50 storage terminals associated with its pipeline system - 7 large product storage facilities on the U.S. coast - including a Cushing, OK facility, which is not so coastal and 27 inland terminals located in the Southeast and connected to third-party pipelines. The remaining one percent of operating margin comes from a wholly owned ammonia pipeline.
Magellan Midstream Partners earns 83% of operating margin from fee based services. Company management makes a point to note that Magellan does not trade product positions in the products it transports. Most of the fee based business includes automatic, annual fare increases price at several percent above the producer price index. The 17% of margin from commodity pricing is the result of trading butane to be blended into gasoline.
The company has grown through a combination of acquisitions and organic growth with an emphasis on organic growth. Over the last 8 years, $2.5 billion has been spent on growth initiatives. Currently there are $650 million of projects under construction and $500 million of projects in the planning stages. The current growth projects are focused on the transport of crude oil rather than Magellan's existing niche of petroleum product pipelines. Currently 90% of Magellan's operating margin comes from the transport and storage of refined products. However, 75% to 80% of the existing and pending growth projects are focused on crude oil transport. This emphasis allows Magellan to change the focus of existing pipeline assets or lay new pipelines alongside product pipelines. The focus on crude oil transport takes advantage of the growth in shale oil production which is occurring in the heart of Magellan's pipeline coverage area.
Magellan Midstream has been good to limited partner unit holders. Distributions have increased at an 11% compounded annual rate since the 2001 IPO. The most recent distribution was 220% higher than the first quarterly payout. Magellan typically increased the distribution every quarter. In 2009, Magellan Midstream Partners absorbed the separately traded company holding the general partner and incentive distribution rights for the Partners. The result of no general partner payments is that 100% of distributions go to limited partner unit holders and Magellan Midstream has a lower cost of capital than competitors.
Magellan Midstream sports a current dividend yield of just under 5% and expects to increase the pay-out by 9% in 2012. Future distribution growth is forecast to be in a range of 8% to 10% per year. This is a combination which has allowed Magellan Midstream to outperform the MLP averages and it should continue to do so.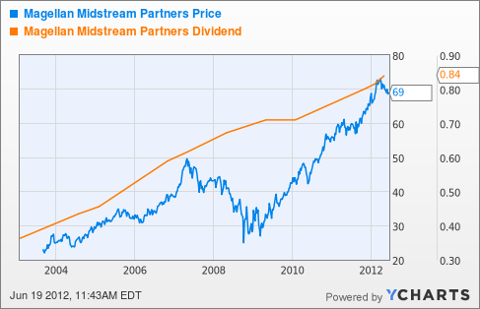 Disclosure: I have no positions in any stocks mentioned, and no plans to initiate any positions within the next 72 hours.