Oppenheimer & Co. bank analyst Meredith Whitney (pictured) has Wall Street in the palm of her hands these days. She is a top rated analyst and is credited with her bearish calls on various banks, particularly Citigroup (NYSE:C). Whitney has even been credited with triggering broad market selloffs as a second order effect of her negative reports on some banks.
While some will persist with keeping the negative tone on financials, I'd be inclined to think the majority of the gains from shorting have been made. Nonetheless, talking about widely held stocks like C is in the interest of financial media and analysts like Whitney.
Many of the money center banks have taken enormous writedowns and have proven that they can raise capital. It's easy to continue on the same one-way bet and point to every asset held by banks and assume a great deal of pain still is on the horizon. There still could be some pain at these banks, but it appears that some these larger banks are experiencing diminishing marginal selling pressure as more bad news is being released.
If C cut its dividend, it would likely be a non-event to slightly positive for the company, while another capital raise probably would not impact share prices as dramatically as expected. This is mainly because I suspect investors at C's current prices have likely anticipated these possibilities.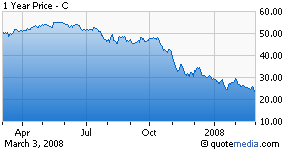 Now, as talk moves towards writing down leveraged loans, I'm starting to get a little skeptical of the large writedown numbers that are thrown out for consideration and how these additional writedowns will impact share prices. Leveraged loans are senior and aside from the second lien market which has probably disappeared, have some very good recovery rates. Also, banks do in some cases hedge their leveraged loan exposure and in many cases would sell off the less creditworthy loans to yield hungry hedge funds back when underwriting leveraged loans was all the rage (think back to the days when LBO firms were headline news about 9 months ago).
Those hedge funds that chased yields and bought second lien paper against weaker credits have and will continue to implode but to think that C and other money center banks are going to be done in by a leveraged loan market implosion seems to be pressing.
Whenever I short a company, I like to think about the valuation that would warrant an investment. With C at $23 per share, it's trading at about 1.0x book value and while I know book value could be further impaired, at a certain point, the bad news becomes fully priced in. Long-term, rational investors will realize that in three to five years, the annualized returns from an investment at these prices could be very attractive.
Maybe C drops to $18, but I would suspect even shorts would be hard pressed to think that C would not be worth substantially more than $20-$25 in 3-4 years.
So how does this tie in to my advice to Meredith Whitney? While free advice is worth what you pay for it, I think Whitney should probably capitalize on the spotlight and admiration she is receiving from the Street and media. It doesn't take long to go from a god to a goat and she should monetize this opportunity that has arisen from her analysis.
Bill Ackman provides a great template for her to follow. Ackman is a good investor and incredible showman. While Ackman's investment acumen is impressive, I don't think anything has impressed me more than his ability to sell institutional investors on his "one activist idea" fund that eventually ended up buying billions of dollars worth of call options in Target Corp (NYSE:TGT). This really is for Ackman, a case of Mohnish Pabrai's "Heads I Win, Tails I Don't Lose Much" scenario. Leveraged equity via calls on TGT results in a huge payoff for Ackman and if it doesn't work out, who cares, it's an isolated fund and doesn't influences his flagship fund's returns.
So as Ackman was able to sell this idea due to this recent impressive run, Whitney should do the same. My suggestion is that she quits issuing commentary while she's ahead, leaves Oppenheimer (now's the time as bonuses have been paid out), and starts her own hedge fund, Meredith Whitney Capital Partners LP. She's provided research to the Street that covered her accurate negative calls on a variety of banks and plenty of institutions will line up to be charged 2/20 and maybe Oppenheimer can provide seed capital.
In this case, MWCP could probably raise $1B as a fund specializing in the financial sector and present at the next Value Investors Congress, offering a 500 page presentation on why C or GS should be shorted. With MWCP, she'd clear $20MM in management fees before any performance fees. I'm not sure what Oppenheimer pays, but even with all of the accolades she's currently receiving, I'd be hard pressed to think it's much more than 10% of that.
Of course, if this actually did happen, I think it would be time to load up on the double-long Financials ETF (NYSEARCA:UYG).
DISCLOSURE: AUTHOR HAS NO POSITION IN ANY OF THE COMPANIES MENTIONED