Bill Ackman is an activist investor who invests in a few select companies with an objective to change them "actively" from the inside. He pursues long-term value-creation opportunities, buying stocks that trade at a discount. He often picks stocks when their prices are pushed down heavily and takes advantage of "special situations investments." His strategy can be described as time arbitrage, which he defines as "taking advantage of the opportunity for long-term profit offered when short-term investors sell due to disappointing short-term macro or business progress."
Bill Ackman's fund, Pershing Square Capital Management has a very concentrated portfolio. Currently it consists of only 10 stocks, with a total value of $8.07 billion. As regards the fund's performance, it has returned cumulatively 411.8%, net of fees, since January 1, 2004, compared to a 49.7% total return of the S&P 500 index over the same period.
Here are three dividend-paying picks of Bill Ackman.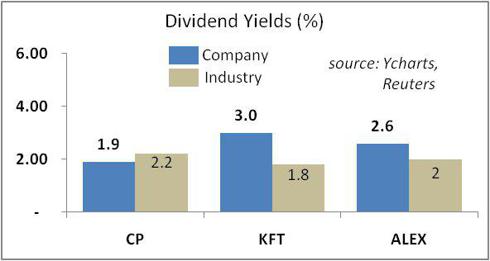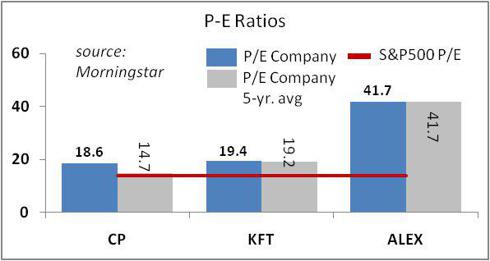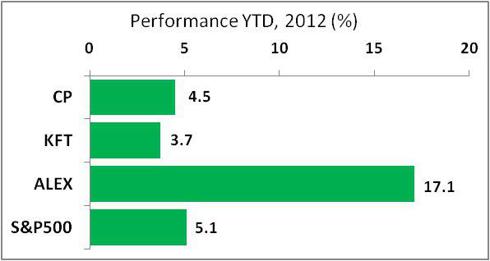 Canadian Pacific Railway Limited (NYSE:CP) is a $12.3 billion transcontinental railway company providing freight transportation services in North America. The company is the top holding in Pershing Square's portfolio with a 22.72% share. The hedge fund controls about 14% of this Canadian company. Pershing Square recently scored a major victory by succeeding in the ouster of the company's chief executive and a shake-up of the board.
Canadian Pacific Railway pays a dividend yielding 1.9% on a payout ratio of 35%. The company's competitors, including Canadian National Railway Company (NYSE:CNI) and Union Pacific Corporation (NYSE:UNP), pay dividend yields of 1.8% and 2.1%, respectively. The railway operator has increased dividends at a rate of 11.6% a year over the past five years. The company is expected to grow its EPS by an average of 12.8% a year over the next five years. This expectation represents a dramatic improvement compared to a contraction in EPS at an average annual rate of 7.2% over the past five years. The stock is currently trading at $71.85 a share, up 4.5% year-to-date. It carries a high premium relative to the industry.
Kraft Foods (KFT) is a $68.3 billion company selling a wide variety of packaged food products and beverages. It is one of the largest food companies in the U.S. and the world's second largest food distributor. Kraft Foods represent a 7.29% share in the Pershing Square's portfolio. Ackman's stake in Kraft Foods, which was reduced in the first quarter of 2012, totals about 0.87% of the shares outstanding. The hedge fund established a position in Kraft Foods at the time when the packaged food producer was preparing for a takeover of the U.K.-based Cadbury. Both Warren Buffett and Bill Ackman perceived Kraft Foods as undervalued (see Buffett's portfolio). The acquisition of Cadbury was expected to boost Kraft Foods' business quality and organic growth profile. What's more, Ackman's Pershing Square, the proponent of the action, stands to gain from Kraft Foods' expected splitting into two companies, one operating a North American grocery (named Kraft Foods Group) and the other focusing on sales of global snacks products (called Mondelez International). The split is expected to complete before December 2012.
Kraft Foods pays a dividend yielding 3.0% on a payout ratio of 58%. The company's rivals Pepsico (NYSE:PEP) and General Mills (NYSE:GIS) pay dividends yielding 3.1% and 3.2%, respectively. Competitor Nestle SA (OTCPK:NSRGY) pays a dividend yield of 3.5%. Kraft Foods has increased dividends at an average rate of 3.4% a year over the past five years. The company's stock is currently changing hands at $38.64 a share, up 3.7% from the beginning of the year. It is trading on a slight discount relative to the industry and almost on par with its own five-year average metrics.
Alexander & Baldwin Holdings (NYSE:ALEX) is a $2 billion diversified company that operates shipping, real estate, and diversified agriculture businesses, including sugar cane/coffee production. The company represents a 2.18% share in Ackman's portfolio as of March 31, 2012. This share equals to an ownership stake of 8.64% of shares outstanding. Given that the company owns some 90,000 acres of land in Hawaii, offers shipping services, and produces sugar cane/sugar and coffee, the general assumption was that Ackman was interested in spinning off the company's segments into separate businesses to unlock value. In fact, the company announced in December of last year that it would split into two separate publically-traded businesses, one focusing on real estate and agriculture and the other on shipping. The split is expected to be effective sometime in July 2012.
Alexander & Baldwin pays a dividend yield of 2.6% on a payout ratio of 162%. The dividend payout, which has been fixed at the current annual rate of $1.26 per share since 2009, appears to be unsustainable. The company's shipping-segment competitor Horizon Lines (OTCQB:HRZL) does not pay any dividend. Privately held Louis Dreyfus Commodities LLC has just acquired one of Alexander & Baldwin's competitors, Imperial Sugar Co. (NASDAQ:IPSU). The company's stock is currently trading at $48.10 a share, up 17.1% year-to-date. The company seems to be overvalued relative to the broad market. Billionaire Ray Dalio's hedge fund initiated a new position in ALEX during the first quarter (see Ray Dalio's entire portfolio).
Disclosure: I have no positions in any stocks mentioned, and no plans to initiate any positions within the next 72 hours.