Mitel Networks (NASDAQ:MITL) posted earnings after the bell Tuesday. Earnings beat estimates and offered several positive highlights that investors should weigh as they look at this very cheap $4 tech stock. I think this earnings report could signal a long overdue rally in these undervalued shares.
Key highlights from MITL's earnings report:
Earnings came in for the quarter at 30 cents a share, beating estimates of 24 cents a share. Revenues also beat estimates by $3 million.
Gross margins from continuing operations were 55.6%, up from 52.2% in the fourth quarter of fiscal 2011.
Adjusted EBITDA from continuing operations for the fourth quarter of fiscal 2012 was $27.3 million, up 43% from the prior year quarter.
As per the business description from Yahoo Finance, "Mitel Networks Corporation provides integrated communications solutions to the small- to medium-sized enterprise market in the United States, Europe, the Middle East, Africa, Canada, Caribbean, Latin America, and the Asia Pacific."
Here are four reasons why MITL looks like good value at just over $4 a share:
The company has now beat earnings estimates for the fifth time in the last six quarters, and the stock now sells at a minuscule 4 times forward earnings.
The market is undervaluing MITL's revenue streams. The stock is priced at just 33% of annual revenues and has a five-year projected PEG way below 1 (0.33).
The company more than tripled operating cash flow from FY 2009 to FY 2011 and sells at just over 5 times current operating cash flow.
The stock looks like it put it a bottom at just under $4 a share (see chart below).
Click to enlarge image.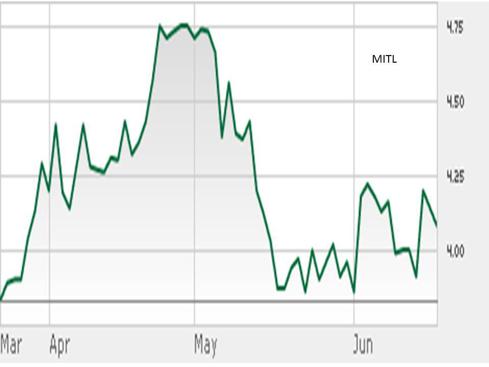 Disclosure: I have no positions in any stocks mentioned, but may initiate a long position in MITL over the next 72 hours.